Bernardelli: a bitter farewell to arms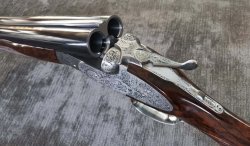 The year 2017 was a very sad one for Italian gun manufacturing: the historic Vincenzo Bernardelli company, founded in Gardone Val Trompia in 1865, closed its production after settling all pending issues with employees and suppliers.
Certainly a drama in our world, since for hunters and shooters all over the world Bernardelli's name had been identified with the Italian double-barreled shotgun for more than a century, with the Italia, Roma and Hemingway series becoming true status symbols for discerning hunters.
A drama that could even become a tragedy, considering the still many users of Bernardelli products, frightened at that point by the idea of no longer being able to find adequate assistance for the guns they already owned. Not to mention, finally, the many who had a beautiful Bernardelli in their dreams – for them only two option remained: either turning to the second-hand market, or forgetting about it!
And that's where Pierantonio and Tiziano Poli enter the picture: skilled gun craftsmen (artisans is an understatement), but skilled entrepreneurs and passionate hunters as well, so with an eye always on the hunting world and its needs.   

Here comes the cavalry: the rebirth of a historic brand
The story is simple: having assessed the situation, the Poli Brothers purchased a very large quantity of original Bernardelli spare components and small parts. Not only for break-action guns, but also for the Mega series semi-autos in case of any possible, future idea of repairing or maintaining already active guns (this is a field in which they have no equal). They completed the operation by purchasing about sixty still unfinished side-by-sides of 100% Bernardelli manufacturing, mainly in 20 and 12 gauge, but without neglecting some in 28 gauge.
The idea is as simple as it is ingenious: to combine their skill beyond craftsmanship to offer the most refined palates the opportunity to own new and 100% original Bernardelli side-by-sides, but with all the Poli craftsmanship capable of making them unique pieces. As unique as their smart, potential owners.v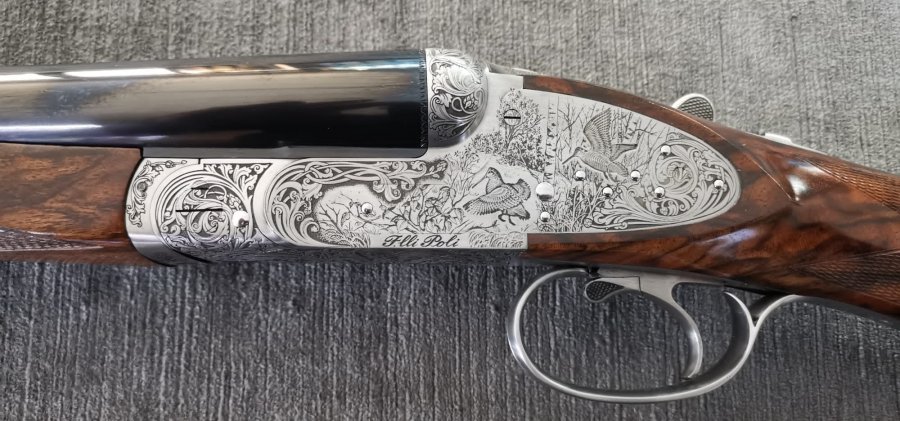 This is where the Poli-Bernardelli doubles were born, designed primarily for hunters and collectors, given the small number available, and representing the best of two worlds.
From a technical point of view, Bernardelli-Poli side-by-sides are built on 100% Bernardelli mechanical bases, featuring:
integral barrels;
original Bernardelli receivers, legendary for their robustness and reliability;
always original trigger systems, both single- and double triggers, with the fantastic proprietary barrel selection system placed in front of the trigger. 
All of this, customized and subject to whatever technical and aesthetic improvements, basing on the super expertise of Fratelli Poli: that manual skill that has now made them one of the international benchmarks for custom and on-demand firearms, that is, characterized by almost infinite levels of customization, as for aesthetics.
So we are talking about: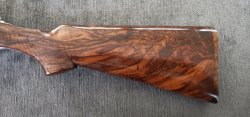 superior quality stocks, tailor-made for the customer based on his or her frame and  way of aiming/shooting.
Hand-finished wood, from checkering to oil buffed finish.
Hand-finished engravings from laser-made originals, for an aesthetic quality close to fine guns, but at decidedly affordable prices of absolute interest (3,500 to 5,500 euros).
All this to obtain a Bernardelli that is a Poli, and a Poli that is a Bernardelli.
Top of the line: Poli Bernardelli Jasper Extralusso
The state of the art and a clearer idea of what we are talking about? Tiziano and Pierantonio presented it to us with the top-of-the-line side-by-side, named after a jewelry stone according to the company's tradition: Jasper in this case, the wondeful sedimentary stone of particular beauty and hardness (without being a hardstone properly). It has always been used for its aesthetic and mechanical characteristics in jewelry and beyond.
Poli-Bernardelli Jasper side-by-side specs and price
| | |
| --- | --- |
| Type: | Side-by-side double-barreled shotgun |
| Gauge: | 12/76  |
| Locks: | Bernardelli Anson type |
| Receiver: | Bernardelli |
| Barrels: | Bernardelli integral (length and chokes on request) |
| Finish: | Receiver with laser-engraved ornamental side-platers richly burin-finished, with 100% handmade effect (other custom finishes from Poli are available) |
| Trigger: | Single selective original Bernardelli |
| Stock: | Superior grade oil-finished Italian walnut – custom-made pistol stock in this case, but also available in English or Monte Carlo style and with semi-beavertail forend |
| Weight: | Varies depending on barrel length and type of wood |
| Delivery time for a new gun: | Not less than 6 months from the order  |
| Price: | 5,500 euro |
---
To learn more please visit the Fratelli Poli website.