I've known Tiziano Poli for some years now. Not only for professional reasons, but because I myself am a customer of his company. A friendship that one day became a fruitful collaboration.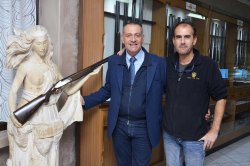 It was exactly at EXA 2012 when me and Tiziano met to start discussing some ideas and possible features for a new shotgun designed for keen woodcock hunters, who mainly hunt with setter dogs.
It had to be an over-under, in 20 gauge. Short, fast, very light and well-balanced. And since I often go hunting abroad, even in rough areas, it had to be as simple as possible from a constructive point of view.
Basing from these ideas we started to work.
A woodcock shotgun, more than any other, should not be bulky in terms of barrel length for two reasons:
1) too long barrels are useless, since you shoot in any case within certain ranges that are all relatively short;
2) too long barrels are difficult both to extricate for pointing shots in the thick, and to align for instinctive shooting. However, a rifle with barrels that are too short can perform badly with certain types of cartridges loaded with progressive powders (slow burning rates and long muzzle flashes) and has some limits on long ranges relating to the different types of hunting.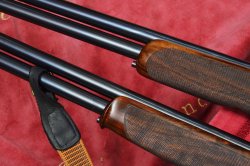 That's why the legendary British genius of gun making and shooting techniques, Robert Churchill, established that the perfect compromise between all these needs (including the one about weight we will discuss at length) was to use barrels of a specific length: 25 in / 63.5 cm. And so it was.
Moreover, to reduce weight all the ribs were eliminated: for the upper one we opted for two short battue-type ribs. The front sight is strictly a very small brass bead.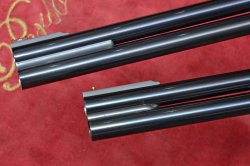 For the chokes, a "move" against the tide: they are fixed.
The first barrel, the bottom one, is perfectly cylindrical, to favor engagement at short and medium ranges; the second barrel, the top one, features a perfect ***, all made from excellent and very light chromium-nickel-molybdenum tri-alloy special steel.
The cartridge chambers are 20/70, without any concession to the rampant "Magnum-mania" that demands 76 mm chambers even on ultralight shotguns.
Although perplexed, I consented to automatic extractors as optional. They can work both as automatic ejectors or in "ecological" mode: spent cases are not ejected and must be removed by hand and then put in your pocket or in the hunting bag, without leaving anything around since you are not allowed to (by law) and you must not (because of ethics and aesthetics!) leave litter around.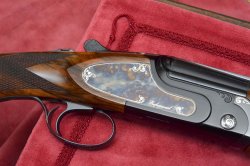 Since, as we said, lightweight is for sure a primary necessity in a shotgun intended for a hunt type where you walk a lot and shoot very little, for the receiver we flat out opted for ultralight materials. It's machined from a single solid block of Ergal, with two very hard titanium plates inserted where the cartridge bottoms is sitting, right in front of the firing pins. The locks are classic, featuring the usual spiral springs. They guarantee full efficiency with fast strikes and an almost exuberant striking power, as can be seen from the clear marks left on primers.
One little thing: what you see in the photos is the absolute prototype. That is, it's not even the number 1 of a production series, but the number 0 proper. Hence the absolutely Spartan look of the whole thing, with just an engraving to outline it, even if it's not devoid of some sober elegance. Then there is the other gun, the definitive one, the "black panther": the Professional.
The choice of the double trigger (but you can also have the single trigger as an option) coupled with an English stock, in addition to saving at least another sixty grams of weight derived from the elimination of the pistol grip, ensure maximum comfort of use in this configuration.
We were talking about the practicality and functionality of the double trigger; there are two factors:
1) even if the first trigger is broken and you are in the middle of nowhere, you can at least squeeze off one shot.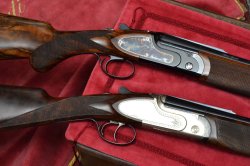 2) When hunting with setter dogs, you must shoot within of 4/5 seconds to be effective. Situations where the second barrel is more suitable (being more choked, and loaded with cartridges for medium and long ranges) than the first one. Now, it is true that single-trigger guns have a selector to decide which barrels fires first, but who is able to operate it in highly emotional situations like these?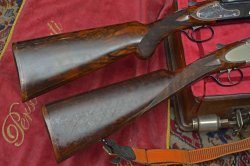 We opted for nice walnut wood featuring a non-exaggerated grain. That is, we were looking for a compromise between three factors such as strength, elegance and above all lightweight.
There is just one sling swivel: the one on the stock, since - as pictures clearly show - I opted for another system that leaves the barrels totally free from any metallic addition. Very practical and ballistically much more logical and appropriate.
As you can see, for the trigger guard, the forend release button, the safety lever and the opening key (which operates a very effective double locking system), we chose blued parts.
Here we have a gun that in my opinion is beautiful in its essential practicality. It seems a sort of miracle indeed, but this shotgun weighs just 75.8 oz / 2.15 kilograms! Yes, you read that correctly, just two kilos and a hundred and change (in 20 gauge), for a pleasant use and impressive wielding. In fact, walking with it you do not realize you're carrying it. Handling it... Well, it's kind of magic!
I've been testing the shotgun (a definitive prototype) since early September 2012, and I write only now for a single, very particular reason: I really wanted to try it! I took it with me hunting quails and pheasants, hares, partridges, woodcocks and snipes. It is such a perfect weapon, so extraordinarily well designed to do its job that they should "almost" ban its production! It points in a flash. It is therefore the perfect gun for instinctive shooters, for pointing shooters. The fact of being built to measure optimizes everything.
It was however on long ranges (about 40/45 meters) that this gun blew my mind, allowing me to bring down game that I had rules out as impossible. The credit goes to excellent ammunition, of course, but also to a second *** barrel which is capable of miracles.
Year after year, season after season. Without a single malfunction, nothing. Recoil is also very mild not only in relation to the shotgun weight, but in absolute thanks to the perfect design. It's very balanced, with excellent barrels, receiver and stock alignment, which creates a very straight-line recoil.
For those who want to buy it
Who it is for: for ultra-specialized woodcock hunters who does not also disdain other hunting digressions.
What it requires: the ability to adapt to a "tool" that's surprisingly light at first.
Why buy it: because it is special, very light, robust and at the same time versatile and efficient thanks to a very interesting ballistic capacity.
What are the competitors: in principle all lightweight over-under shotguns designed for woodcock hunting with dogs such as Beretta Ultralight, Bettinsoli Nexus, Browning B525 Hunter light, Caesar Guerini Magnus Light, F.lli Redolfi Eos Light, Franchi Falconet pro, Fausti Albion Light, Fabarm Axis Field AL, Fair X-light, Rizzini Aurum Light, Sabatti Olimpo, Silma M70 Ergal. In practice none, because no one has the same technical features gathered together in one single gun.