This video has been hidden because of an external service (YouTube) that could potentially collect personal data.Allow video services for the duration of the visitAllow video servicesStop allowing video services
Fausti DEA Luxury hunting side-by-side 28 ga: features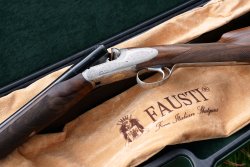 The DEA Luxury series was introduced in this 2018 but retains the mechanical characteristics that made the Fausti luxury shotguns famous.
We are referring to the "Round Body" action made from solid steel blocks with rounded and finely engraved side plates and a boxlock action.
Two finishes are available, Color Case or Silver, both burin engraved and signed by the master engraver who reproduced floral scrolls along the profile of the long side plates and the Fausti logo inlaid in gold on the bottom plate.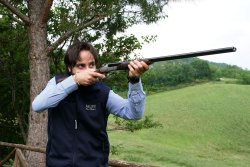 The shotgun is available in 16, 20, 28, 32 gauge and .410 bore, all with scaled receivers.
Having identified the gauge and the preferred version, the hunter only has to choose every single part to obtain a rifle that satisfies his/her aesthetic and practical needs.

The trigger can in fact be the classic double or single unit, always assisted by a long and rounded trigger guard that facilitates its use in any case.

The stock is available in English, Prince of Wales or Pistol Grip versions, with splinter or semi-beavertail forend.
All the furniture is made from selected grade 4 A walnut and oil-finished.
The recoil pad is rubber or the same wood of the stock. The barrels are made of special steel with external corrosion-resistant bluing featuring deep blue hues. They are finished by hand hammering. The different lengths and chokes give the possibility to adapt the shotgun to the different types of hunting practiced.
Available barrel lengths are 60-63-65-67.5-71-73-76 cm with fixed or interchangeable chokes.

The Fausti DEA Luxury side-by-side that all4hunters will test in the early stages of next season is in the Silver version, 28 ga, with 65 cm long barrels, a length suitable for short and medium-distance shots typical of hunting with pointer dogs.
The fixed chokes that we chose are one of the classic combinations, with a 4-star choke for the first barrel and 2-star choke for the second barrel. The shotgun is enchanting to the eye: we just have to try it and tell you about it. For now enjoy with us its refined look and its precious details.