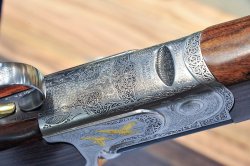 The Tempio over/under shotgun was one of the first guns produced by Caesar Guerini and it is probably the company's most popular hunting shotgun. The year it was launched in the US, it won the prestigious "Best of the Best" prize for new guns. So why change a winner? The company's aim in this case is to improve the gun even more in terms of detail, to make their shotgun truly unique with elegant engraving on the action showing hunting scenes with gold highlights.
The hand-polished finish and the Invisalloy treatment patented by Caesar Guerini protect the metal from rust and corrosion. In addition to the engraving on the metal parts, the stock is made of deluxe Turkish walnut with a half-gloss finish that effectively brings out the color of the wood and its veining.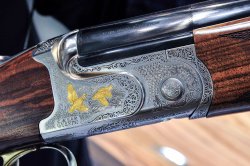 The result is a shotgun with time-tested mechanical reliability, made even more beautiful than before. The over/under shotgun is available as a 12-guage, 20-gauge, 28-gauge and .410-bore. Barrel length varies from 61 cm, which is ideal for game shooting with your dogs, to a medium length 66 cm or long 71 and 76 cm barrels best suited for hunting from a hide or long-range shooting. Five interchangeable chokes are available for the shotgun.
The Prince of Wales grip and the stock have a knurled effect to give you a solid and effective grip, while the butt is made of wood. The 12-gauge Caesar Guerini Tempio over/under weighs less than 3 kg, while the 20-gauge weighs around 2.5 kg and the smaller gauge guns weigh around 2.1 kg. This over/under therefore reasserts itself as a well-balanced and easy-to-handle shotgun, ideal for fast, instinctive shooting or precision long-range shots, with the mechanical reliability and aesthetic qualities to satisfy even the most demanding of hunters.