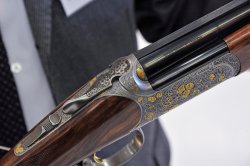 The Ellipse Curve over-under hunting shotgun by Caesar Guerini is now available in a new Gold edition. This version provides even more detail in the engravings to give the weapon an even more exclusive look. The Ellipse Curve over-under already stands apart for its smooth lines, its round body frame and the quality of the woods used.
This new Gold version introduces gold accents within the engraving on the action with a style inspired by classical art. This is in addition to the superior quality of the special grade of Turkish walnut wood finished with high-gloss oil so both the hunter and the weapon stand out while hunting in the woods.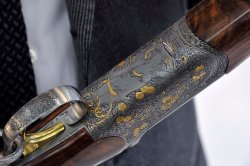 Ellipse Curve is a 20 gauge over-under shotgun suited to stalking, which is easy to swing due to its excellent balance as well as its light configuration. Targeting and instinctive aiming are facilitated by the tapered top rib, while the lateral rib is flat. The barrels have a 76-mm chamber and are available in three different lengths (66/ 71/ 76 cm) with five different interchangeable chokes. The trigger system is a selective monotrigger.
The grip on the Prince of Wales stock is made firm with the handmade checkering. Finally, the weight, at 2.8 kg, is very well balanced for a 20-gauge shotgun that has a steel action to guarantee stability, precision and comfort in both shots. Once again, Caesar Guerini shows itself to be a detail-oriented company able to offer shotguns of beauty, resistance and function to passionate hunters.