J. P. Sauer & Sohn, Germany's oldest manufacturer of hunting firearms, firstly introduced the S 404 bolt-action rifle in 2015. Five years later, the new Sauer 404 Synchro XTC in camo green is the newest addition to the series. Its thumbhole carbon fiber stock makes it the absolute lightest of all premium rifles according to the manufacturer, stopping the scales at less than 6.1 lb/2.8 kilograms. In this case, the carbon fiber is hand-layered, then cast and sealed in synthetic resin. This provides extreme rigidity and recoil absorption. 
But the most distinctive feature of Sauer's 404 Synchro XTC Camo is obviously its camouflage pattern. As explained by the manufacturer itself, the pattern is "the result of a highly complex technology that is unique in gun manufacturing worldwide, in which green and black/grey carbon fibers are interweaved. The result is a raw material perfectly suited for active hunting. Thanks to the weaving technique and individual trimming, not two stocks are alike, so that the new Sauer 404 Synchro XTC camo is without doubt true high-tech for true individualists".
Sauer S 404 series, a high-class modular rifle concept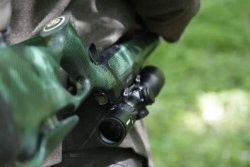 Sharing the same design of the whole S 404 series, Synchro XTC camo action is based on a patented safety concept, the heart of which is a manual cocking system. A metal cocking slide on the bolt shroud allows the rifle to be cocked and de-cocked both comfortably and silently. An automatic firing pin safety also prevent it from firing when the bolt is not fully closed. In order to open the bolt with the gun on safe to load and unload, you only have to push the cocking slide forward while at the same time lifting the bolt handle.
Other features of the S 404 Synchro XTC Camo include an infinitely adjustable stock comb, a fully modular rifle concept to allow easy changing of bolt heads and barrels for quick caliber conversions, and a high-strength, matte black hard anodized aluminum receiver. Trigger is easily adjustable in four different pull weights from 1.2 lb to 2.7 lb – trigger settings are marked by Roman numerals just above the trigger. Trigger blade is individually adjustable too: 8 mm (.31 in) range in length of pull and 5 degrees to either side.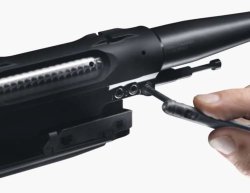 The cold hammer-forged barrel is fluted for balance and has a M15x1 muzzle thread, while scope bases are integral with receiver. Sauer guarantees under 1 MOA accuracy. An SUS combination tool integrated into the front sling swivel and a Miniatur universal tool integrated into the rear sling swivel are the proverbial cherry on the top.
As for calibers, the  Sauer 404 Synchro XTC Camo is available in.222 Rem., .243 Win., 6,5x55, 6,5 Creedmoor, .270 Win., 7x64, .308 Win., .30-06 Spring., 8x57 IS, 9,3x62, 7 mm Rem. Mag., .300 Win. Mag., 8x68 S, 10,3x60R. 
As always, flagship rifles come at a price: MSRP is around 8000 euro.
Sauer S 404 Synchro XTC Camo: specs and price
| | |
| --- | --- |
| Calibers: | .222 Rem., .243 Win., 6,5x55, 6,5 Creedmoor, .270 Win., 7x64, .308 Win., .30-06 Spring., 8x57 IS, 9,3x62, 7 mm Rem. Mag., .300 Win. Mag., 8x68 S, 10,3x60R |
| Weight:  | 98 oz/2790 g (Standard calibers), 103 oz/2900 g (Magnum calibers) |
| Barrel Length:  | 22"/560 mm |
| Barrel Contour:  | Fluted |
| Overall Length:  | 42"/1065 mm |
| Trigger Pull Weight:  | 19-44 oz (550-1250 g) |
| Magazine Capacity:  | Standard: 3 (optional 5,8), Magnum: 2 (optional 4) |
| Sights: | None |
| Stock Material:  | Carbon fiber |
| Price:  | about 8000 euro (price may vary in your country) |