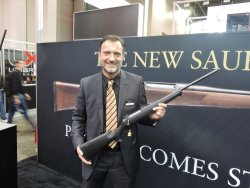 Now Sauer & Sohn is raising the ante once more by launching the S100 model with pared down technology and features. Initial indications are that the basic model of this unbeatably low-price bolt-action rifle will change hands for as little as €1000, without asking the owner to accept any real compromises in terms of its practical suitability out in the field.

The shape of the receiver's outer surfaces has been simplified, the barrel is no longer attached by a sophisticated mechanism – it is merely screwed into the case – and the safety and trigger unit have been modified. The safety is now found to the left of the receiver, and no longer perched on the bolt sleeve. It will be interesting to see what kind of reception the brand-new Sauer & Sohn S100 will get in future. 

But that's not the only trick that Sauer & Sohn has up its sleeve, of course, and the company used the SHOT Show 2016 to present a new model in its premium S404 series featuring a delectably upmarket thumbhole stock made of carbon with height adjustable comb. 

The fresh S404 series is renowned for its modular structure, unprecedented flexibility and peerless features. One receiver size for all calibres from .243 Winchester to .375 H&H Magnum, quick-change option for calibre and barrel, a cocking slide on the bolt sleeve and a four-setting trigger interface to flick between pull weights from 550 to 1250 grams are just a few of the features in the flagship product by this prestigious manufacturer.