Sauer expands the S 404 rifle line with a low weight, silenced, reduced recoil option – the S 404 Silence XTC.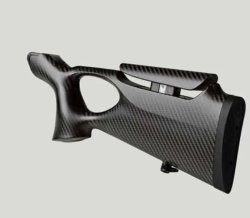 The newcomer features an integrated moderator made out of lightweight titanium and a carbon thumbhole stock made out of hand-laid carbon fibers to offer the best damping performance. The result is a refined, quiet and handy hunting rifle weighing just 120 oz/3.4 kg with a 16.5"/420 mm barrel – a 20.5"/520 mm barrel variant is also available. 
The idea behind the use of sound moderators – commonly also called "silencers" – when hunting (where allowed by the law, of course) is to reduce the sound of a gunshot to hearing safe levels for both hunters and dogs, especially when using the right ammo.

Besides this, the moderator also dampens recoil somewhat. Aesthetically, the integrated moderator of the S 404 Silence XTC appears like a match/bull barrel of some sort, harmoniously blending with the rifle's lines.

Sauer 404 Silence XTC: technology, ergonomics and performance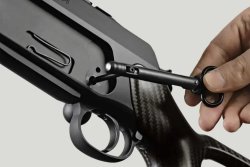 The moderator performance, depending on the caliber, is claimed to be up to 28.5 dB. More than this, the barrel-moderator combination evenly distributes the moderator's weight over the entire length, with a better balance and less top-heaviness as when using an over or on-barrel moderator.

The barrel is cold-hammer forged. Both barrel and receiver are made on site in Isny/Germany. Accuracy is guaranteed sub-1 MOA.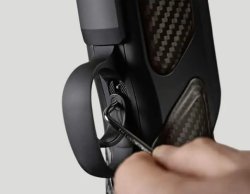 The carbon-fiber thumbhole stock – the same used on the Synchro XT and XTC models in the S 404 series – has an adjustable comb. To complete the ergonomic pluses, the Sauer Quattro adjustable trigger features four different trigger pull weights that are individually adjustable, at 550, 750, 1000 or 1250 g (1.2, 1.6, 2.2. or 2.7 lb). For a proper trigger pull and controlled shooting, the trigger blade is also adjustable, with an 8 mm (0.3") adjustment range for length of pull and left-to-right swivel range of 3 degrees. The extra wide trigger blade guarantees optimal contact.
The refined action is characterized by a manual cocking system that provides comfortable and silent cocking.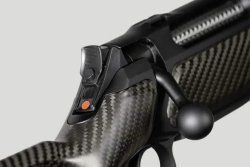 The "ultimate specialist regarding weight, ergonomics, shooting comfort and individual adjustment options" – this is how Sauer describes the S 404 Silence XTC – is offered in standard and Magnum calibers, the first including the .308 Win., 8x57 IS, 9,3x62, .30-06 Spring. and the latter the .300 Win. Mag.
The Sauer 404 Silence XTC has an MSRP of 7,581 euro – adequate to its quality and high technology contents. Thanks to its modular design, however, every Sauer 404 owner can also convert their rifle to the Silence version. Depending on the original firearm, all that is needed is the conversion set consisting of interchangeable barrel, integrated moderator and forearm or, alternatively, the conversion set with complete stock pair. 
Sauer 404 Silence XTC specs and price
| | |
| --- | --- |
| Calibers: | .308 Win., 8x57 IS, 9,3x62, .30-06 Spring, .300 Win. Mag. |
| Barrel Length:  | 16.5 "/420 mm or 20.5"/ 520 mm  |
| Overall Length:  | 44.5"-48.5" (1,130-1,230 mm) |
| Sights:  | None |
| Magazine Capacity:  | 3 rounds with standard calibers (optional 5, 8), 2 rounds with magnum calibers (optional: 4) |
| Weight:  | 120 oz/3.4 kg (with 16.5"/420 mm barrel length) |
| Stock Material:  | Carbon |
| Price:  | 7,581 euro |