In addition to the Steiner Nighthunter C35, pur test package consisted of a Beretta BRX-1 straight-pull repeater in .308 Winchester caliber and a Burris Four Xe 2.5-10x50 riflescope with MAKuik 3 mount from MAK, as well as a matching adapter ring from Smartclip, with which the attachment could be securely connected to the scope. To round off the whole thing for hunting use, we then screwed onto the muzzle thread of the BRX-1 a Hausken silencer, more precisely the Jakt SD156 XTRM MKII model.
During the test, which lasted several months, we did quite a bit with the Steiner Nighthunter C35. Among other things, we shot the "hot gong" at distances of 100 and 200 meters. During our long-term test, however, the main focus was on hunting use in the field. Before we draw our conclusion from the long-term test, here is a brief overview of the most important facts about the Steiner Nighthunter C35 thermal imaging device.
The most important data about our Steiner C35 Nighthunter 
In short, the Nighthunter C35 is a thermal imaging device that first attracts attention with its robust and waterproof aluminum housing. The valuable and stable impression is immediately confirmed when you pick it up for the first time. However, it also weighs a whopping 800 grams together with the 18650 Li-ion battery. Another aspect that stands out about the C35 is what Steiner calls Quantum Vision, which combines a powerful 640x480 pixel thermal sensor with a pitch (pixel size) of 12 microns and a software algorithm developed specifically for it. Their interaction is intended to ensure that the data captured by the sensor is transferred to the 1024x768 pixel OLED display as a high-contrast and optimized image with as little loss as possible and at maximum speed. A total of five different color modes, some of which can still be adjusted, are available for viewing.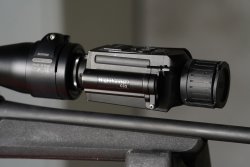 In addition to the live mode, the device also has a video recording function that allows you to take photos at the same time as recording a video. The Steiner C35 has a 16 GB internal memory. The device even has a Micro HDMI jack that can be used to connect an external monitor. However, connecting an external monitor eliminates the display on the internal screen. Alternatively, the videos can be streamed in real time to a "smart" mobile device via the Steiner Connect app using the integrated WLAN function. Not all attachments offer a recording function. This can be very helpful if a hit is not perfect during a hunt and a follow-up search is necessary. With the "video evidence", the hunter can then very quickly provide the handler with important details for his follow-up search.
But the free Steiner Connect app can do even more. It can also be used to set up and shoot in the device. A total of three profiles – for use on multiple scopes – can be saved in the Steiner C35. In addition, the C35 also has a USB-C interface, which is exclusively for external power supply, for example using a powerbank, but not for charging the battery. The battery has to be placed in the included USB charger for charging. Steiner recommends using 18650 batteries with a capacity of at least 3,000 mAh here.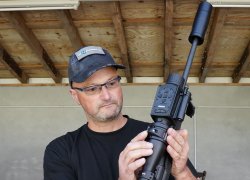 Operation of the Steiner thermal imaging attachment is very simple. Focusing is performed  though a rotating ring directly on the 35 mm eyepiece of the C35. The button layout of the control panel is also quite intuitive. Once the unit is set up and adjusted, you'll quickly get the hang of it. When using the device in the field, the following should be noted: to start the device, press the power button for about 4 seconds until an image appears on the display, and then it takes another 14 seconds for the device to fully boot up. But don't worry: once the device has booted up, it can also be put into standby mode, in which case it only needs about 2 seconds until it is ready for use.

The Steiner C35 worked flawlessly during several missions in the field and lived up to its name. It delivered a high-contrast and clear image. Our favorites are the white hot and red hot color palettes. In the test, this made it possible to target wild boar absolutely unambiguously at distances of 100 to 120 meters without any problems. We were even able to bring down two sows with our test combo of Burris scope and Steiner thermal attachment on the Beretta BRX-1. That, by the way, with the lead-free Sako Powerhead Blade ammo with 162 grain (10.5 gram) heavy bullet in .308 Winchester caliber.
Steiner Nighthunter C35 specs and price
| | |
| --- | --- |
| Model: | Steiner Nighthunter C35 |
| Price: | €3,999 |
| Thermal Sensor Resolution: |  640x480 px |
| Pitch: | 12μm |
| NETD Value: | ≤ 50 mK |
| Frame Rate: | 50 Hz |
| Objective: | Focal length 35 mm, F1.0 |
| Field of View at 100 m: | 12.5x9.4 m |
| Maximum Detection Range: | 3,200 m (red deer) |
| Identification Range: | 400 m (red deer) |
| Display: | OLED 1,024 x 768 px |
| Max Operating Time: | 4.5 h (with 1 x 18650 LI-ion battery 3000mAh) |
| Dimensions: | 177x95x62 mm |
| Weight (incl. Battery): | 785 g |
all4hunters.com test conclusion on the Steiner C35 thermal clip-on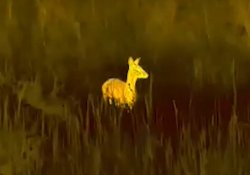 With the Nighthunter C35, Steiner offers the hunter a high-quality, powerful and particularly rugged thermal attachment that works reliably in tough everyday hunting and is ready for use very quickly from stand-by mode. 
The C35's robustness comes at the price of a comparatively high weight. Operation is quite intuitive and, unlike some of its competitors, the device offers a photo and video function that is not only suitable for capturing beautiful hunting experiences, but is also very helpful for any follow-up search. 
The recommended retail price of €3,999 (price may be different in your country, so check your local dealer) is justified considering the equipment.