The Nighthunter H35 thermal sight from Steiner Optics has already been tested by all4shooters.com. Now follows the Steiner Nighthunter C35 thermal clip-on, an attachment for riflescopes that impresses with a rugged housing and ultra-sharp images. This is mainly thanks to the excellent sensor, the software and the captivating image display. These three essential factors are summarized at Steiner under the term "Quantum Vision", the perfect combination of state-of-the-art thermal sensor, outstanding display quality and high-end software development. The thermal sensor delivers high temperature sensitivity and, thanks to its 12-micrometer pitch, an incomparably detailed image. The specially developed Steiner algorithm transfers all data loss-free and at maximum speed directly to the crystal-clear display, which is characterized by its high contrast. With the C35, you can approach game where others are still guessing. In concrete terms, this means detecting game up to 650 meters, responding reliably up to 370 meters away. Thanks to the simple adapter system, it can also be easily mounted on the riflescope.

What makes the Nighthunter C35 Thermal Clip-on from Steiner stand out?
On the one hand, it is the ruggedness and resilience. The Steiner brand stands for both of these characteristics with all of its products. This also applies to the night vision devices. They are always ready for use, even under adverse weather conditions and at low temperatures. The Nighthunter C35 is ready for use for over 4.5 hours. And the switch-on time in particular is very practical at just 3 seconds. But the ergonomics and the user interface are also innovative and intuitive. We are already looking forward to the first test of this high-end model. 

The Steiner Quantum Vision concept in the Nighthunter C35

Factor 1: Be fast

High-speed software
Fast detection
Automatic calibration
Clear images with moving targets
Factor 2: See the difference

Sharpest thermal images
Impressive identification at long distances
Optimal color preselection (landscape)
Perfection with all weather conditions
Factor 3: Succeed

See while others guess
Connect. Stream. Share.
Steiner had already launched a new app for the Nighthunter H35 that makes the experience of Steiner products even easier and closer to the brand. This can be easily and quickly connected to all Nighthunter products. The connection with the network function allows you to conveniently share your hunting experiences and memories with your family and friends.

The Steiner Nighthunter C35 thermal imaging scope in detail photos: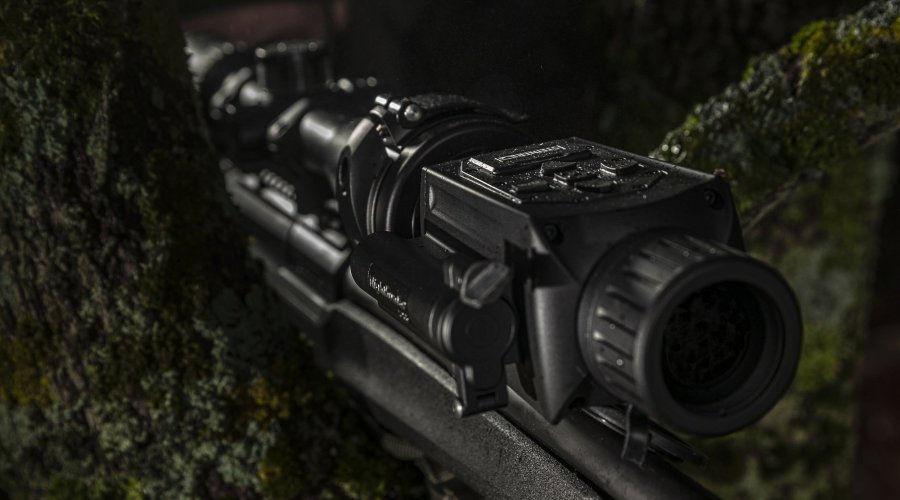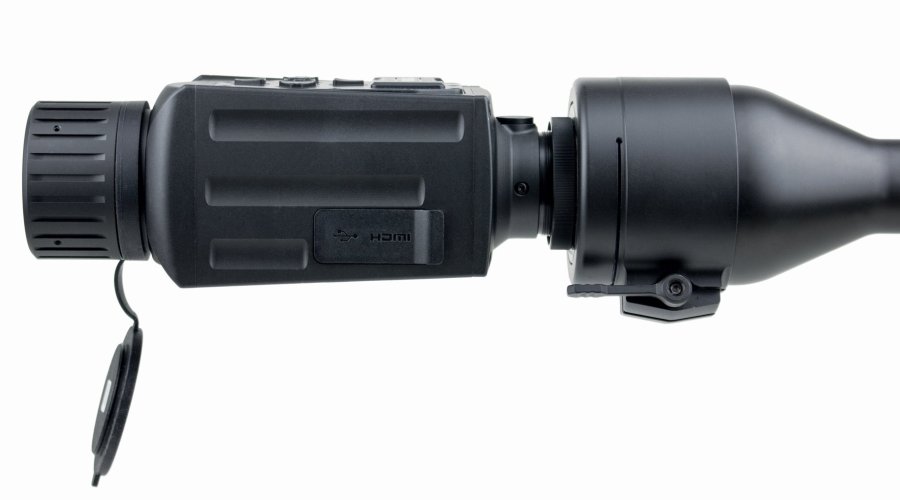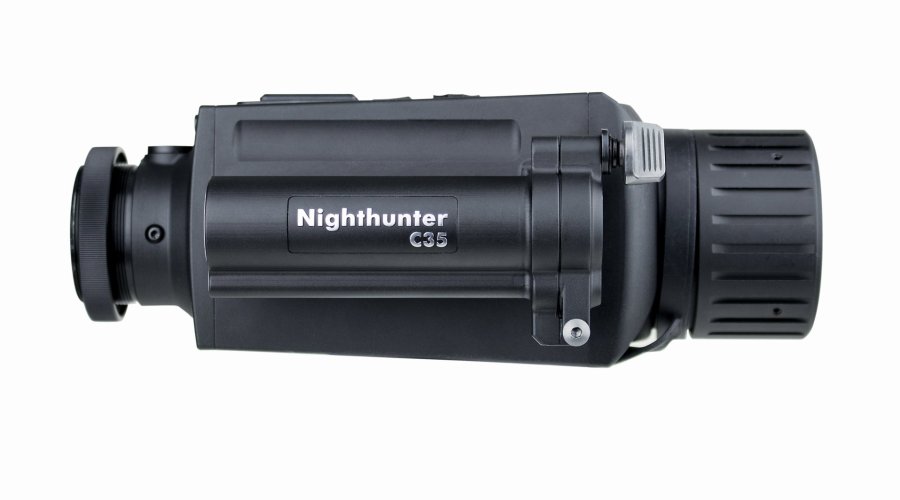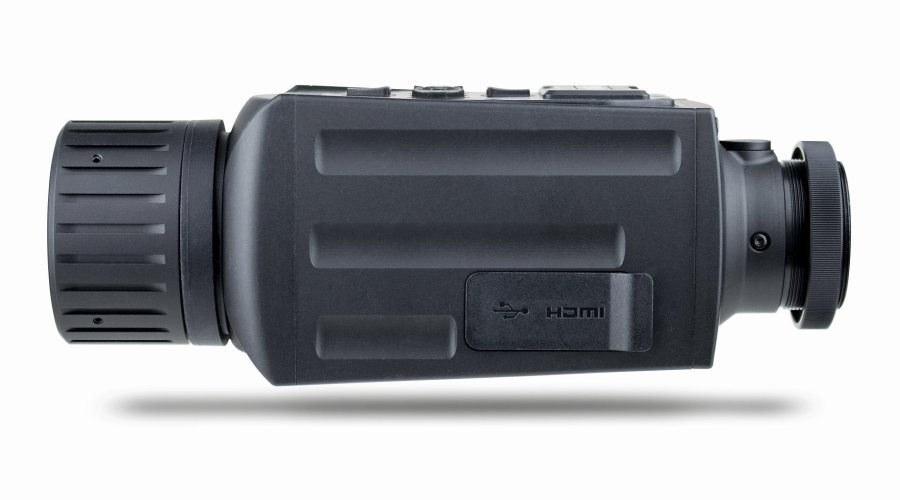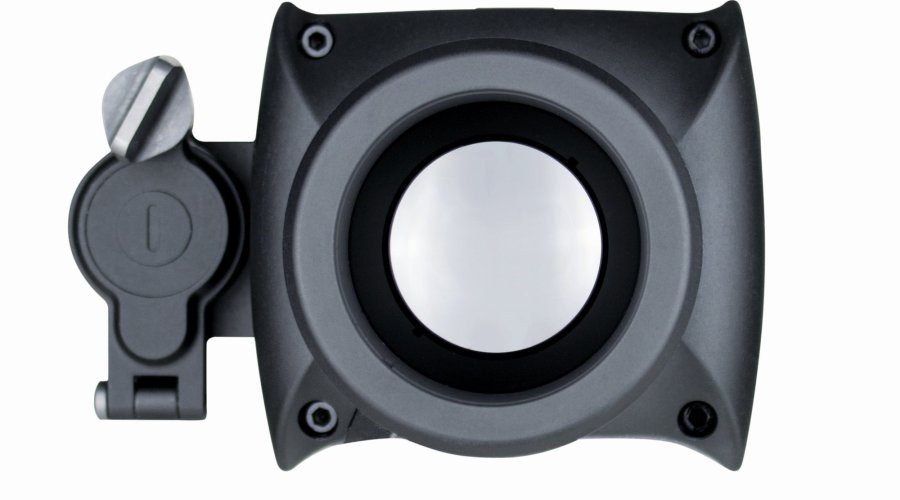 Steiner Nighthunter C35 specs and price

Model:

Steiner Nighthunter C35

Price (MSRP): 

3.999 euro

Detector Resolution: 

640x480 @ 12μm

Battery: 

1 x 18650 battery (lithium-ion)

Lens: 

Focal length 35mm F1.0

Field of View at 100m: 

12.5 m x 9.4 m

Focus:

manual

Display: 

OLED

Resolution:

800 x 600 Pixel

Frame Rate: 

50Hz
Max Screen Size: 

10.8" at 1 meter

Boot Time: 

3 sec

Housing Dimensions: 

177 x 95 x 62 mm

Weight:

785 g.

Other:

High performance optics Quantum Vision, 2 year warranty.
Battery life according to the manufacturer is 4.5 hours.
Integrated photo and video function; internal memory 16GB.
Scope of delivery: charging cradle for battery, cable for copying to external storage.

The Steiner YouTube channel already has several videos demonstrating the practical use of the Steiner Nighthunter C35, such as mounting it on a rifle or as shown here

VIDEO: Steiner C35 – How to sight in:

This video has been hidden because of an external service (YouTube) that could potentially collect personal data.Allow video services for the duration of the visitAllow video servicesStop allowing video services