We first saw prototypes of the Pulsar Thermion thermal imaging hunting riflescope in Las Vegas at the 2019 SHOT Show , and again at IWA a few months later . Our surprise was due to the quite unremarkable outward appearance of the optronic device: a somewhat large, but still elegant and streamlined, hunting riflescope displaying all the standard features of such a familiar scope: a standard 30 mm mounting surface tube, a classical bell-shaped front objective with large focus ring, three tall turrets where you would expect them to be, a generously sized eyepiece and rugged, full machined metal construction.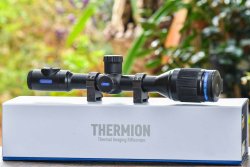 Franco Palamaro, © F.PALAMARO
Inside, the wizards at Pulsar managed to squeeze fit a full featured, flagship performance thermal engine! Pulsar introduced two series of the Thermion, the flagship XP and the more reasonably priced XM, the first with a top performing 640х480 50 Hz Amorphous Silicon microbolometer sensor with 17 µm pixel pitch, and the latter with a state of the art 12 µm microbolometer sensor with 320x240 resolution at 50 Hz.
Both series include a range of front objective lenses offering different native magnifications: 38 and a 50 mm for the XP, with 1.5 and 1.9x magnification, and 30, 38 and 50mm in the XM, with 3.5x, 4x and 5.5x magnification, that can all be digitally zoomed up to 4x for the XM and 8x for the XP.
The XM Series uses the same brand new 12µm microbolometer sensor introduced with the Pulsar Axion (read our review here), that allows the noticeably higher native magnification, due to the crop factor of its smaller sized sensor coupled with the same focal length of the front objective.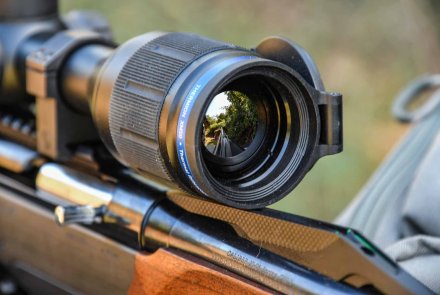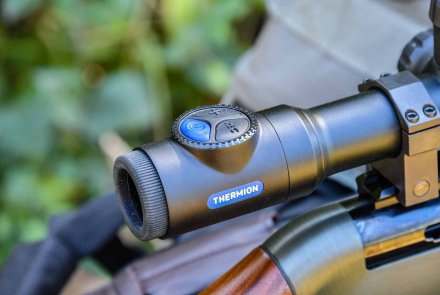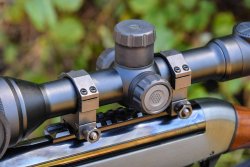 Franco Palamaro, © F.PALAMARO
Testing the Pulsar Thermion XM50

We received the highest magnification top model of the Pulsar Thermion XM Series, the XM50.
This model features a F:1.2 fast 50 mm diameter, fully coated high-quality Germanium front lens objective, yielding a 5.5x native magnification that tops out at 22x using the 4x digital zoom.
Other standard features, that are shared among all models of the Thermion family, include a sealed and weather resistant IPX7 machined metal housing, dual rechargeable Li-Ion battery operation, a digitally generated and controlled reticle, fast focus eyepiece with a HD 1024x768 AMOLED microdisplay and 50 mm eye relief, a standard mini USB port, internal Image and Video recording on integrated 16GB memory, wifi with full StreamVision app support.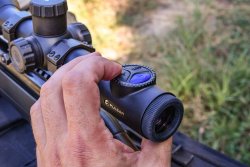 Franco Palamaro, © F.PALAMARO
The Thermion XM50 is 402 mm long and hefty at 900 g but is well balanced and not at all muzzle heavy as other Thermal Imaging products featuring a standard 30 mm mounting tube. Objective focus on the riflescope bell  and eyepiece diopter controls are ergonomic, easy to adjust and offer excellent feedback.
The digital reticle offers a 7 mm click (value of the click is dependent on the magnification and sensor technology of each Thermion model and therefore is different), with a total adjustment range of 1.4 m at 100 m.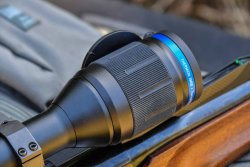 Franco Palamaro, © F.PALAMARO
The dual battery operation is remarkable as it offers a large 2600 mAh integrated rechargeable battery that keeps the unit running while replacing the proprietary 2000 mAh Li-Ion Battery Pack APS2 (an optional, and taller – a turret adapter is included - APS3/3200 mAh battery is also available); the APS2 battery ensures up to 5 hours of continuous operation.  This battery is placed in the "elevation" turret – alas, the turrets are not functional in the traditional, daytime riflescope sense. The left turret houses the rotary control encoder and confirmation button, while the right turret cap hides the USB port. Additional controls are located on top of the eyepiece, with three buttons covering zoom control, video recording and the power control.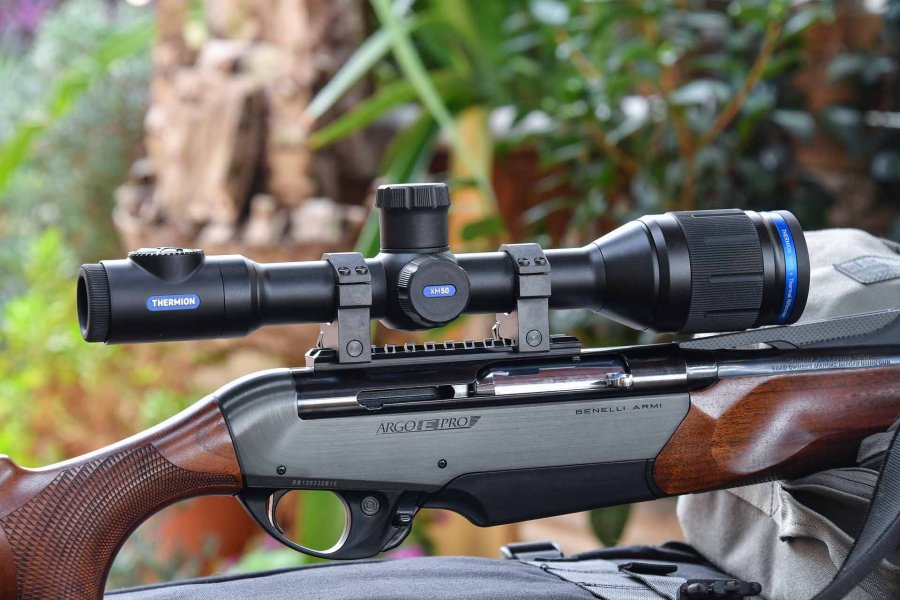 Franco Palamaro, © F.PALAMARO
Mounting the Pulsar Thermion on a rifle follows the exact same procedure as with any traditional riflescope with a 30 mm tube interface – note that a mount is not included with the riflescope. A plus in our eyes is that the device form factor not only allows for easy mounting on virtually all the hunting guns on the market using 30 mm rings, but is also visually appealing to hunters that own high end rifles and that demand the sleek and elegant lines of their prized possession not be disrupted by the chunky, bulky and sometimes too-martial looking shape of most thermal riflescopes.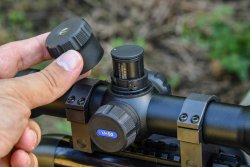 Franco Palamaro, © F.PALAMARO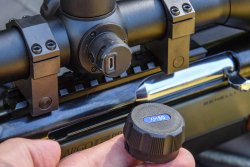 Franco Palamaro, © F.PALAMARO
Once mounted, the rifle/Thermion scope system will blend right in any hunting party without giving away the fact that the device is a thermal imaging riflescope. In our testing, we found the controls to be easily operated and although completely different from a traditional riflescope (except for objective focus and diopter adjustments), quite ergonomic and intuitive, especially if a previous experience with Pulsar devices is taken into account. The internal firmware user interface is in fact, the same across all Pulsar thermal devices, therefore, it's familiar and easy navigating the menu and operating the device, just getting used to the different placement of the external controls rather than having to learn a completely new system.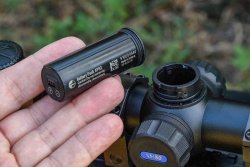 Franco Palamaro, © F.PALAMARO
In conclusion, what can you expect from the Pulsar Thermion XM50 riflescope?
Performance is outstanding, even with the "low" 320x240 resolution. The very high native magnification, state of the art sensor and processor engine, and high resolution, full color AMOLED microdsiplay always delivers a great image through the viewfinder, and sensibility of the device is excellent, with a claimed detection range of 2300 m. We tested it in unfavorable conditions on a rather hot day and managed to pick up small animals at distances above 1000 m, and the image enhancing tools offered by the software (color palettes, observation modes, picture in picture, etc.) allow for fast detection and identification at reasonable ranges. The Thermion is also immediately on and calibration times are extremely fast and quiet.
A note on reticles. The Thermion features seven "standard" digital reticles, and three scalable digital reticles; the scalable feature is extremely important in our opinion as the reticle always keeps its Mil values at all magnifications, allowing for fast doping at variable distances using the reticle subtensions, just like a traditional riflescope.
Video: Pulsar Thermion XM50
This video has been hidden because of an external service (YouTube) that could potentially collect personal data.Allow video services for the duration of the visitAllow video servicesStop allowing video services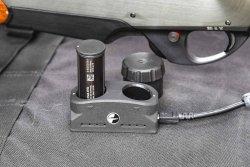 Franco Palamaro, © F.PALAMARO
The StreamVision IOS and Android app is fully supported by all Thermion riflescopes and allows many advanced functions such as setting adjustments, ballistic computer,  firmware update , remote control and image/video management and download.
Included are a nylon carry bag, a dual charger for the proprietary batteries, an USB/data cable, eyepiece guard, tall cap for the APS3 battery, and manual.
We immensely enjoyed using the Pulsar Thermion XM50 thermal imaging hunting riflescope, even to the point of purchasing one for ourselves. This riflescope is, in our opinion, the state of the art, because of the form factor, elegant, streamlined and traditional appearance, and excellent performance. Retail cost can be judged to be steep, with a MSRP of about 3800 euro, however the Thermion is unique and well worth it.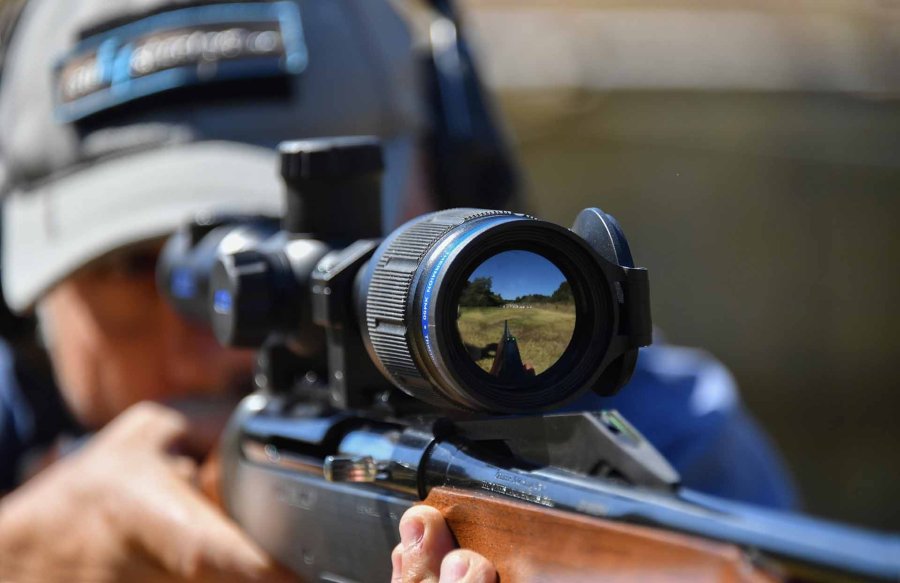 Franco Palamaro, © F.PALAMARO
---
Please note that in some countries, such as Germany, night vision and thermal imaging devices can be legally bought and owned only with a special license, and that in any case, re-export of such a device in another country may be illegal.
Pulsar Thermion XM50: data table
| | |
| --- | --- |
| | |
| Manufacturer:   | Pulsar - Yukon Advanced Optics (  www.pulsar-nv.com  ) |
| Model: | Thermion XM50 |
| Type:     | Thermal imaging riflescope |
| Magnification:   | 5.5x native, up to 4x digital zoom (22x) |
| Objective: | 50mm/F1,2 with coated germanium elements |
| Sensor:  | 320x240 pixels, uncooled amorphous silicon microbolometer sensor with 12 µm pitch, with automatic calibration, 50Hz Full-frame rate |
| IR sensibility: | LWIR (from 8 to 14 µm), NETD approximately 60mK |
| Eyepiece(s): | AMOLED color Microdisplay with 1024x768 pixel resolution, ± 5 diopter adjustment, 50mm eye relief |
| Reticle (s): | 10+ preloaded digital reticles, 3 of which are scalable with magnification |
| Click values: | H/V, mm at 100 m: 7 mm,; adjustment range 1.4 m at 100 m. |
| Features: | Max. observation range of a 170 x 50 cm rectangular heated object in optimal conditions: 2300 m (lights a pixel at this distance) |
| Dimensions: | 402x78x80 mm |
| Weight:               | 900 g |
| Materials/finishes: | Machined metal main tube, tecnopolymers |
| Notes: | Powered by Pulsar APS2 2000 mAh (APS3 3200 mAh optional) and internal 2600 mAh Li-Ion batteries, built-in DVR recorder (16GB internal memory), WIFI Stream Vision connectivity, compatible with Android and IOS smartphones/tablets, MicroUSB socket, IPX7 waterproof certified |
| Price: | Indicative MSRP 3800 euro (price in your region has to be requested to your local distributor) |