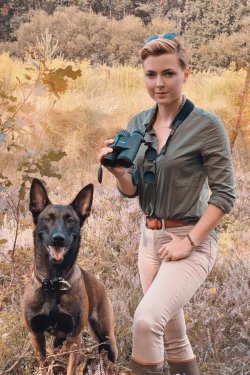 When hunting you have many useful little helpers, but most of them take up too much space and weigh a lot. The fact that binoculars and laser rangefinder (LRF) have been combined in the Minox X-range is of course a huge help. I am often invited to sit in a raised hide in other areas. Estimating distances can be a bit difficult even in fields, for example when a depression is not visible. In the mountains you can hardly do without LRF because of the often much greater distances!

The operation is intuitive and simple. There is one button each on the top left and right. One of them starts the measurements, the other one leads to the menu – both keys can be assigned according to your preference. The menu offers the possibility to set units and modes of measurement, crosshair/circle, brightness and angle modes.

At the first raised hide I had a nice little "competition" with myself to first estimate and then verify the distance to some rabbits. Actually, this also resulted in a certain learning effect. At 170 meters a fox – whose distance I already knew, because it was at the edge of the forest – trotted up. This enabled me to try out the Minox X-range 10x42 on faster moving targets. If you leave the measuring button pressed, many measurements are taken in succession and you always see exactly the distance to which the target is pointing – a  really practical feature.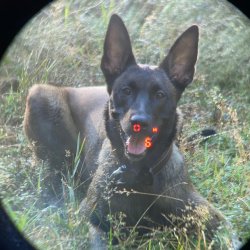 At first I was skeptical whether the 42 mm lens could be used for hunting in the twilight. What a surprise: in moonlight, I was even able to safely identify boars at 2 am at night. The brightness of the digital rangefinder display can be adjusted in five steps. At the brightest level, it is still easy to read during the day against a bright sky, at the darkest level at dusk it does not outshine everything. The performance of the binoculars is brilliant! Once adjusted to the right visual acuity, you have a crystal clear image with pin-sharp colors, a very sharp edge and the feeling of looking into a brand new Ultra-HD TV.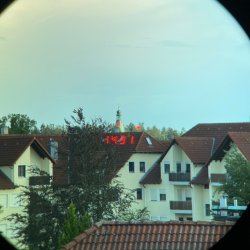 he Minox X-range 10x42 also provides help when aiming uphill and downhill. In hunting schools, the equivalent horizontal distance (EHD) is not always explained. An example: I want to shoot a piece of game that is measured 400 meters away and below my position. I tilt the gun by 30 degrees. Normally, for an accurate hit at 400 meters, this would be 20 clicks. But because of the angle, it is only 0.86 times the measured distance, therefore about 346 meters horizontally at ground level. 15 clicks are enough for this with my load. If I had shot with 20 clicks, I would have missed the perfect hit by about 21 cm. With the chamois this would have been a spine shot under certain circumstances!
The Minox X-range 10x42 offers the hunter three options in such situations: either you do not need the angle display – in which case you do not have to see it displayed. You can also display the angle directly and do the calculations yourself, or you can let the X-range 10x42 do the calculations: Then it will display the equivalent horizontal distance directly below the actual measured distance. This option really makes the X-range 10x42 a very useful tool!
Minox X-range specs and price
| | |
| --- | --- |
| Model: | MINOX X-range 10x42 |
| Price: | 1461 euro (price in Germany with 16% VAT) |
| Magnification: | 10x |
| Entry Pupil: | 42 mm |
| Exit Pupil: | 4.2 mm |
| Interpupillary Distance: | 58-78 mm |
| Field of View at 1000 m: | 106 m / 6.1° |
| Close Focus: | 4 m |
| Diopter Adjustment: | ± 3 |
| Operating Temperature: | -10° bis +50°C |
| Maximum Measurable Distance: | Large objects 2800 m; humans and wildlife 1600 m |
| Unit of Measurement: | Meters or yards |
| Measuring Accuracy up to 1000 m: | ± 1 |
| Measuring Accuracy up to 2800 m: | ± 2 |
| Display: | OLED |
| Display Brightness Levels: | 5 |
| Display Options: | Distance & angle; distance & horizontal distance |
| Battery Life: | 4000 measurements |
| Power Supply: | 1x CR2 Lithium (3V) |
| Dimensions (H x W x D): | 6 x 5.2 x 2 in (152 x 132 x 52 mm) |
| Weight: | 34.9 oz/990 g |
In terms of sport shooting the new Minox is definitely also suitable for long range shooting. The large, mostly white metal targets up to 1600 meters can still be aimed at and measured very easily. But as I have never shot at 1600 meters before, this is "nice to have", but most of the time I just measure my shooting ranges in the shooting range in order to take a few test shots.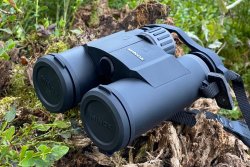 The scope of delivery includes a neoprene carrying strap, but I replaced it with the Professional binocular carrying strap from Minox. Also included is a cleaning cloth, a rubber cap for the eyepieces and a rubber flap for the objectives. The eyepiece cap holds well and can be secured against loss with the carrying strap.
My test conclusion on the Minox X-range 10x42
The price/performance ratio is amazing! For a current RRP of 1461 euro (including 16% VAT) with the Minox X-range 10x42 you get a really great "all-round" binocular with a high-performance rangefinder. I would say that you will hardly find another binocular of the same type and quality in this price range.