Please give us some biographical information about you: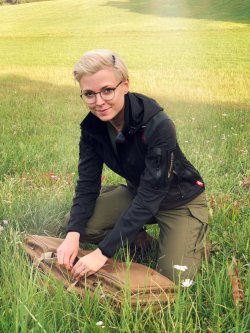 I was born in Fürth (Germany) about 26 years ago and spent a wonderful childhood together with my sister in a small Franconian village with a lot of forests. Even today I still enjoy my leisure time most of all in nature, together with my shepherd dog during extended walks in the forest or hiking holidays in the mountains. 
School was rather easy for me, which probably had something to do with the manageable leisure activities in our village. However, my mother insisted that I learn a sport. My choice fell on Kendo, Japanese sword fencing, which was offered in the next larger city. Kendo is a fascinating sport that I still practice with great pleasure. It made me more self-confident and taught me to respect my opponent. 
After graduating from high school, I moved to Mainz, where I lived and studied for three years. I spent the last years of my studies in Erlangen, where I also completed my master's degree. Afterwards I jumped straight into professional life, but quickly realized how much I miss studying. As a result, I started working at a renowned distance learning university, as well as taking a bachelor's degree in "Digital Business" and am currently in my 3rd semester.

When and how did you discover your interest in firearms?
A few years ago, I decided to undergo basic training in the Bundeswehr reserve. Friends then took me to a shooting range for the first time so I could shoot even before that training. I fired the first shot with a .357 Magnum revolver. Afterwards I shot a lot with the German Armed Forces, of course. Shooting technique and shooting rhythm was especially important to my instructor, that's what I still focus on today. I was able to deepen all this during the hunting course and on the hunt. Very quickly, I realized that shooting is a real sport where discipline, concentration and practice are important. To measure yourself every time against your previous performance is a great stimulus. I'm always happy when I can practice on different shooting ranges, whether hunting or sports.
How do sport shooting and hunting go together for you?

First of all, hunting has only a very little to do with shooting. Hunting is much more! But especially when it comes to shooting during the hunt, the hunter must be able to shoot accurately and safely - animal welfare just demands that. I think it's my duty to practice again and again at the shooting range and to improve in order to do justice to the game as a hunter.
Do you prefer shooting handguns or long guns?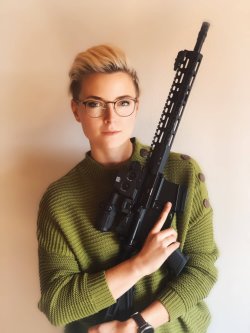 That depends on my daily shape. When I need peace and quiet, I prefer to shoot at longer ranges with larger calibers. The concentration on breathing and becoming calm is like meditation to me. But I also really enjoy the shooting courses with Matthias Hainich, the boss of Oberland Arms. No matter with which type of gun, long or short, Matthias always teaches me so much that I can drive home with a big grin. Pistol shooting is for me the "higher art" and every progress makes me proud and happy. What I don't like shooting so much is the shotgun. I don't like clay pigeon shooting, for example, but this may be because I haven't found a suitable shotgun for me yet.
What are your favorite guns?
My favorite long gun is clearly the Oberland Arms OA-15 BL M-LOK M4 in .223 Remington! I had the opportunity to put the gun together the way that suits me best and was given expert advice by Oberland Arms. The result was a great semi-automatic rifle with 14.5" barrel, 45-degree safety selector on both sides and a Geissele Match trigger. Mounted on it is an EOTech EXPS 2-0 with G.33 STS magnifier. It's perfectly suited for sport shooting and is easy to handle. But thanks to the 14.5 inch barrel at 100 m, the gun still has enough energy for predators and roe deer. 
My favorite handgun is the Walther PPQ Q5 Match Combo in 9mm Luger. I haven't shot it long, only 150 rounds so far. But already in this short time the pistol proved to be very pleasant. I got along very well right from the start. Thanks to the exchangeable backstraps, I was able to adapt it very well to my hands. I especially like the red dot, which makes aiming with rear sight and front sight superfluous. It can cowitness, which is a really big advantage for me. With the Combo, the Shield RMSc Red Dot is factory mounted. I retrofitted the pistol with a tungsten recoil spring assembly.
What ammunition do you use? Factory or reloaded cartridges?
I use normal ammunition, factory loads. Since I hunt with my .308 Win. bolt-action rifle with 20" barrel I was looking for a fast cartridge with a bullet featuring a good penetrating power for wild boars with safe exiting and that is gentle on game, after a long trial and error I decided for the RWS Speed Tip Pro in the newer Short-Rifle version. I have always achieved very good results with it. As soon as I have some time left, I would like to reload ammunition so that I can load cartridges exactly the way I need them, and the round is cheaper too.
If you could wish for a gun, what would it be?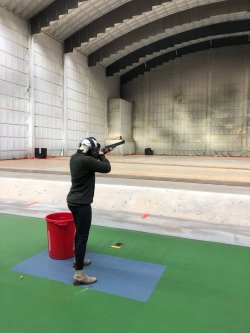 I wish for a semiautomatic rifle in .308 Win caliber from the Oberland Arms Custom Shop in a nice olive tone and with an adjustable gas block for a suppressor.
I would also like to have a shotgun that really suits me. Being a slender woman, it's not that easy to find a shotgun with the right stock length and weight. The crowning glory would be a bolt-action rifle in a large caliber to shoot at long range. In .408 CheyTac it would be nice, for example. And in addition, I wish a suitable civilian shooting range in Germany with lines more than 500 m long. In Bavaria. At my place. In the cellar.
Where and when can followers and fans meet you in person?
I am always very happy to meet followers and fans in person. The easiest way is to find me at trade fairs, such as the IWA, or events of various companies. I can also be seen more often training at the MSZU (an indoor shooting center), in Ulm. Please contact me, I am looking forward to your news!
Information about where I will be next or which events are upcoming can be found on my Instagram channel. There you can find me at hanna.selena