Minox adds a new digital night vision device with a recording function to its wide range of electro-optic devices: the NVD 650 features a 6x optical magnification (which can be digitally increased to 30x) and a large 50mm lens that ensures high light-gathering capabilities for better resolution and image brightness.
The optics specialists from Wetzlar (Germany) with its high quality and innovative riflescopes, cameras, multifunctional measuring equipment and binoculars is well-known to hunters and shooters alike. MINOX night vision devices offer a decisive advantage thanks to top performance at a very interesting price-perfomance ratio. 
Minox NVD 650, photos and videos at night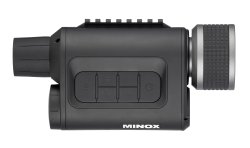 The NVD 650 is perfect for game and wildlife night-time observations, as well as for security applications in protecting personal property at night. Thanks to its built-in infrared illumination with a range of up to 350 meters that can be activated when the residual light is insufficient in the dark, the NVD 650 allows to overcome the limits of the human eye and high-power binoculars. It's also equipped with a mounting rail for connecting it to an external infrared spotlight to further increase the visibility range. You can also snap photos with 5-megapixel resolution or record HD videos onto an SD card. It's equipped with USB and TV out ports. 
The NVD 650 comes with a wrist strap and Neoprene bag and will be available from January 2019. Price is 449 euro for the German market: actual price may vary in your country due to taxes and VAT - please ask your local retailer.
Minox NVD 650: technical data
| | |
| --- | --- |
| Magnification: | 6x (optical) |
| Digital zoom: | 5x (up to 30x magnification combined) |
| Lens diameter: | 50mm |
| Field of view at 100m: | 6.8 m |
| Image sensor: | 5 MP CMOS sensor |
| Photo resolution: | 2590 x 1944 pixels |
| Video resolution: | 1280 x 720 (HD), 640 x 480 (VGA) |
| IR illuminator range: | up to 350 m |
| Video output: | NTSC or PAL |
| External memory: | SD/SDHC card up to 32 GB |
| Ports: | USB port, TV out |
| Dimensions (H x W x D): | 62 x 105 x 208 mm |
| Weight (without batteries):  |  765 g |