The new Minox ZX5i rifle scope line is now hitting the market. Presented at the 2017 SHOT Show in Las Vegas, the new models of the tried-and-tested ZX5i family available from specialist dealers are: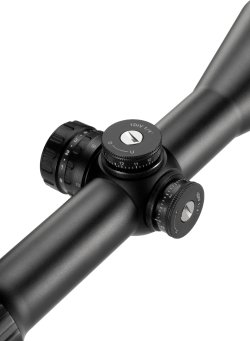 ZX5i 1-5x24
ZX5i 2-10x45

ZX5i 2-10x50
ZX5i 3-15x50

ZX5i 3-15x56   
ZX5i 5-25x50

ZX5i 5-25x56
Developed in Minox headquarters in Wetzlar (Germany), the ZX5i rifle scope models immediately impresses in terms of precision, quality, and reliability. The ZX5i Line different models are each available with illuminated reticle. They are therefore suitable for hunting even in deep twilight conditions and enable the user to concentrate faster on the target in the decisive moment. Starting at 749 euros, the ZX5i scopes also have a very interesting price/performance ratio.

Minox ZX5i, for short and long-range shooting
The 30mm riflescope tube and a 5x magnification offer the user maximum flexibility and precision for short and long-range shooting distances.
The large field of view enables quick aiming and a reliable target acquisition. The scopes feature a smooth power adjustment and an easy-to-adjust rubber-armored eyepiece that enables quick focusing on the subject in view.
The extended eye relief of 100 mm is extremely beneficial to users wearing eyeglasses and when using larger calibers. The inner components of the ZX5i Line models are protected by a shock-resistant body made of special anodized aluminum that is commonly used in general aviation applications. Furthermore, all the ZX5i scopes are purged with argon gas to prevent fogging and corrosion on the inside.
For hunting in poor light conditions, the new ZX5i scopes are available with an infinitely adjustable illuminated reticle that automatically switches off after 2 hours. Reticle versions available are the BDC and #4. These characteristics made them the ideal choice for hunters in any environment.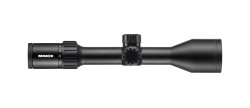 The ZX5i 2-10x50, for example, is suited even for .22 rimfire rifles used for general pest control duties, with a wide field of view also at short distances. The #4 reticle is in the second focal plane so it will remain constant in size regardless of the magnification setting. The knurling on the focus ring allows for a fine control even wearing gloves.
Minox ZX5i scopes for longer ranges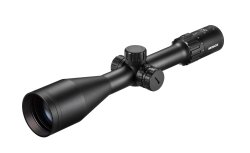 Models like the ZX5i 3-15x56 are perfect when higher magnification is needed: a low light 56mm objective scope for shooting wild boars in the moonlight but that could also be used to shoot foxes or roebucks at longer ranges. In every condition, picture will be sharp at the whole magnification range and crystal clear even at the edges. 
The prices for the new ZX5i scopes are as follows: 749 euro for the Minox ZX5i 1-5x24, 889 euro for the Minox ZX5i 2-10x50, 949 euro for the Minox ZX5i 3-15x56, and 1,089 euro for the Minox ZX5i 5-25x56.



MINOX ZX5i
1-5x24 

MINOX ZX5i

2-10x50


MINOX ZX5i

3-15x56 SF

MINOX ZX5i 

5-25x56 SF


Magnification max./min.
1-5x

2-10x

3-15x

5-25x

Objective diameter (mm)

24
50
56
56
Exit pupil diameter max./min. 

4,8/11,4

5,0/11,4

3,7/11,4

2,2/11,2


Field of view min./max.

at 100 m


37,1/8,2

18,9/ 4,0

11,9 / 2,6

7,2 /1,6

Eye relief (mm)

100 mm
100 mm

100 mm

100 mm

Diopter compensation (-/+)

-3,0/+2,5

-3,0/+2,5

-3,0/+2,5

-3,0/+2,5


Elevation and windage adjustment

per Click (MOA*)


+/- 38

+/- 38

+/- 20

+/- 13

Focal plane

2
2
2
2
Power supply for the illuminated reticle


Battery

CR 2032


Battery

CR 2032


Battery

CR 2032


Battery

CR 2032


Argon filling

Yes
Yes

Yes

Yes

Main tube diameter (mm)

30 mm
30 mm

30 mm

30 mm

Overall length (mm)

285 mm
335 mm
372 mm
430 mm
Weight (g)

470 g

640 g
750 g
835 g
Price
749 €

889 €
949 €
1,089 €