Incidentally, US optics giant Leupold & Stevens, Inc. has set a record year in 2018, producing more riflescopes in Beaverton, Oregon, than ever before in its long history. With a broad catalog ranging from the low-priced Freedom series to the high-priced Mark 5HD series, it covers every market segment. Leupold can now offer a whole cornucopia of novelties, but here we only want to briefly introduce some products of particular interest to Europe.

In the hunting area, these are likely to be two main products: the Leupold Freedom Red Dot Sight (RDS) and the LTO Tracker 2 / LTO Tracker 2 HD, the improved follow-up model of the hand-held Leupold Thermal Optik (LTO) Tracker thermal imaging device.
New optical products from Leupold for the domestic area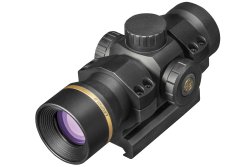 The sturdy Leupold Freedom Red Dot Sight (RDS) with 34 mm main tube and 1 MOA dot is 100% fogproof and waterproof and features 80 MOA of total elevation and windage adjustment. There are 2 versions, one with capped, universal 1/4 MOA click adjustment for each gun type and caliber, or with Ballistic Bullet Drop Compensator (BDC) for maximum distances up to 500 yards - tuned to 55 gr .223 Remington standard ammunition. The included mount sits at the optimum sight height for AR rifles. Without the mount and 34 mm mounting rings, the RDS also fits on any other long gun type. The red dot sight is equipped with a battery-saving motion sensor technology, which puts the sight into a battery-saving standby mode after five minutes of inactivity. When the sensor detects a movement, it immediately activates the visor. A manual shutoff mode allows turning off the red dot sight when not in use. The scratch-resistant lenses feature Leupold's Twilight Red Dot System, which delivers standard color consistency and premium lens clarity.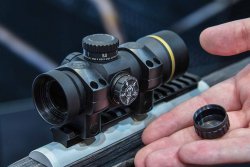 With thermal optics, hunters can observe game in adverse light conditions or through complete darkness. However, the Leupold LTO Tracker 2 HD can also be very useful for the military, police, border guards / customs, fire brigade and other security professional fields, for example in the observation or prosecution of criminals. This Leupold device, powered by a CR123 lithium battery with a continuous operating time of around 10 hours, is 14.2 cm long and weighs about 280 g. The Leupold LTO Tracker thermal viewer with a 6x digital zoom, 21 degree field of view, a heat sensor with a resolution of 206x156, high "fast frame" image frequency of 30 Hertz and six selectable, different color filters features an operating range of up to 600 yards (549 m). The new Tracker 2/2 HD models also have a "Beacon Mode". Here, the heat signature is clearly displayed even in hot ambient temperatures. Not uninteresting, considering the extremely long hot summer of 2018. The HD version has an even better image resolution, so that red deer are clearly visible up to 300 yards (274 m) and an identification of observation objects up to a maximum distance of up to 750 yards (685 m) should be feasible.
New Leupold riflescopes for the shooting range

In the professional and sports sector, Leupold offers the impressive Mark 5HD 7-35x56 and VX-5HD 4-20x52 and 7-35x56 Long Range riflescopes, which promise a lot of power. The imposing 35mm main tube Mark 5HD 7-35x56, with MILRAD or MOA adjustment, weighing 935 g is comparatively lightweight in this performance class. The promise of the manufacturer: the lightweight construction of the Mark 5HD distributes the recoil energy faster and creates an unrivaled longevity. The "ZeroLock" elevation adjustments dial deliver 30-mils of adjustment in 3 turns to provide reliable corrections even over the longest ranges. The MILRAD version comes with 5 different reticles: H-59, CCH, TMR, Tremor 3 and Illuminated Tremor 3. The MOA version comes with an Impact 60 MOA reticle.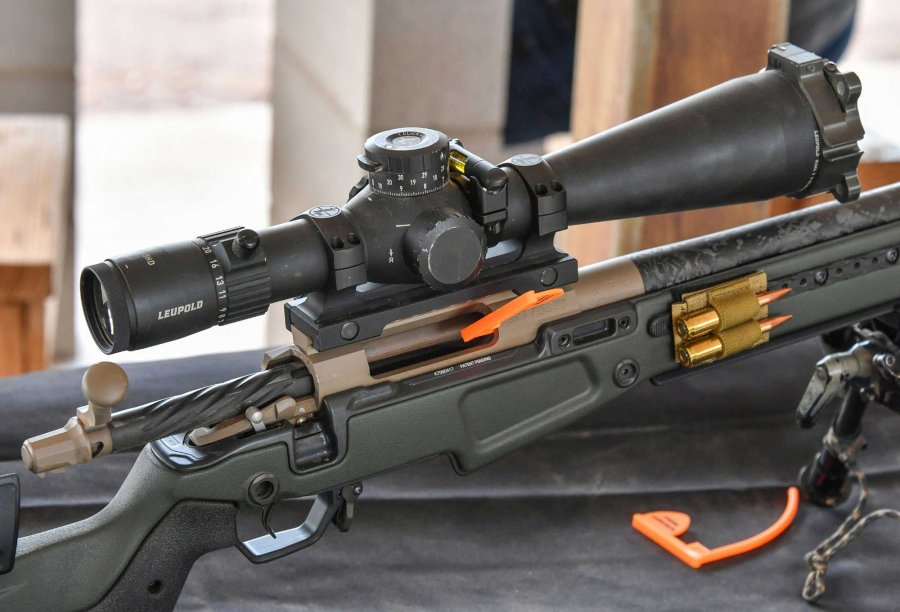 The new, more affordable, 34mm main tube, 5x zoom, and side parallax compensation VX-5HD 4-20x52 and 7-35x56 High Power models also have much to offer in terms of optical quality with high light transmission, contrast, and edge sharpness. They feature a new zeroing adjustment system and 60 MOA of adjustment in 3 turns with 1/4 MOA clicks. These powerful riflescopes are of course available with different reticles: TMOA, Impact 14 MOA, Duplex.

One more note: the Leupold RBX-3000 TBR / W binoculars with integrated laser rangefinder presented on all4shooters.com within the US trade fair coverage are not available in Europe. A pity, we think.