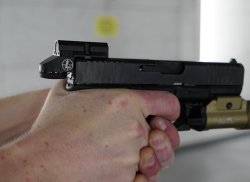 The editors of all4hunters/all4shooters.com were all the more pleased that Marijan took the time to put Leupold's new red dot sight under the microscope. Small, rugged, extremely accurate and fast on target, that's what you already know. Plus, the DeltaPoint Micro performs very well under night vision conditions. Take a look at the video. As users for this small miracle of technology, mainly law enforcement officers, concealed carriers and hunters come into question. Due to the compact design of the DPM (DeltaPoint Micro), it is in fact perfectly suited for concealed carry. It is currently the most compact red dot sight on the market and sets new standards in terms of performance and user-friendliness. 
Marijan Loch comments: "The sight is fully enclosed. It is small, compact and what was interesting for me to see is: how does the red dot sight perform under night vision conditions? Especially for law enforcement, the point of low light-no light is an extremely important in the purchase decision. To my surprise, I have to say that the DeltaPoint Micro handles difficult light conditions very well. I only needed 3.02 seconds for the 5 plates, which is almost as fast as under daylight conditions. You can definitely work with it."     
Leupold DeltaPoint Micro: video test in difficult light conditions with Marijan Loch
This video has been hidden because of an external service (YouTube) that could potentially collect personal data.Allow video services for the duration of the visitAllow video servicesStop allowing video services
DeltaPoint Micro from Leupold: a compact design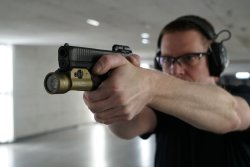 The huge advantage of the DeltaPoint Micro is certainly its compact design, so when used with handguns (we mounted the DPM on a GLOCK 19 and a Walther pistol) you will feel a huge advantage in combination with holsters. We tested the red dot sight-handgun combination in 4 different holsters – with no problems. The following holsters were used: Blackhawk Level 1, Blackhawk T-Series L2C, Kydex Sportholster and the "Omnivore" holster from Blackhawk which can accept up to 150 different handguns models.
The DeltaPoint Micro aligns the red dot with the front sight and is mounted at the same height as the factory iron sights. This makes target acquisition intuitive and accurate. The enclosed system of the DeltaPoint Micro from Leupold is also designed for tough conditions. In the video below, Jens Tigges from Outdoor Marketing explains the features of the DeltaPoint Micro.
The Leupold DeltaPoint Micro in detail
This video has been hidden because of an external service (YouTube) that could potentially collect personal data.Allow video services for the duration of the visitAllow video servicesStop allowing video services