The Mark 5HD riflescope family has been designed to offer the ultimate in accuracy and optical performance for long range shooters. The new models with a magnification factor of 7-35x promise the same level of quality but with something more.
"From the beginning, the Mark 5HD project team set out to deliver riflescopes that had all the features long-range shooters have been calling for, but in a user-friendly package," said John Snodgrass, Product Line Manager for Leupold & Stevens, Inc. "Shooters across the country have been impressed by what the Mark 5HD's are capable of, and many have asked when we'd be adding more magnification to the line. We're ecstatic to be able to deliver 7-35 models to the long range community."
For the design of the new Mark 5HD line, Leupold engineers asked elite shooters what they exactly needed and what the unnecessary features were. The 7-35x56 model weighs only 935 grams, making it the lightest in its class. But this does not mean that its construction is delicate; on the contrary, the reduced weight makes it possible to disperse the recoil energy more efficiently, extending the optic's life.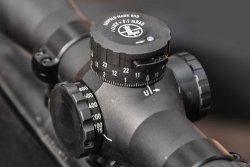 All models stand out for their excellent image quality in very low light conditions. The Twilight Max HD Light System ensures a perfect balance of color transmission and contrast. The Mark 5HD is built on a 35mm tube that allows ample adjustment travel combined with a low-profile adjustment turret.
The heart of the Mark 5HD optics is in the ZeroLock adjustment system, which makes it very easy to return to zero in case of incorrect adjustment. The M5C3 elevation dial deliver 30-mils of adjustment in three turns, or 10-mils per turn in models with milliradian system. This allows the Mark 5HD to adapt to the performance of the best long range rifles.
The milliradian models of the Leupold Mark 5HD 7-35x56 are available in six different reticle options: H-59, CCH, TMR, Tremor 3, and Tremor 3 Illuminated. The MOA version will be available with a 60 MOA reticle
Two new versions for the VX-5HD riflescope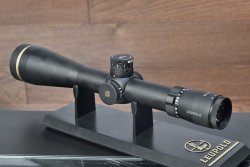 Franco Palamaro, © F.PALAMARO
Also new for the VX-5HD series, two models with a magnification factor of 4-20x52 and 7-35x56 respectively. The riflescopes of the VX-5HD series have been named "Optic of the Year" by Guns & Ammo magazine, also receiving the favor of the public all over the world. With their a 5x erector assembly they fit perfectly between the Leupold VX-3i and VX-6HD models.
"When we designed the VX-5HD line, which featured magnifications of 1-5, 2-10, and 3-15, we were working to build a scope that suited any potential need a hunter or recreational shooter might have," said Vici Peters, Product Line Manager for Leupold & Stevens, Inc. "The addition of the high-power 4-20 and 7-35 models ensures that, and they deliver the long range performance demanded by many serious shooters today."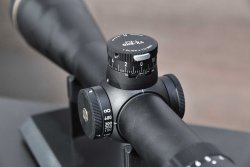 Franco Palamaro, © F.PALAMARO
Among the new features, the CDS-T-ZL3 ZeroLock turrets that allow an adjustment range of 20 MOA per revolution, with ¼ MOA per click and a lock button that allows you to check the adjustment and, if necessary, return to zero.
Both models feature a 34 mm maintube and a side turret for focus parallax adjustment. These optics also make use of the Twilight Max HD Light Management System to allow users a longer use of the optic when the light fades away. Thanks to the pressurized nitrogen filling, the optics are moisture and fogproof. Guard-ion coating prevents dust and moisture from settling on the lenses.
New binoculars: Leupold BX-2 Alpine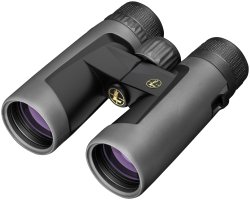 The Leupold BX-2 Alpine binoculars have been developed from the ground up to deliver a first-class quality-price ratio with the typical optical performance of Leupold products. The BX-2 Alpine binoculars are available in 8x42, 10x42, 10x42, 10x52 and 12x52 versions. All BX-2 Alpine binoculars feature Leupold's Twilight Max Light Management System, the same system used in the LRP VX-3i and VX-3i riflescopes to offer users perfect images from early morning until well past sunset. "We've designed the BX-2 Alpine to be the very best binocular in its class," said Zach Bird, Product Line Manager for Leupold & Stevens, Inc. "With it you're getting a combination of excellent optical performance and rugged reliability that its competitors can't match." Other features of the BX-2 Alpine range include a rugged magnesium chassis with a ¼ "- 20 threaded tripod adapter.

New rangefinding binocular: Leupold RBX-3000 TBR/W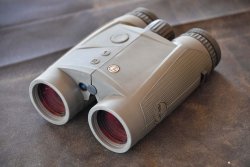 Franco Palamaro, © F.PALAMARO
The RBX-3000 TBR/W Laser Rangefinder delivers accurate ranges up to just under 3000 yards / 2750 meters on reflective objects and 2600 yards / 2,375 meters on trees and soft targets. Tim Lesser, Vice President of Product Development for Leupold & Stevens, said: "Our consumers are incredibly committed to their craft and demand top-of-the-line performance from their optics. The RBX-3000 TBR/W has been developed from the ground up to deliver the ultra-premium performance the Leupold brand is known for. We weren't going to come to market with a new rangefinding binocular until it was the best, and we're happy to say it has arrived." 

Red Dot Red Dot Leupold VX-Freedom Red Dot Sight (RDS)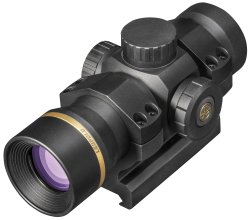 With the VX-Freedom RDS (Red Dot Sight), Leupold brings to market a new, extremely rugged optoelectronic sight that performs in extreme conditions.Built primarily for hunters, the new VX-Freedom RDS was designed with ease of installation in mind. Thanks to its 34 mm tubular body it can be mounted on any type of long gun, from 12-gauge shotguns to AR-15 style rifles.
The red VX-Freedom RDS dot feature a 1 MOA dot reticle supported by Leupold's energy-saving Motion Sensor (MST) technology, which puts the optics into a energy-saving standby mode after five minutes of inactivity. When the MST detects motion, it immediately reactivates the sight.
A manual mode allows the sight to be shut off the sight when it is not in use. The scratch-resistant lenses feature Leupold's Twilight Red Dot system, which delivers  standard color consistency and premium lens clarity. The design is built on a 34 mm tube less than 14 cm long and weighing 200 grams. Its lightweight design helps increase its rugged reliability.

Leupold optics: Watch more new products for 2019