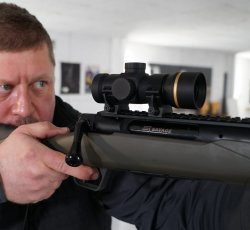 Let's move on to the first model, the RDS. We had already presented the RDS in an article here on all4hunters/all4shooters.com. With less than 200 grams and a length of 135 mm, the compact red dot sight is the ideal companion for driven hunts. The two main advantages of a red dot sight on driven hunts are the fact that you can shoot with both eyes open and that as a reticle it has a red dot, which covers nothing of the target. 
Since on driven hunts very often shooting is made at shorter ranges (up to 70 meters), the RDS is at least an option, if not the better one at short distances. With a large field of view, you have your surroundings in view and you can see obstacles very well in particular, which means that the RDS is the better choice for many a hunter when it comes to driven hunts with tight shooting aisles, etc. As always with this editorial recommendations, you should note note that this opinion of the editors does not claim to be exhaustive – rather it is to be seen as a supplement and supports the purchase decision.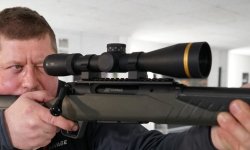 We would also like to dedicate this support to the second optic in this article, the Leupold VX-6HD 1-6x24. The VX-6HD 1-6x24 offers the best optical imaging over the entire magnification range of 1x to 6x, and it does so with excellent sharpness in detail and clarity. Like all Leupold products, it is mechanically extremely robust, with a specially developed lens protection coating, as well as being waterproof and fogproof. Especially when it rains or even snows, you will learn to appreciate this quality feature during your driven hunts. With the quick adjustment throw lever, fast turning up to 6x is very easily possible. So you can quickly adjust everything from 1x to 6x. 
The main advantage here is that at 1x magnification, the shooter can use the scope with both eyes like a red dot sight, but can quickly and easily revert to magnification for follow up or longer shots if needed. This is a type of riflescope that has also proven itself in African hunting conditions. Available in this series is the Custom Dial System, called "CDS" for short. The individual ballistic quick dial gives you the ability to customize your turret to the respective load and thus the point of impact, although this should play a subordinate role during a driven hunt, because the game often changes very quickly and fast reactions are required.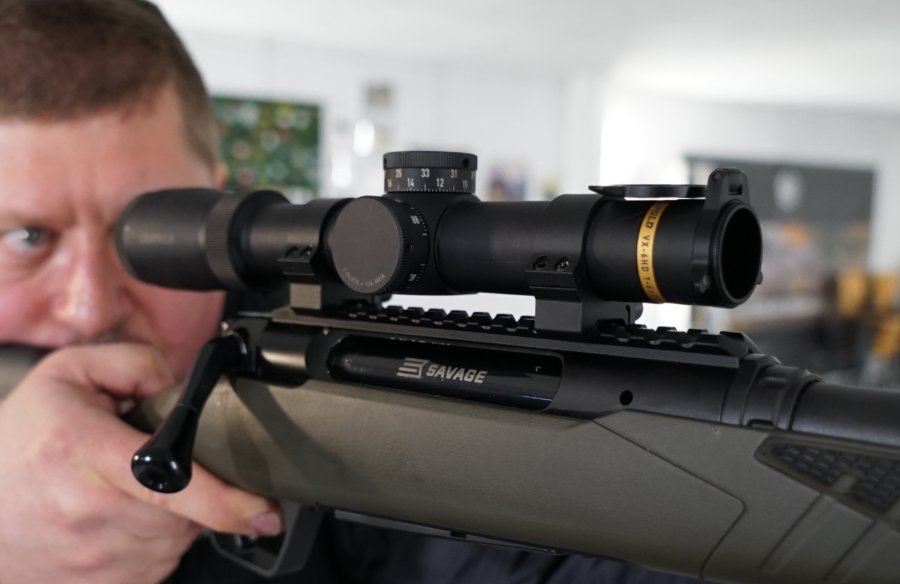 Much more important should be the CDS with the next optics, which we present to you. The VX-5 HD 2-10x42 is also suitable for driven hunts. It lacks only the 1x magnification, which is to be forgiven, if one considers that most game on a driven hunt is shot at ranges from 30 to 70 meters and most hunters get along there also with a 2x magnification very well. The scope is interesting for hunters who are looking for a combination of driven hunt, stalking and raised hide, because it offers enough optical potential to hunt up to 120 meters. The CDS of the VX-5 HD 2-10x42 plays –  even more here – to its strengths, of course.
Up to the 6x magnification range, the scope loses no light, which is an advantage when hunting in the evening. Up to the 12x magnification range with the VX-5, no parallax compensation needs to be made. The VX-5 HD 2-10x42 is therefore a very intuitive riflescope and is suitable for a wide range of hunting applications.   

Leupold driven hunt optics in video
This video has been hidden because of an external service (YouTube) that could potentially collect personal data.Allow video services for the duration of the visitAllow video servicesStop allowing video services
For use in driven hunts, here is our conclusion on the three optics presented:     

Leupold RDS – Main advantage: max. fast target acquisition, no magnification, MSRP €369.
Leupold VX-6HD 1-6x24 CDS – Main advantage: combines the advantages of an illuminated dot sight and a riflescope, also suitable for Africa and in combination with attachments, MSRP €1699
Leupold VX-5 HD 2-10x42 CDS optional – Main advantage: universal scope with small initial magnification but sufficient maximum magnification. No parallax compensation necessary. MSRP from €1119 
If you need to go further distances, for example in the mountains, we recommend an optic with a large magnification range. 
---