GECO optics stand for highest quality and performance with a very good price-performance ratio at the same time . In accordance with the GECO motto "ALL YOU NEED", the manufacturer also offers riflescopes and observation optics in addition to its main ammunition division. And that with a long tradition: already in the 1930s, Gustav Genschow & Co. (GECO) sold binoculars under this brand.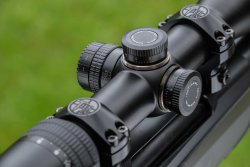 Especially among young hunters, GECO ammo and optics are very popular , thanks to the high quality and robustness of the products featuring at the same time very affordable prices. For the initial purchases in hunting equipment, even many young hunters within a narrower budget want to acquire high-quality accessories. After all, the entry into the hunter's life should be as smooth as possible - and the acquired product should not only have good optical performance but also a good durability . Because as the saying goes, if you buy cheaply you pay dearly.
The last GECO scope we tested was the GECO 1-5x24i. We appreciated this riflescope from the standard line for its performance and the good workmanship. The GECO 1-5x24i with a maximum magnification of 5x is primarily designed for driven hunts. With the 2.5-15x56i now the designation "Gold" is added as a sign of GECO's hunting premium class.

The applications of this riflescope are clearly more extensive for hunters, too: with a 2.5 to 15x magnification, the riflescope comes along as a real all-rounder for almost any hunting situation . Whether for driven hunts or accurate shooting at long ranges – does the "ALL YOU NEED" motto also apply to the GECO Gold 2.5-15x56i?
At the shooting range we could test the GECO Gold 2,5-15x56i on a Merkel Helix Alpinist in .30-06 Springfield. We had mounted a Hausken Jakt JD 224 Lite XTRM MK2 suppressor. 
Video: the GECO Gold 2,5-15x56i on the shooting range!
This video has been hidden because of an external service (YouTube) that could potentially collect personal data.Allow video services for the duration of the visitAllow video servicesStop allowing video services
Stalking, hide hunting and driven hunting – a GECO riflescope for all three types of hunting 
The large objective lens diameter of the GECO Gold 2.5-15x56i ensures a high light transmission, even in difficult lighting conditions. Thanks to special glass types and the manufacturer's GECObright technology, we saw a very bright, clear image. According to our impression it is a bit clearer than with the GECO 1-5x24i.
Light transmission is of course in a much higher league. Here, the GECO Gold 2.5-15x56i doesn't have to hide from other premium optics. Nothing stands in the way of a relaxed evening with a perfect overview. With the high transmission values of the GECO Gold 2.5-15x56i riflescope, safe game identification in the forest should not be a problem even in twilight.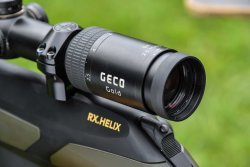 With the help of the consecutively numbered parallax adjustments, ranges could be estimated quickly and reliably, which means excellent support especially for young hunters. Since the up to 15-fold magnification of this riflescope makes shooting over long distances possible, an exact range estimation serves as a good decision-making aid. In addition, the field of view remains pleasantly large over the distance, which makes it easier to quickly detect game, even with demanding shots. 
GECO Gold 2.5-15x56i: easy handling and high optical quality for just under € 1300
In an earlier version of the riflescope, the illuminated dot was still a little too bright, which resulted in a clear target concealment. This was improved immediately after criticism from the community. We were able to adjust the illuminated dot of the test optic according to our preferences until the target concealment was pleasantly reduced – even at high magnification the image was optimal. As usual with GECO, the illuminated dot switches off intelligently and automatically, ensuring a long battery life.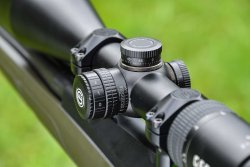 As with all GECO hunting scopes, the GECO Gold 2.5-15x56i eyecups are made of high-quality aluminum. Already with its standard line the manufacturer offers high-quality materials and a convincing quality with its scopes and observation optics. Logically, products with "GECO Gold" in the name go still one step further. Modern multi-layer coatings, premium materials and an upper-class processing characterize an optic like the GECO Gold 2.5-15x56i.
In addition to an integrated built-in lens mount and the possibility of tool-less zeroing for fast locking, the rifle scope with GECOtrac offers a combination of height elevation and target turret in one. Thus it allows for a handy and fast operability. Despite the scope's large lens diameter, GECO achieves compact dimensions and a relatively low weight of only 27.51 oz / 780 g thanks to its lightweight construction. The hunter is, of course, grateful for every gram saved, especially during walking hunts and stalking.
GECO Gold 2.5-15x56i rifle scope: technical data
| | |
| --- | --- |
| Model: | 2,5-15x56i |
| Type: | riflescope for hide hunts, stalking and driven hunts |
| Magnification: | 2.5-15x |
| Main tube diameter: | 30 mm |
| Field of view (100 m): | 15.0 - 2.5 m |
| Reticle: | 4 |
| Length: | 15" / 381 mm |
| Weight: | 27.51 oz / 780 g |
| Price: | 1299 euro (price may vary due to VAT and import duties) |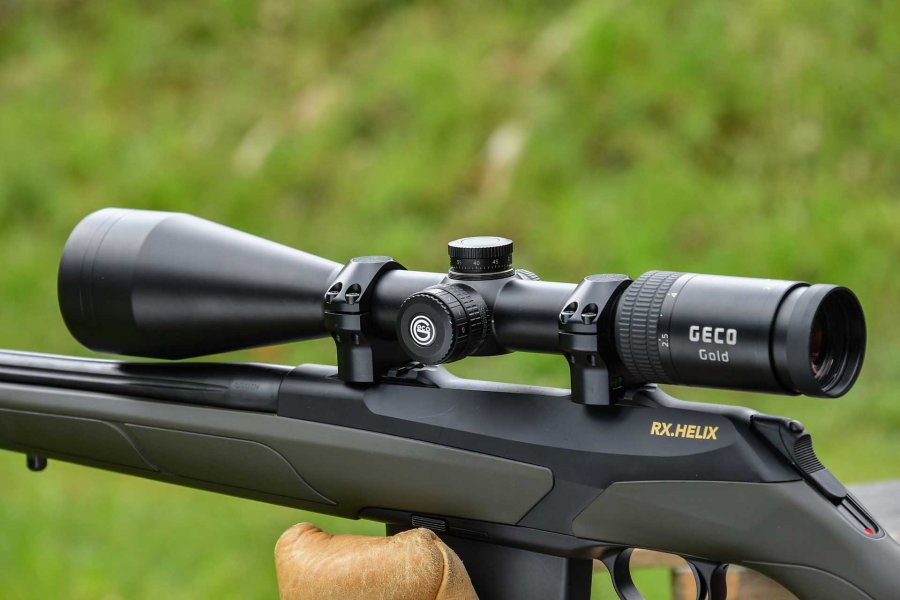 Our test conclusion on the GECO Gold 2.5-15x56i riflescope

With the use of high-quality materials and a good quality construction, with its Gold 2.5-15x56i riflescope GECO delivers an outstanding performance while offering at the same time good ruggedness. The manufacturer achieves this goal without pushing the price too high. Such a price-performance ratio is unlikely to be found anywhere else in this optical quality range.
In addition to good optical performance values, the manufacturer also focuses on high manufacturing quality – which is reflected not least in the riflescope performance, ease of operation and long service life. Not in vain GECO offers a 10-year guarantee on its Gold line (the warranty on electronic components is limited to 24 months).
Also the demanding hunter gets his/her money's worth with the GECO gold 2,5-15x56i riflescope. Performance and workmanship leave nothing to be desired. Whether stalking, hide hunting or driven hunting, it is suitable for almost any hunting situation - and always with only a 780-g weight thanks to its lightweight construction.
Even young hunters can definitely take a look - with the GECO Gold 2.5-15x56i they have a premium riflescope in their hands, which provides top performance in all types of hunting and with which they will enjoy a slightly higher but very fair investment compared to the GECO standard line for a long time to come.
---
You can find more information on GECO optics directly on the manufacturer's website .

You can find our test of the new GECO Action Extreme pistol cartridges here .