Since its premiere in 2012, the Heidelberg Practical Pistol Club (HPPC) has been responsible for organizing the GECO IPSC Masters, currently the IPSC match with the largest number of participants in Germany. Also at the GECO IPSC Masters, which took place from July 21 to 23 in Philippsburg, the HPPC and its organization team including the match director Harold Ruzanji, the range master Markus Wohlmuth and the stats director Uwe Lange once again put together a first-class match. With the challenging stage setups, the Heidelberg team absolutely justified the decision of the BDS to make this event a qualifying match. However, before we get into the stages, here is some information about the main sponsor and the match.
The main sponsor of the match was – as the name suggests – ammunition manufacturer GECO. For more than 130 years GECO has been shining with constantly growing expertise. Cartridges are manufactured under the strictest quality controls at locations in Germany, Hungary, Sweden and Switzerland. The company has always delivered quality products for hunting and sports. The company's own GECO-IPSC team represented the manufacturer also this year at the on-site match – we already introduced one or the other shooter like Sascha Back and Luis Ehrhardt in more detail. Additionally Patrick Kummer, Stefan Rumpler, György Batki and Csaba Szászi were at the start for GECO. Day 3 of the event was GECO team day!
But GECO plays a very important role in this year's IPSC European Championships too. GECO is supplying the official match ammunition in a wide variety of calibers such as .38 Super, .40 S&W, .45 ACP, .357 Magnum or 9mm Luger directly to the European Championships in Corinth, Greece (September 24 to October 1, 2023). What made the GECO IPSC Masters 2023 in Philippsburg and which matches still play a role for the qualification for the IPSC World Championship 2025, we have summarized here for you.
GECO IPSC Masters 2023 as qualifier match for the World Championship 2025. Here we have summarized for you what made the GECO IPSC Masters 2023 in Philippsburg special and which matches still play a role in qualifying for the IPSC World Championship 2025.

GECO IPSC Masters 2023 as a qualifier match for the 2025 World Cup

As already indicated at the beginning, the umbrella organization BDS (Bund Deutscher Sportschützen, the Federation of German Marksmen), which is responsible for IPSC shooting in Germany, at the beginning of this year, on the occasion of the upcoming IPSC World Championship 2025 in South Africa, announced that it would like to rely for the first time on so-called qualifier matches for the highly coveted starting place allocation. The following mandatory dates were set: German Championship 2023, Walther Cup 2023 in Düsseldorf, as well as the German Championship 2024 and the GECO IPSC Masters 2024. Applicants who want to compete in the German national team for the BDS at the IPSC World Championship 2025 in South Africa must also submit ONE additional result from ONE of the following events with their application: GECO IPSC Masters 2023, Rooster Mountain 2024 or Extreme Euro Open 2024. No wonder that the starting places for the GECO IPSC Masters 2023 were even more coveted among German shooters than in previous years.
In the end, the organizers were able to register no less than 446 starters. Everything that has rank and name in the IPSC field in Germany was there. In addition, numerous top shooters from abroad wanted to have a say in the fight for the top places. Especially since the opportunity to shoot such a large and technically demanding match in the hot preparation phase before the upcoming European Championships was very convenient for many. Among them were Emile Obriot, Dylan Keppel and Margaux Nycz. This ensured plenty of competition on the 15 stages. Match participants could comfortably register on the stages and were provided directly on site with everything they needed, such as equipment sheets or stickers for the score book. As already mentioned, the level demanded on most stages can be described as very high. For example, moving targets such as swingers, bobbers or turners were waiting for the shooters on almost every stage. In many cases, several such targets had to be mastered on one stage. This, coupled with mini-targets, lots of small steel targets, distances of sometimes more than 40 meters or shooting with a weak hand, provided plenty of adrenaline for the participants. On this match weekend, shooters were also spoiled with culinary delights by Ewa Bartczyszyn. Exhibitors such as IPSC4YOU, the Winkler IPSC target store and of course GECO provided distraction from the demanding match actions during the short breaks. Several non-cash prizes such as T-shirts, ammunition bags, first aid kits or red dot sights and scopes were raffled off among all match participants every day. Thus, many of the participants could look forward to winnings from the lottery pot.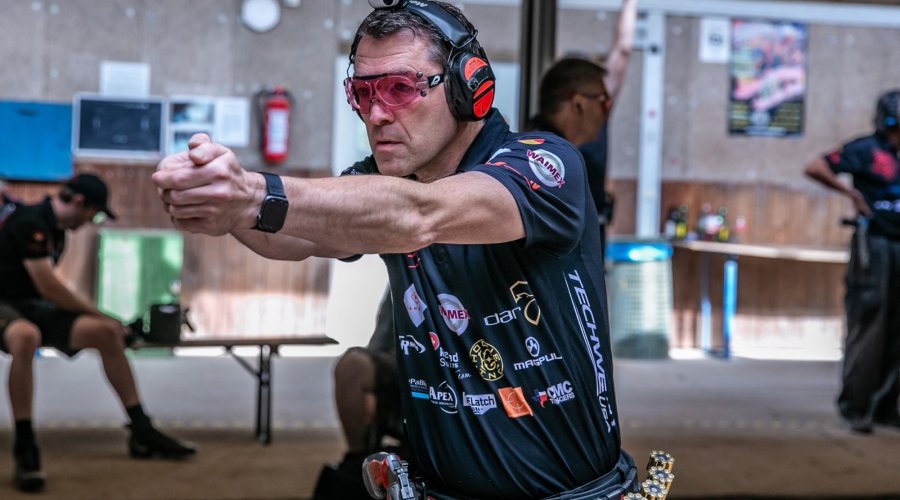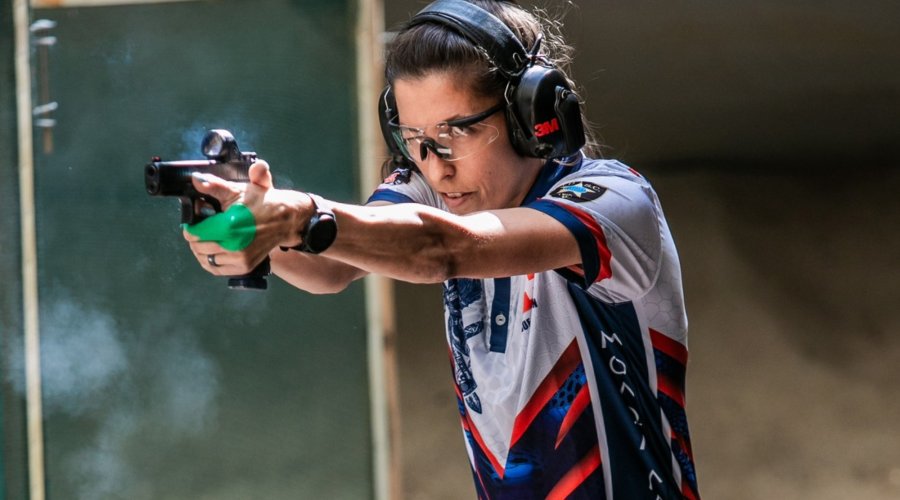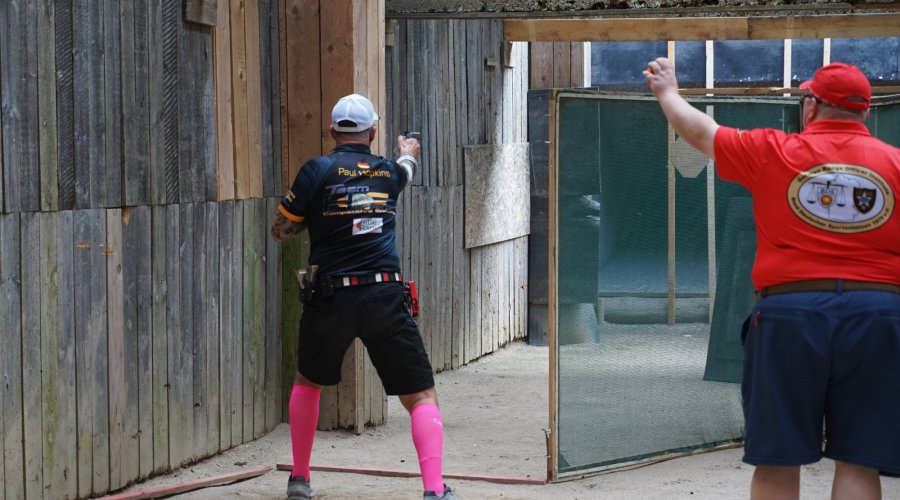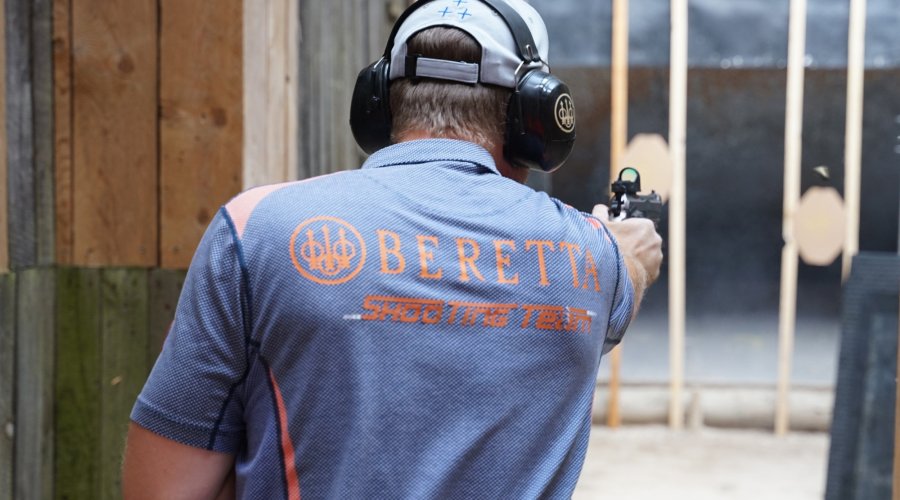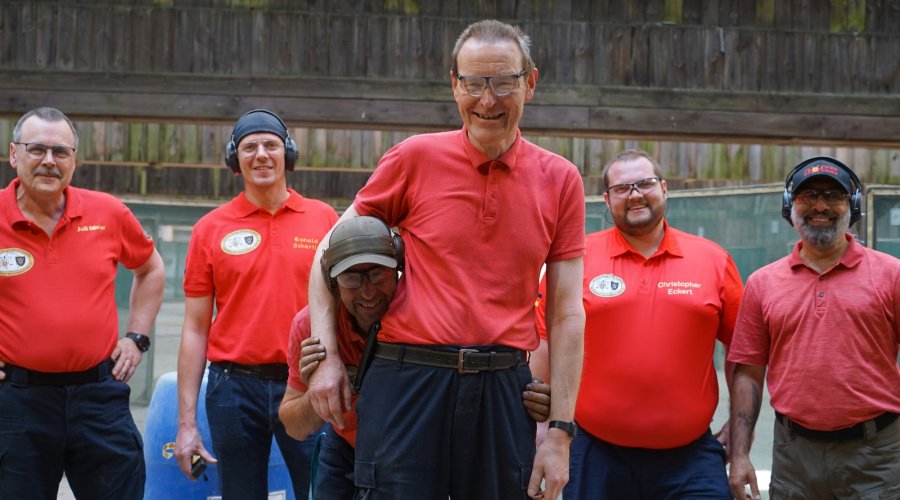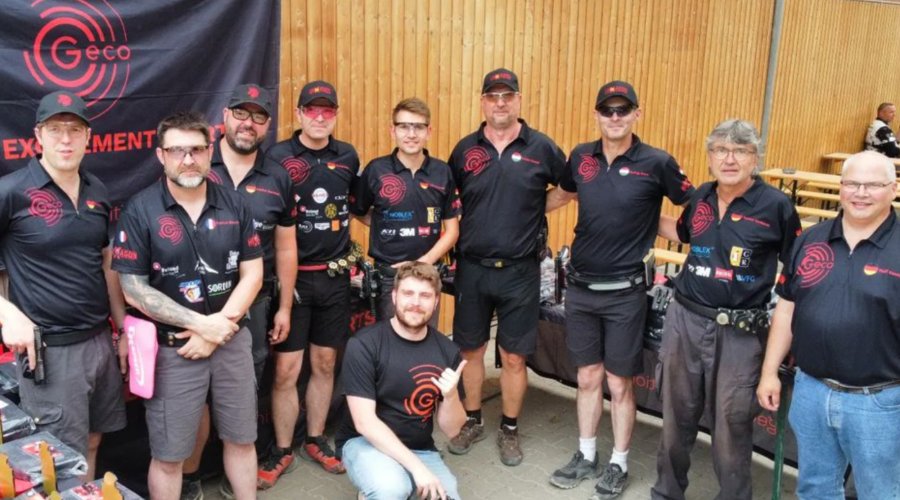 This time, more than 124,880 rounds found their way into the bullet traps at the GECO Masters shooting range in Philippsburg. The most popular division of the match weekend was the Production Optics Division with over 115 participants. Here, Dutch shooter Dylan Keppel was able to impress in the medal hunt. Emile Obriot from France joined him in second place and Arne Lentz, shooter in Frankonia's Topshot Team completed the podium in third place.

112 shooters start in the Production Division. Here, the German KMR shooter Alexander Fleischer was successful. Kai Simon, from the Bullet Brother Team took second place on the podium, closely followed by third-placed Sebastien Armendariz.
In the Standard Division a total of 106 participants competed. Tom Saudement was the winner. Second place went to Oliver Damm, just ahead of the runner-up in the Standard Ladies Division, Margaux Nycz from neighboring France.
Andreas Pfeiffer from the Atlas Shooting Team beat 68 other Open shooters to win the popular President Medal. He was followed by GECO team shooter Luis Erhardt in second place and Thomas Winter in third place.
GECO team shooter Sascha Back is a passionate revolver shooter and beat Dutch shooter Eric Cornelissen and Günther Knaus out of a total of 19 revolver shooters.

In the Classic Division 22 shooters fought for the first place. GECO team shooter György Batki won against his team mate Patrick Kummer. Vitalij Melehov completed the podium with his third place.
TOP 5 results of the GECO IPSC Masters 2023

TOP 5 GECO IPSC Masters 2023 HANDGUN - OVERALL


 

Production

Open

Standard

Production Optics

Classic

Revolver

Place 1

Alexander Fleischer

Andreas Pfeiffer

Tom Saudement

Dylan Keppel

György Batki

Sascha Back

Place 2

Kai Simon

Luis Ehrhardt

Oliver dam

Emile Obriot

Patrick Kummer

Eric Cornelissen

Place 3

Sebastien Armendariz

Thomas winter

Margaux Nycz

Arne Lentz

Vitaliy Melehov

Günther Knaus

Place 4

Stefan Rumpler

Remo Schraner

Christian Wiprächtiger

Andreas Dauphin

Philipp Wessels

Kevin Serri

Place 5

Pierre Hardy

Yannick Chrits

David Deschepper

Nils Nothnagel

Nicola Domenico Pedroli

Gregory Michel
TOP 5 GECO IPSC Masters 2023 HANDGUN - LADIES


 

Production

Open

Standard

Production Optics

Place 1

Petra Nemcova

No rating

Margaux Nycz

Cheyenne Wauben

Place 2

Ekaterina Burkatovski

 

Manuela Perrot

Claudia Remek-Lentz

Place 3

Iona Dirlewanger

 

Rita Burkhart

Swenja Knoblich

Place 4

Noemi Muhr

 

Jacqueline Schreiber

Sue Meerson

Place 5

Kathrine Jordi

 

Ines Weiss

Anita mold
TOP 5 GECO IPSC Masters 2023 HANDGUN - SENIOR


 

Production

Open

Standard

Production Optics

Classic

Revolver

Place 1

Roger Zobrist

Thomas winter

Oliver dam

Arne Lentz

Nicola Domenico Pedroli

Sascha Back

Place 2

Robert Koch

Remo Schraner

Franz Röösli

Norbert Mayer

John van Uitert

Erik Cornelissen

Place 3

Olaf van Eßen

Roland von Borries

Horst P. Beck

Patrick Baculard

Arno Graner

Günther Knaus

Place 4

Markus Stobbe

Jacky van Koolwijk

Mike Widiger

Michael Hoer

Csaba Szászi


Marwan Itani

Place 5

Markus Huber

Karl Riegel

Paul Hopkins

Jürgen Ranczka

Michael Altmaier

Marco Burger
TOP 5 GECO IPSC Masters 2023 HANDGUN - SUPER SENIOR


 

Production

Open

Standard

Revolver

Production Optics

Place 1

Thomas storm

Patrik Schneider

Hampi Brosch

Claudia Zambonin

Heribert Betterman

Place 2

Armin Terving

Oliver Winkler

Dietmar Rauer

Ernst Schmocker

Jörg Have

Place 3

Reinhard Kelterbaum

Enzo Telese

Karl Heinz Hilbig

Wolfgang Zieffle

Georg Fabricius

Place 4

Helmut Burkhart

Michael Great

Jürgen Kilian

Norbert Scheifele

Rolf Reich

Place 5

Michael Schreiner

Eddy De Meulenaer

Robert Schett

Georg Geödert

Stefan Möbs
---
The detailed results – including all stage and category results – can be found as always on ipscmatch.de. The GECO team shooters are highlighted in bold in the tables.

More information about the main sponsor can be found on the GECO website.

At this point we would also like to give special thanks to the Philippsburg Shooting Range and especially Linda Calmbach for providing the numerous pictures.