Sellier & Bellot – for years the Czech ammunition manufacturer has stood for good and affordable ammunition. At the SHOT Show we already reported on novelties and we can now present something else that we find interesting and that has been around for about two years: the Sellier & Bellot Screen Ammo. Nobody would deny that training is important for hunting shooting. It's just that every now and then you don't get the chance to shoot all imaginable scenarios on a hunting shooting range. The remedy is shooting cinemas. But there you have problems again. Indoor shooting causes relatively high emissions in a limited space. Lead and other harmful substances from primers and bullet residues could have a negative effect on health. That's why special ammunition – also from other manufacturers – is available for shooting cinemas. We have tested the current Screen Ammo from Sellier & Bellot in .308  caliber (bullet weight: 8.0 g) with a Unique Alpine Nordland Scout rifle for you.
Sellier & Bellot Screen Ammo: lead-free and low-emissions – is that possible?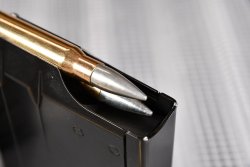 Christian Wagner, © Christian Wagner
Every shooter knows the smell after a round has been fired or how it smells and smokes when shooting several strings on a closed shooting range. And if the ventilation doesn't work perfectly, the coughing starts quickly. But when shooting with the Screen Ammo from S&B, there is no sign of this at all. This is thanks to the ammo bullet and primer. 
The heart of Screen Ammo is a lead-free zinc core bullet with a nickel coating and a special low-emission NONTOX boxer primer developed by S&B. The advantage is quickly explained: this means that no lead, mercury or other pollutants are released during shooting. Perfectly suited for indoor shooting.

With Sellier & Bellot Screen Ammo in a shooting cinema: same point of impact?
Many hunters avoid shooting cinemas because they don't want to adjust the optics on their guns. With Screen Ammo this is no longer necessary. The manufacturer promises the same mean point of impact as with normal hunting ammunition. Admittedly, we couldn't really believe that at first and took the opportunity to put the manufacturer's promise to the test. At 25 meters the boar was shot on the screen and the shot was exactly where it should be at 100 meters with the zeroed rifle – in this case, the Unique Alpine Nordland Scout. Even at 100 m it's the same. That means that users can train at 25 meters on the screen and then they can shoot safely with normal ammunition again on the hunt – absolutely great!

Compliments to the manufacturer. And as you know, we don't just write press releases, we test for our fans live on location and then share our experiences with you. This is how our job works, which is fun and benefits the fans.

Sellier & Bellot Screen Ammo: less cleaning
And who does not know the tiresome yet necessary gun cleaning? The bore snake went through the test rifle once everything inside was clean again. The nickel-plated bullet reduces friction in the barrel and thus, in combination with the lower bullet velocity, reduces barrel heating. This results in fewer deposits in the barrel and thus less gun cleaning effort.

Sellier & Bellot Screen Ammo: evaluation in our practical test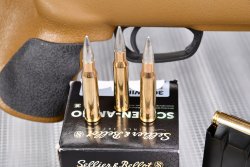 Try it out yourself and see how it works! – as they say. That's why you can only give full marks to Sellier & Bellot's Screen Ammo. Guaranteed. With it the hunter gets very good training ammunition that's hard to beat price-wise compared to normal hunting ammo. Unchanged impact point, less emissions and less cleaning effort! The S&B Screen Ammo is a very good choice when you are on the shooting range.
ATTENTION: this ammunition is only suitable for shooting cinemas! It has no place in the hunting ground!

We bought the ammo in promotion from a European seller. The RRP for the .308 (50 cartridges) is 46.95 euro - in the promotion we paid 39.95 euro. Prices may vary in your country, of course. But this gives you an idea of the cost.

So a round costs less than 80 euro cents – that's great. In addition, the walls in the shooting cinema are also spared. For comparison: the lead-free version of Sellier & Bellot hunting ammo is called eXergy Blue and costs about 56 euro for 20 cartridges in caliber .308 (10.7 g bullet). Prices may vary in your country.