The nearly twenty-year-old 6.5 Grendel caliber has not had an easy time establishing itself as the new intermediate cartridge for the AR-15 platform. Factory ammunition is therefore scarce. For all those who rely on this ammo, it should be interesting to learn that Sellier & Bellot has now taken up this particular cartridge again. According to the manufacturer, the 8 g/124 grain full metal jacket bullet achieves a velocity of around 780 m/s from a 23.6"/600 mm barrel. The new load is available in the handy 20-round box.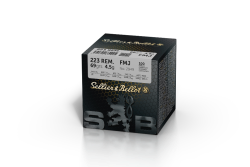 The much more popular .223 Remington is also being introduced by Sellier & Bellot with a new load. The 4.5 g/69 grains FMJ bullet brings it to around 900 m/s from a 20"/508 mm barrel. Unlike the equally heavy match cartridge with HPBT bullet, the full metal jacket load comes in the 50-cartridge box. The full metal jacket bullet can be an alternative especially where match bullets are not allowed on the firing line.
Finally, a little glimpse into the future that the EU is increasingly offering us in terms of ammunition: the eXergy Blue series of lead-free hunting cartridges will be expanded to include .270 Win., 9.3x62 and 9.3x74R calibers. We will keep you informed on how the new loads will perform in practice.
This is how Sellier & Bellot keeps you up to date on Facebook and Instagram
While not an ammo novelty, it is nevertheless important for more and more fans of the brand: Sellier & Bellot is expanding its communication channels in 2021. Especially in times of Corona, digital communication channels are gaining in importance – we speak from experience here – and make it possible to contact customers in a targeted manner and at eye-level. That is why Sellier & Bellot has also decided to expand its social media activities. From now on Sellier & Bellot informs you on Instagram and Facebook about news, answers your questions – and some entertainment is not missing there either. Take a look!