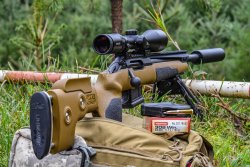 Unique Alpine - a name that law enforcement agencies and the military around the globe trust. The German weapons manufacturer is one of the big players on the market for precision rifles and is now expanding its catalog with the JPR-1 series. Behind it, there is an entire concept that benefits from the symbiosis of innovative technology and state-of-the-art materials. The results are guns that stand out for their quality, accuracy and, above all, a price that will make the market sit up and take notice. As part of a large-scale test series, Unique Alpine provided the team from all4shooters.com / all4hunters.com with a whole range of new guns to put through their paces.
To start, the Nordland Scout in the short-barrel version (419 mm) in .308 Winchester caliber, which is intended especially for hunting. However, there are other configurations in three different barrel lengths and calibers, depending on what the customer prefers.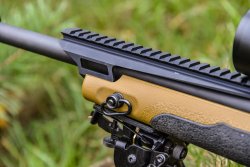 The Unique Alpine JPR-1 Nordland Scout doesn't look like a hunting rifle featuring a typical stock. The Berserk stock by GRS is responsible for this. Its design differs from the others. Only available as a right-hand stock, length and height of the cheek piece can be easily adjusted to your needs. The pistol grip has finger grooves and soft-touch inlays that are also found on the forend. Accordingly, the hunter has a wide and non-slip contact surface when taking a shot. The most striking difference to the "normal" Nordland is the long Picatinny rail.
We also liked the rifle for its "inner values". The primary extraction removes the spent case from the chamber during the unlocking rotation of the bolt, so that it can be easily pulled backwards until it's ejected. When the bolt moves forward again, the cartridge is pushed under the ejector claw, allowing safe feeding from almost any position. The bolt with three locking lugs, a three-position safety and, last but not least, the bolt throw of 60 degrees (which allows for a fast repeating) make the Nordland Scout a reliable and safe gun.
In our test configuration, the Nordland Scout was equipped with a Kahles Helia 2-10x50 and this time the Norma Vulkan 11.7 g / 180 gr was added to our various test loads.

Unique Alpine now delivers all models with in-house developed steel magazines based on our inputs. And that's a good thing. During our first video shooting in October we unfortunately had to realize that guns with plastic magazines like Magpul – that have some manufacturing tolerances – did not always work flawlessly. With the steel magazines by Unique Alpine the rifle worked perfectly in the test – no more feeding problems! Unique Alpine's steel magazines are available in two sizes: a 4-round magazine for 75 euro and a 10-round version for 89 euro. The magazines are compatible with AICS spec bottom metal, as well as Tikka T3(x) CTR and TAC A1. 
We also noticed that even if the pistol grip fills the hand comfortably, shooters have to get used to the thumb rest. I have small hands and prefer a pistol grip that is as thin as possible in order to get more stability. But that might be a question of taste. The same goes for the massive forend. But all that is only due to the shooter, not to the gun. However, the sling swivels on the rifle's side were less pleasing. Certainly, that's a matter of taste too...
Video: Test of the Unique Alpine Nordland Scout 
This video has been hidden because of an external service (YouTube) that could potentially collect personal data.Allow video services for the duration of the visitAllow video servicesStop allowing video services
Unique Alpine Nordland Scout: technical specs
| | |
| --- | --- |
| Model: | Unique Alpine JPR-1 Nordland |
| Price: | 2298 euro (price may vary in your country due to VAT and import duties) |
| Magazine capacity: | 4 rounds, factory steel version (10-round magazines available) |
| Barrel: | heavy match barrel with 5/8-24 UNEF muzzle thread ready for suppressor or muzzle brake. |
| Available calibers: | .243 Winchester, 6.5 mm Creedmoor, 6.5x47 Lapua, .308 Winchester (test gun caliber) |
| Trigger: | double-stage trigger, adjustable, 0.9 – 2.5 kg |
| Available barrel lengths: | 16.5" / 419 mm (test gun barrel), 20" / 508 mm, 24" / 609 mm, 26" / 660 mm) |
| Accessory rail: | STANAG 4694 |
| Overall length: | 35.8 – 45.2 in / 91 - 115 cm |
| Weight: | 9.2 – 10.3 lb / 4.2 – 4.7 kg (depending on barrel length) |
Unique Alpine JPR-1 Nordland Scout: our test results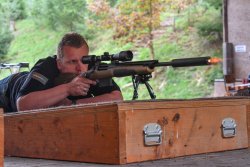 Shooting the rifle was fully satisfactory. And I'm not exaggerating when I say that I didn't expect such results with a short barrel. The extremely good match trigger certainly helped here. We could shoot without hearing protection thanks to the in-house manufactured JSD-1 sound suppressor. The suppressing performance was extremely good – its purchase is recommended anyway, because even if you have active earmuffs, on the hunt you will still perceive much more without anything on or in your ears.
Since the Unique Alpine's JPR series already has the appropriate factory muzzle thread, this doesn't cost any extra. The shock absorber also reduces recoil. Despite the mounted silencer, with its slightly more than 8.8 lb / 4 kg the rifle remained easy to handle and balanced.
All in all, a great gun from Unique Alpine, which will surely find its buyers in the hunting segment, because it doesn't always have to be classic. But Unique Alpine also has something in store for customers who love classic designs.