Surprisingly, SHOT Show 2020 was not just about the latest ARs or 1911 models. Many of the established manufacturers also unveiled numerous new rimfire rifles in all segments last year. These included pistols such as the GLOCK 44 or the KelTec P17, but also bolt-action rifles such as the CZ 457 or Bergara B14 R22, and even exotic semi-auto rifles such as the Kriss Vector in .22 LR.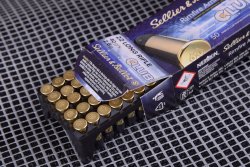 There are some good reasons why it doesn't always have to be centerfire ammo. For example, there is the fun factor of casual plinking or pop-up targets without thinking much about the cost of cartridges. Costs are also minimized with rimfire ammunition when practicing procedures and handling with a conversion kit on your competition rifle. Even in hunting, smaller calibers are playing an increasingly important role in the market – as shown by examples such as the .17 or .22 Hornet, .17 HMR and .22 WMR for predator hunting. All this is even more pronounced in the USA than in Europe. Against this background, Sellier & Bellot has also invested heavily. What exactly this is all about, and one of the most important recent launches from S&B, can be read here at all4shooters.com.
New and expanded rimfire ammo production at Sellier & Bellot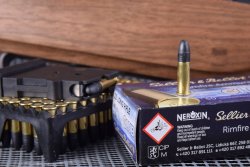 Many ammunition manufacturers are currently accommodating the trend toward rimfire cartridges, but few as consistently as Sellier & Bellot. In order to produce rimfire ammunition with higher dimensional accuracy and precision, the manufacturer from Vlasim in the Czech Republic has decided to use a completely new production technology and expand its rimfire range. For this reason, Sellier & Bellot has built a new production facility just for rimfire cartridges and equipped it with the latest available technology.

These technologies allow very tight production tolerances for bullet weight, primer ignition material and propellant charge. As a result, Sellier & Bellot is now able to manufacture ammo with much higher precision and consistency than was possible with the technology previously used. Naturally, these steps also led to an increase in production capacity – perfect for meeting the growing global demand...

In Sellier & Bellot's new rimfire line, lead has been chosen as the bullet material throughout, and certainly for good reason. Accuracy and ballistic properties. For some versions, S&B has opted for a copper alloy plating for the lead bullets – so every shooter can choose his/her cartridge.

The new Sellier & Bellot .22 LR. Club and other rimfire cartridges from the Czech Republic

A total of ten rimfire loads are now coming out of Sellier & Bellot's new manufacturing facility. These are the 4 mm Flobert Short, the 5.6 mm Flobert à balle, the 6mm Flobert ME Short and 6 mm Flobert blank cartridges, the .22 Short as well as the .22 LR in the five versions – HV, HV HP, Subsonic, Subsonic HP and the completely new "Club" load. Let's take a closer look at the latter here: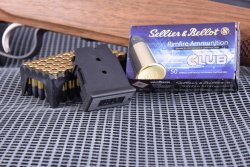 The Sellier & Bellot .22 LR Club shares with its siblings the advantages of the most modern manufacturing facilities. It's a new bullet design with a minimum weight tolerance of ± 0.02 grams. Sellier & Bellot also promises a consistent bullet shape – accurate to the hundredth of a millimeter. The bullets are made of graphite-coated lead, which is supposed to ensure better anti-friction properties in the barrel.

The modern loading process is intended to ensure the smallest possible groupings and the greatest possible repeatability thanks to minimal differences in bullet velocity. The tolerances here are ± 0.002 grams for the primer dose and ± 0.01 grams for the propellant.
Please ask your local distributor for availability and prices. One thing is granted by S&B: Good quality for very affordable prices.
Exclusive Video by all4shooters.com: Sellier & Bellot .22 LR. Club
This video has been hidden because of an external service (YouTube) that could potentially collect personal data.Allow video services for the duration of the visitAllow video servicesStop allowing video services