Fiocchi, the ammunition company from Lecco, Italy, will be participating at the 2016 HIT-Show in Vicenza, the main Italian event of reference for sports and civilian arms and ammunition, with particular focus on target sports, the great outdoors, hunting, personal equipment and accessories. 
This event is the first opportunity to celebrate the company's 140th anniversary in public; it is the biggest market place in the sector and an excellent chance to present the new hunting line to customers, at an innovative concept stand. The logo celebrating the company's 140th anniversary will be featured on company communications for the whole of 2016. This logo, designed by Angelini Design as part of a rebranding operation, is the reinterpretation of the original trademark designed by the founding father Giulio Fiocchi in 1876, with the acronym in a more contemporary style to improve legibility.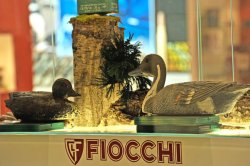 To encourage enthusiasts to explore the Fiocchi world, this year the Fiocchi booth proposes an unprecedented armoury experience. It is a showroom that tells the epic story of the Fiocchi family, with new ammunition, proposing in-line organisation and a completely new packaging system, with a passion for the values of hunting that has always inspired the company. 
Elegance of the spirit and high performance lie at the heart of the Fiocchi Brand, which is why the real stars of the Fiocchi armoury are the company's visual heritage, the story of the Fiocchi brand and its products. What is more, Fiocchi will be launching its online contest "Hunting for nature" at the Hit-Show. Lasting three months, this initiative invites all hunting enthusiasts to share the photos they have taken on the hunt on the Fiocchi.com website. The photos will be judged by an expert panel and the best three will be published on the official website with prizes awarded to the winning photographers. 
The Fiocchi engineers will be happy to welcome you to the HIT Show stand in pavilion 7, stand 140 and 200, providing all the details you might need on their new hunting range and ready to answer any questions you might have. Do not miss the press conference presenting the new hunting line on Sunday 14 February 2016 in hall 7.1.2a at 10:00. Bruno Modugno, Giacomo Cretti and other opinion leaders from the sector will be presenting the new range of products for the world of hunting.