For us, it is always exciting to visit the Puma booth at the IWA. Especially in this jubilee year. Hendrik Hiepass-Aryus, the managing director, presents with his team not only 250 years of tradition, but also some interesting novelties for hunters, collectors and knife fans, which we like to introduce to you, because they inspire us again and again:
"Puma 250 Years" limited jubilee knife with Damascus steel blade
Limited to 250 pieces – a knife for every year since the founding of Puma – the traditional manufacturer introduces its anniversary knife at the IWA. It comes in the form of a Jagdnicker, the most traditional hunting knife in Germany. The Solingen knifemaker skillfully blends tradition and modernity. The blade of the jubilee knife, designed by H.P. Knoop, is made from DS93X Dense Twist Damascus stainless steel. It is a high-performance Damascus steel, which is hardened to 60 HRC and guarantees a long edge retention. The knife bolsters are nickel silver and the scales are real deer horn. Each of the 250 knives carries an individual serial number and is therefore unique. MSRP is 490 euro, including a saddle leather sheath.
The new Puma 2019 knife: a limited edition "Hirschfänger" dagger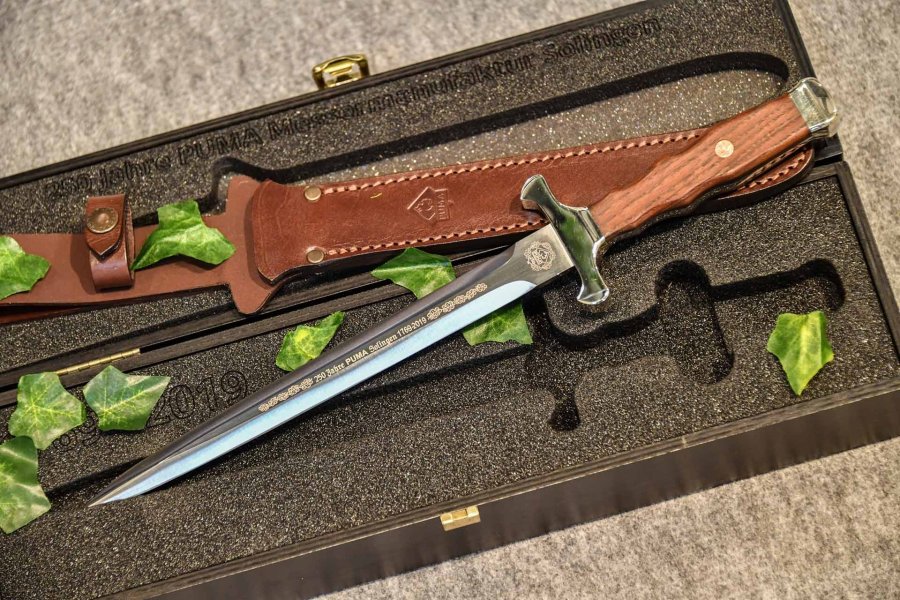 As every year, Puma has launched this year's knife just in time for the IWA. For the year 2019 it is a dagger, in the form of the Hirschfänger. In addition to cutting-edge materials and craftsmanship, Puma attaches particular importance to its history. To guarantee the exclusivity of this year's knife, only 50 pieces are produced. The blade measures 9.4"/24 centimeters in total, overall length is 14.6"/37.2 centimeters and weight is 15.94 oz/452 grams. Designed by H.P. Knoop, even the handle scales are something very special: the oak wood handle was thermally treated specially to increase its resistance. The price of 1769 euro includes a saddle leather sheath. It is as always a valuable and rare collector's item.
Puma and the duo of gods: Zeus and Diana knives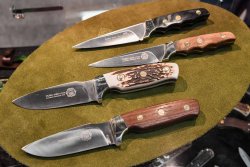 Zeus and Diana – the supreme god and goddess of the hunt. Behind the Puma Zeus model there are two knives, which come along as compact and powerful working knives. As usual with Puma, only high-quality steels and thus harmonizing handles are used. The customer can choose between two handles - stag horn or oak wood. With a total length of 8.6"/219 millimeters (4.3"/110 millimeters for the blade) in combination with the handle shape, which allows for safe operating, both Puma Zeus versions offer excellent quality. 260 euro or 270 euro for the version with deer horn are stated as SRP - including a sheath made of saddle leather.
The Puma Diana model is also offered with two different scales. Micarta or olive wood are available. The Puma Diana - in both forms - presents itself as a slender, lightweight and easy-to-handle hunting knife. Finger recesses ensure a secure grip in all working positions. Both variants have a total length of 8.5"/217 millimeters, of which the blade accounts for 4.1"/105 mm. Secure storage is guaranteed by the included saddle leather sheath. For the version with olive wood handles the price tag is 229 euros (RRP), the Micarta version costs 10 euro more.