The knives of the Solingen-based German company Puma enjoy the best reputation among hunters, outdoor fans, knife enthusiasts and many other users. For the year 2021, new products will be brought to market too.

SGB Big Bear Bowie knife – Not only for hunting in America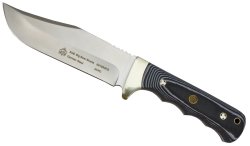 SGB Big Bear Bowie is the name of the knife that was designed with hunting and outdoor activities in North America in mind, but it should also find its fans in the Old World – and not only in circles of fans of classic Bowie knives. In keeping with Puma tradition, their SGB Big Bear Bowie is indeed a purebred knife: asymmetrical blade, asymmetrical handle – many Bowies come with an asymmetrical blade and a symmetrical handle instead, and therefore nomenclaturally belong to the class of dagger knives. The Puma SGB Big Bear Bowie features a classic blade design, namely a 138-mm long clipped point blade, the concave curved-back tip being slightly beveled on both sides. The hollow-ground blade of the Puma SGB Big Bear Bowie is made of 1.4116 steel, featuring a continuous tang that extends beyond the back of the blade. This is shown on the one hand by the brass handguard that protects the hand on the belly side of the blade – as is typical of a knife – but does not protrude over the back of the knife. This gives the user the option of exerting more pressure on the blade with the thumb when working with the Puma SGB Big Bear Bowie – there is a corresponding thumb knurling for this purpose. On the other hand, the handle of the Puma SGB Big Bear Bowie with moderate finger grooves is covered with scales made from G10 fiberglass-epoxy resin compound, which in turn are fixed with mosaic pins. Supplied with a black leather sheath, the Puma SGB Big Bear Bowie (item no. 6818800G) costs 85 euros.
The story behind the SGB series from Puma

The Puma SGB Big Bear Bowie comes from the SGB series – and that takes us directly to the USA. More precisely to Kansas, and there to the town of Lenexa, known to some interested in US pioneer history because the town's founding history is linked to a land purchase by the legendary gunslinger James Butler "Wild Bill" Hickok. Although he passed away in 1876, the Puma US subsidiary, known as Puma Knife Company USA, located in Lenexa, is very much alive. To cut a long story short: true, Puma knives are held in high esteem in the US: even best-selling novelist Louis L'Amour liked to set out into the wilderness with a Puma knife set for his explorations and hikes. But the Americans asked Puma for knives that were more tailored to the tastes and desires of the US clientele. And so it was decided to revive an old line of Puma knives in a new guise, and then have them manufactured to both German and American specifications. This series of knives was given the abbreviation SGB – and that stands for "Sharp German Blade".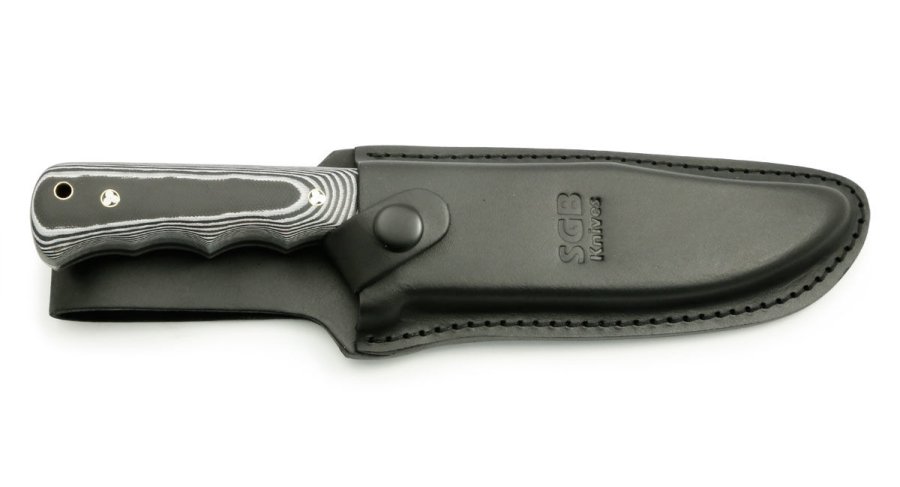 Puma SGB Big Bear Bowie specs and price at a glance

| | |
| --- | --- |
| Model: | PUMA SGB Big Bear Bowie |
| Price: | 85  euro |
| Blade Length:  | 5.5"/138 mm |
| Blade Thickness:  | 0.150"/3,8 mm |
| Steel / Hardness:  | 1.4116 / 55-57 HRC |
| Overall Length:  | 10"/252 mm |
| Handguard:  | Brass |
| Scales:  | G10 black |
| Weight: | 9.6 oz/272 g |
| Sheath: | Black leather  |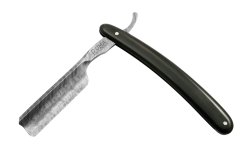 New razors in the Puma catalog

Furthermore, all4hunters.com learned in a conversation with Puma Managing Director Hendrik H. Hiepass-Aryus that Puma's new products for 2021 also include this: Puma is expanding its razor series with two additional models, designed in conjunction with the Solingen-based razor manufacturer Wacker. These are available as a limited edition with torsion Damascus or so-called wild Damascus. Also, a new series of scrimshaw-decorated knives is in production.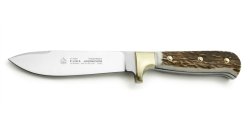 Jagdnicker hunting knife with Damascus steel blade

Another important novelty is still pending: the Frevert Jagdnicker hunting knife (298 euro), with staghorn scales, a 4.84"/123 mm blade made of 1.4116 steel (can be customized by laser engraving on request) and the whole thing in a green leather sheath in keeping with Puma standards. From this is then derived something that was still in the works at the time of our asking: the Puma Anniversary Knife. And this great hunting knife is, according to Hendrik H. Hiepass-Aryus from Puma, something special: featuring a Damascus steel blade and optionally available with handle scales made of buffalo horn or mammoth ivory.
---
Find all the news from SHOT Show 2021 on all4shooters/all4hunters.
More information about Puma knives can be found on the Puma website.