Hunters and outdoor enthusiasts have been appreciating Puma brand knives for many decades. The world-renowned creations of the traditional manufacturer from Solingen were joined last year by the kitchen knife series, a new class of high-quality cutting tools for "indoor use": the Puma kitchen knives made of steel to DIN WN 1.4116 (X50CrMoV15) with yew handle scales fastened by brass rivets.

Now the manufacturer is following up with a new line of exquisite chef's and everyday knives under its own Puma IP brand. This features blades made of high-quality Damascus steel as well as a design that combines traditional Japanese functionality for the kitchen with a modern approach.
High quality Puma IP kitchen knives for everyday use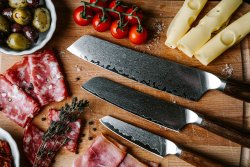 The treatment and processing of food, the preparation of food, cooking – all this has long since ceased to be a touch of effort and just "kitchen work", but is in many cases a conscious expression of enjoyment and quality of life. Central to the culture of food preparation is the use of quality knives.

Especially for hunters, who are so close to the production of game meat, the knife as a tool is an essential companion. To these, as well as to all others involved in the high-quality processing of food, Puma IP offers its new, select kitchen and everyday knives made of Damascus steel.

Their design goes back to a design by German knifemaker Ernst Siebeneicher-Hellwig, which aims for both optimal suitability for everyday use as well as refined design and durability that will last a lifetime if properly cared for. The knives in the "Puma IP kitchen knives, Damascus" series have blades made of 67 stainless steel layers with a core of Japanese V-Gold No.10 high carbon stainless steel (VG10). The layers on the VG10 core are made of 33 layers on each side – the Japanese steels SUS 430 and SUS 431 alternate. All in all, this results in a blade quality that is ice-hardened to approximately 60 HRC, which should guarantee excellent sharpness and edge retention for a long time. The handles of the Puma IP kitchen knives, which are made of warp-free pakka wood, are ergonomically optimally balanced in the hand with each knife, which makes their use in the kitchen efficient and particularly pleasant.

Each knife is made by Puma with great care from the best materials. We present the cutting tools for different applications in the kitchen in a little more detail.

Puma IP 8" cleaver knife – a powerful kitchen knife with a length of 33.5 cm

We start with the biggest knife in the bunch: the mighty Puma IP 8" cleaver knife is designed for the really big tasks in the kitchen. Just under 20 centimeters of blade length and 6.5 centimeters of blade width provide ample room to maneuver with an overall length of 33.5 centimeters. With the cleaver knife, which weighs 255 grams, even large pieces of meat can be cut efficiently.
Puma IP 7" santoku knife + Puma IP 5.5" santoku knife – Japanese design

The two knives of the Puma IP series called "santoku" are designed according to traditional Japanese design and are designed for a wide range of applications: especially for cuttiing meat, fish and vegetables. This is where the Japanese term "santoku" comes from, which loosely translates to "three virtues".

The large Puma IP 7" santoku knife comes with a blade just under 18 centimeters long, while the smaller and more manageable Puma IP 5.5" santoku knife has a good 14 centimeters of blade length. In addition to the three virtues mentioned, the two knives are of course also suitable for processing other foods in the European kitchen.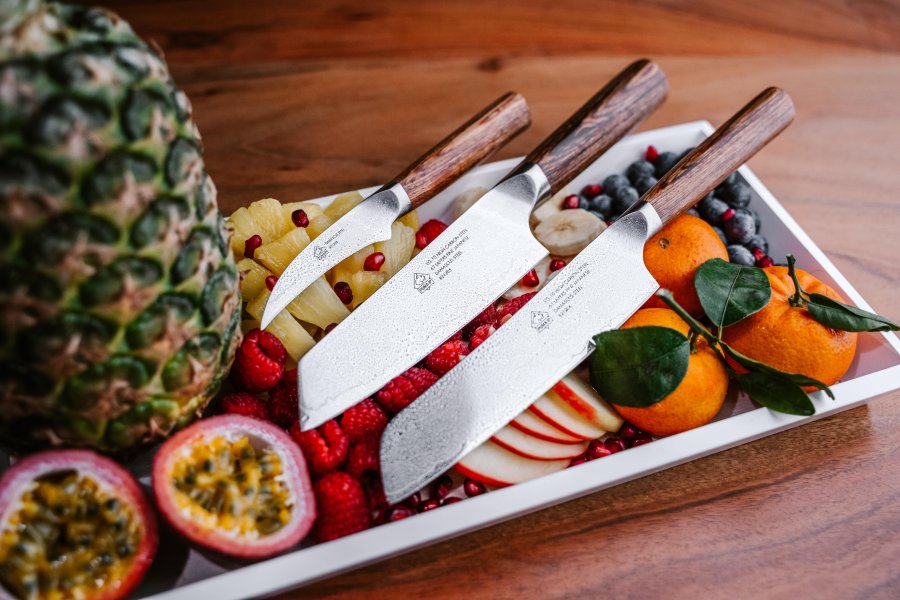 Puma IP 4" paring knife + Puma IP 2.75" curved paring knife – the paring knives

Fruit and vegetables can be removed from their skins much more quickly and conveniently with a paring knife. With its straight blade just under ten centimeters long, the Puma IP 4" paring knife is broadly positioned for use in the kitchen. It can be used not only to peel, but also to cut in the same operation, ensuring quick preparation of fruits and vegetables.

The seven-centimeter-long blade in the special beak shape of the smaller Puma IP 2.75" curved paring knife follows the curves of fruits and vegetables even more directly. This once again increases the efficiency of peeling. The Puma IP 2.75" curved paring knife is also well suited for cutting decorative shapes and garnishing.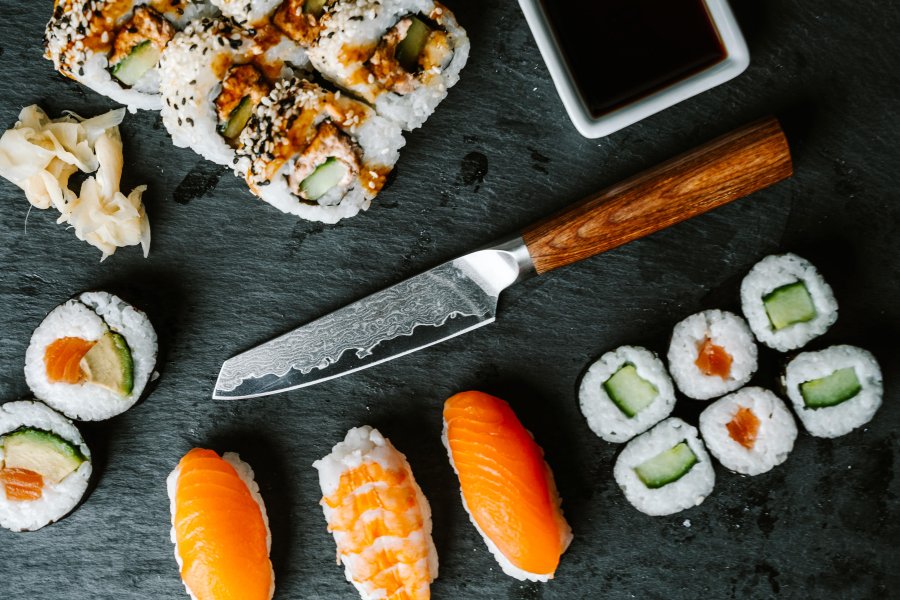 Puma IP 8" chef knife + Puma IP 6" chef knife – high-quality all-round knives

The Puma IP 8" chef knife is an all-rounder in the kitchen. For processing meat and fish, the shape of the 19-centimeter long blade is perfectly suited. This is immediately noticeable in the pleasant feel of the knife when cutting.

The Puma IP 6" chef knife is its smaller and lighter all-round brother, whose just under 15-centimeter long blade with its three centimeter wide shape is designed for a variety of cooking tasks. The ergonomic design of the handle and cutting edge makes a positive haptic impact even during longer "chopping" sessions.
Puma IP 10" bread knife – an impressive bread saw with 25 cm length

Slicing bread or cutting rolls into halves – the Puma IP 10" bread knife comes into its own at breakfast and snack time. The 25 centimeter long bread saw with serrated edge cuts even the largest and crispiest baked goods effectively and evenly.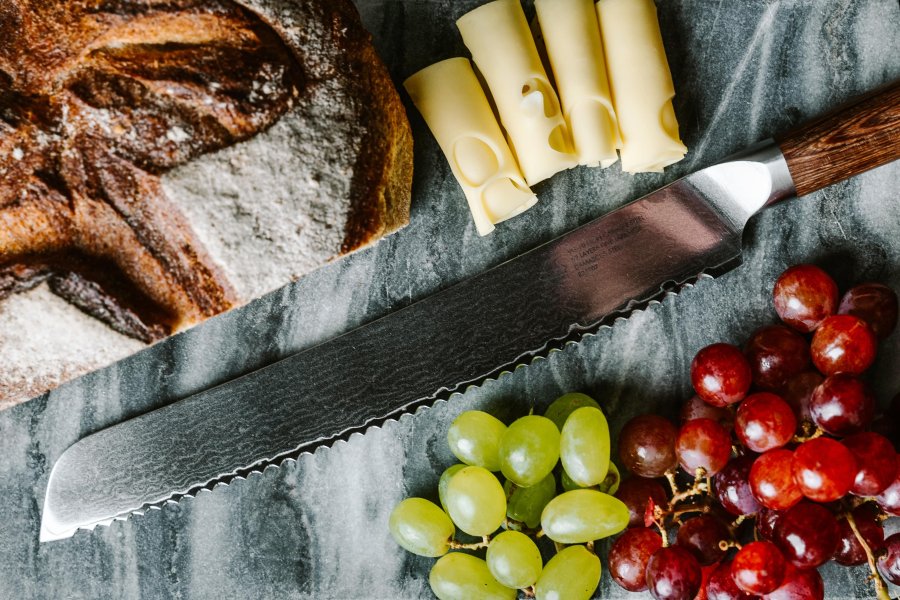 Puma also offers its IP kitchen knives made of Damascus steel in four different sets: the Puma IP kitchen knife set including small chef, santoku & paring knife for 367 euro, the chef & paring set  for 397 euro, the santoku & paring set for 399 euro and the chef, santoku & paring knife set for 419 euro.

Puma IP knives of the kitchen series are in any case also suitable as selected gifts. All Puma IP kitchen knives in Damascus steel will be available from June 12, 2022. They can already be pre-ordered in Puma's online store.

For more information on the kitchen series and other knives from Puma, visit the manufacturer's website.