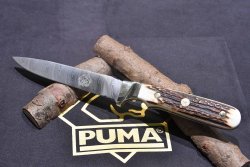 Like the Puma Knife of the Year 2019, a limited edition of just 50 pieces. The blade is 9.44 in / 240 mm long (0.23 in / 6 mm thick) and the overall length is 14.64 in / 372 mm. The hardness of the steel used is impressive: 1.4116/55-57 HRC. It weighs 15.94 oz / 452 g and handle is oak wood, with guard and pommel in nickel silver.
This beautiful knife was designed by H.P. Knoop, the same guy who designed the Puma Anniversary Knife for the company's 250 years anniversary. As the name implies, production is limited to 250 pieces – one for each year since the company was founded. Steel and hardness are also impressive: Damaststeel DS93X Dense twist, stainless, 57-60 HRC. This knife with stag horn handle weights 5.43 oz / 154 g and has an overall length of 9.13 in / 232 millimeters (blade is 4.68 in / 119 mm with a thickness of 0.11 in / 3 mm).
Puma Diana in two versions: Olive e Micarta. Knives for ladies...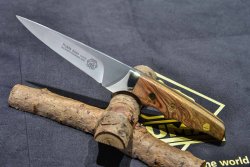 But H.P. Knoop also designed other knives for Puma. Zeus and Diana are two different types of knives but belong together, as you can see when you read their mythological names. Designed for women, the Diana knives feature a 4.1 in / 105 mm long, 0.11 in / 3 mm thick blade with an overall length of 8.54 in / 217 mm. The steel used is Sandvik 14C28N with a hardness of 60-62 HRC.

There are two models with some different details, like the Puma Diana Olive, with olive wood handle and a weight of 4.72 oz / 134 g, and the Puma Diana Micarta, with micarta handle and a total weight of 5.18 oz / 147 g.
...and knives for gentlemen: Puma Zeus Oak and Stag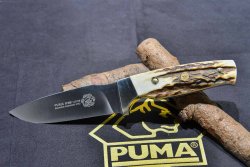 For men, there are the two models of he Puma Zeus series. The have a blade length of 4.33 in /110 mm (0.11 in / 3 mm thick). Here they also chose Sandvik (14C28N) steel with the same hardness as the Dianas. The total length is 8.6 in / 219 mm.

The Puma Zeus Oak came with oak wood handle and a weight of 6 oz / 170 g and the Puma Zeus Stag with stag horn handle and a weight 7.47 oz / 212 g.
It is really impressive what this traditional German Knife Maker Company brought to the US. These are knives with an outstanding quality. So forget about cheap products: we would simply say, buy a real German knife like those from Puma, and you'll never need another one.
---
For more information on the new knives Jubilee, Diana and Zeus, please visit the Puma website.

Find all the news from SHOT Show 2019 on all4shooters.com.