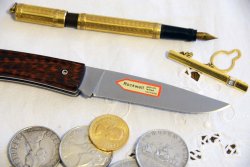 If the old Clip Point folding knife by Puma has become a benchmark for European production, there is a reason, resulting from the perfect quality balance of materials and construction. These same characteristics we find in the La Picaza.
Details attesting this are obvious, starting with the small dimple of the Rockwell hardness test on the blade, indicated by a sticker to prevent that a beginner could see it as an imperfection. In this case, hardness ranges from 55 to 57 HRc, greater than most butcher's knives, to ensure that the edge lasts longer and yet not so hard as to make sharpening difficult.

Puma also states the type of steel used: X50CrMoV15, a steel they identify with the abbreviation 1.4116. It is a martensitic resulfurized Chromium Molybdenum-Vanadium steel, with a Silicon addition to improve its elastic modulus; the presence of a small percentage of sulfur is not an impurity but is a deliberate addition to improve workability and finish of the material. The blade is sharp, as you'd expect from a company that has become famous for its 'cutthroat' razors.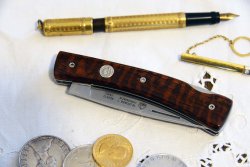 The blade is locked in the opened position by a backlock system that is solid even when you try to force it and soft when it needs to be unlocked, because of the length of the spring and its favorable fulcrum point. 
The knife is framed, that means it has a metal frame on which the handle scales are affixed; these are made of a nicely grained Snakewood. 
It is the  Brosimum Guianense, an essence of the coastal area of ​​northeastern South America, characterized by high hardness, extremely compact grain, good polishing properties and a specific gravity greater than that of water, which it sinks in; it is among the most expensive essences used in cutlery, because the tree has a small diameter (15-20 cm) and grows slowly. 
The final result, with the appearance of wood reminiscent of snake skin and a good polishing, is really remarkable. The retail price of 100 Euro is to be considered very modest when compared to the overall quality.