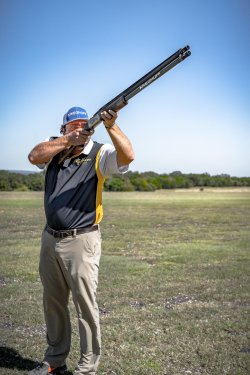 The shotguns of the Ulm-based firearms manufacturer Krieghoff have an excellent reputation worldwide in terms of quality and, above all, value retention. Having a Krieghoff shotgun in your gun closet is not only chic, it is also a value investment. Especially in the sports sector – and this is nothing new – Krieghoff shotguns have been part of the equipment of numerous Olympic and world champions. Beyond the professional sports sector, shotguns from the Ulm gun manufacturer can be found on shooting ranges, and even when hunting the distinctive white lettering on the black barrel is constantly flashing. Did you know that there are about 70 different versions of the K-80?
I want to become a Krieghoff tester. How can I do?
This question is relatively easy to answer: with a lot of hard work and a little bit of luck anybody can become a Krieghoff tester. At the end of this article you will find two tips. However, the easiest way is to go to a specialist shop. Choose the right Krieghoff there and off you go. Buying a shotgun like this needs to be well thought out, because after all, the new shotgun should also fit the shooter. Or you are lucky and become a Krieghoff tester – like Julia Schmid from Radevormwald, Germany. Julia Schmid has been running the Oberberg hunting center since 2017 and deals with shotguns and rifles every day. I still remember Julia Schmid's gaze when one "K80 Marvin" pulled out his shotgun and it all happened: "I want one of those!" That there was much more behind these words than just the bare will, I learned a little later. Grandpa was responsible for an early imprint. What did grandpa say when little Julia was allowed to go hunting? "You have to earn a Krieghoff."
The wobbling begins – Which shotgun should it be?
You should know one thing at this point: the decision for a Krieghoff is not made overnight. You have to get to grips with the material. Or would you put a novice driver in a Formula 1 car?

Julia Schmid, for example, could look back on a wealth of experience in handling shotguns. She has had many positive experiences with other shotguns such as Benelli or Beretta. One thing is certain: no matter which shotgun you have in your hand, as long as it is ready for use the result is usually the same for all of them. It took Julia Schmid six months until the decision was made. It should be a K-80. Test it before buying? No problem. One call to Ralf Müller from Krieghoff and an appointment at MSZU indoor shooting range in Ulm was immediately arranged. The fact that Julia Schmid became a real Krieghoff tester was probably due to the story with her grandpa – because Ralf Müller made an offer that she could hardly refuse. And so she came to the K-80 ProSporter.
How does it feel to own a K-80 ProSporter?
""I finally made it! This is how it feels to be allowed to shoot a Krieghoff. Through my job as a shotgun trainer, I have dealt with a wide variety of shotgun manufacturers. From cheap to extremely expensive, you can find everything here. Each of my students is different and trains individually with his/her shotgun. As with cars, for example, everyone has a certain preference when choosing a shotgun, and that's a good thing. I myself have been shooting the same sport shotgun for years – and relatively well, I would say. Until the day came when I was allowed to examine and get to know the Krieghoff."
And now it's happened to Julia Schmid. Of course, her students notice that, too. So the question often comes up about why it had to be a K-80 ProSporter: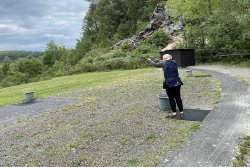 ""I quickly realized that the K-80 ProSporter suits me perfectly. My K-80 has an adjustable stock, a 76 barrel length and an adjustable rib. The gun itself is not light at a little more than 4 kg, but it is very well balanced and therefore has an excellent balance. Due to the many possibilities of configuration you are well equipped for any kind of target shooting. From the beginning this gun was the absolute top for me. Immediately and without any compromises I was able to complete even really demanding layouts relatively easily. I certainly let one or two clay pigeons fly past. My first round of skeet was very unusual for me because of the high rib. At the same time, however, everything was working well here too. The K-80 ProSporter brings together all the components that make the decisive difference in the end."
That's more or less what the hunting and shooting practitioners at the Oberberg hunting center hear when they ask about the K-80 ProSporter. So grandpa's early imprint paid off, because as we learned at the beginning of the article: "You have to earn a Krieghoff." 
Here are our tips for testing Krieghoff shotguns: for those who are interested, the Oberberg hunting center in cooperation with Krieghoff offers shotguns and rifles for testing. Simply call the Jagdzentrum Oberberg or send an e-mail with the password "Get to know Krieghoff". Everything else then passes directly via the Jagdzentrum Oberberg. 

Furthermore, this year there will be another opportunity to get to know Krieghoff shotguns and rifles at the Triple K Cup, which will take place in Germany in cooperation between Krieghoff and K&K Premium Jagd from September 20 to 22, 2020. Places are limited, so reserving a place is definitely advisable.