Kalashnikov group, the largest Russian firearms manufacturer that sells its civilian guns under the brands "Kalashnikov" and "Baikal", has expanded its product range by introducing its newest semi-automatic shotgun specifically designed for Russian market, the TG2. Official sales of the TG2 have commenced in mid-December 2017.
The TG2 shotgun is closely based on the world famous line of Kalashnikov assault rifles, specifically the 7.62mm AK103. The new shotgun features the same look and design of the AK, legendary for its reliability and dependability, and is chambered for the relatively new Russian hunting cartridge, the .366TKM (9.55x39). 

This cartridge is officially certified in Russia as a shotgun cartridge, because in Russia shotgun license is much easier to obtain than a rifle license.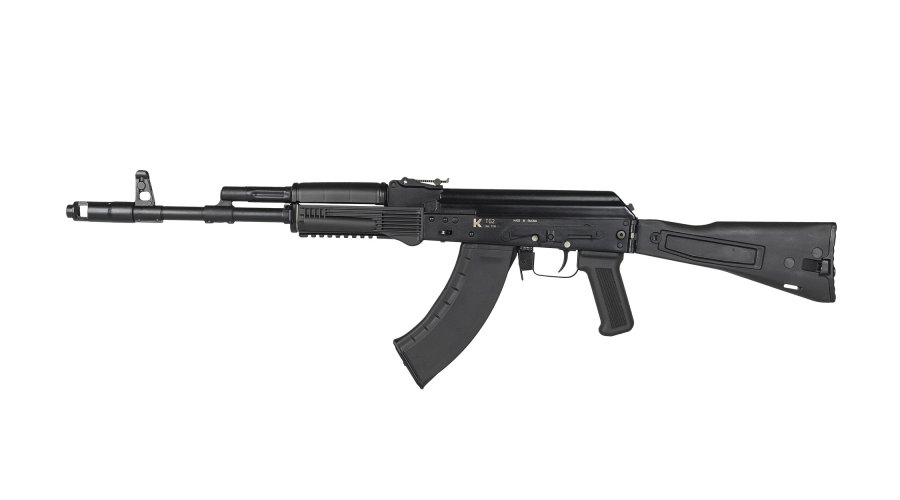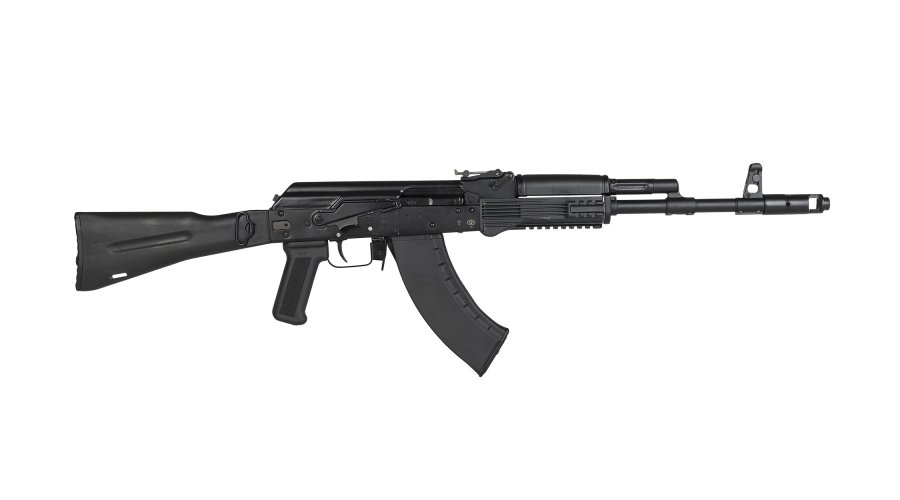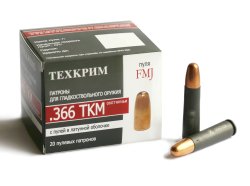 Yet, this cartridge allows to replicate rifle ballistics and accuracy at ranges of up to 150-200 meters when firing slugs. 
Typical load for .366TKM round is a lead, jacketed or semi-jacketed slug weighting between 12 and 15 g, with muzzle velocities in the 550-600 m/s range, making this cartridge a good option for medium game hunting. A bird-shot load with polymer shot container is also available for purchase.
To achieve the necessary ballistics and accuracy, the TG2 shotgun features a "Paradox" barrel with just 120mm of its bore near the muzzle being rifled, thus permitting for formal certification as a "smooth-bore / shotgun" weapon under Russian regulation.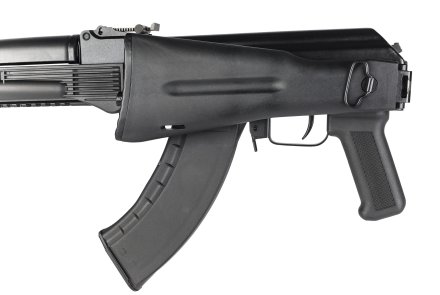 The TG2 shotgun is a semi-automatic, gas-operated weapon with a classic Kalashnikov-type action.
It features a polymer furniture with a side-folding shoulder stock and standard Russian side rail on the receiver for installation of various optic devices. Ammunition is fed from detachable box magazines, limited to 10 rounds, and the gun features a trigger block which prevents firing when shoulder stock is folded, as per Russian laws.
Specifications of the Kalashikov TG2 shotgun  
Caliber                                                              

9.55mm                                                            


Cartridge

.366 ТКМ

Length:

- total

- with folded butt

 

945 mm

705 mm

Barrel length

415 mm

Weight

3.9 kg

Magazine capacity


10 rounds