Interesting news for Kalashnikov fans: AK-308 is the name of the new assault rifle prototype chambered in 7.62x51mm that was demonstrated a few weeks ago by Kalashnikov Group at the International Military-Technical Forum "Army-2018". The latter is is the largest exhibition of weapons, military and special equipment in Russia, organized yearly and fully supported by the Ministry of Defence of the Russian Federation. In just three years since its first edition, the International Military-Technical Forum it has turned into one of the world's leading exhibitions of its genre, with some 1,200 exhibitors and a whooping 550 000 visitors.
AK-308, based on AK-103 and AK-12
In a press release, Kalashnikov Group states that the "7.62mm Kalashnikov assault rifle AK-308" is being prepared for trials. "Weapon is based on AK-103 with certain design features taken from AK-12", they explain, adding some technical data: the rifle is factory equipped with a folding adjustable 4-position stock, which gives an overall length from 880 to 940 mm, depending on the stock position. Barrel length is 415 mm. The AK-308 also features dioptric/aperture sights and a bayonet can be attached.
A short video is available on Kalashnikov Group website:
This video has been hidden because of an external service (YouTube) that could potentially collect personal data.Allow video services for the duration of the visitAllow video servicesStop allowing video services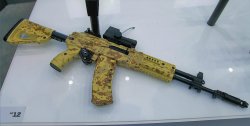 Apart from this teaser, there seem to be no other official images or videos of the AK-308 yet, and it can be assumed that this weapon is still under development. Actually, the prototypes showcased at the International Military-Technical Forum "Army-2018" differed in many important details (sights and flash hider, in particular) from the rifle seen in the video. 
From what we can deduce, anyway, the overall AK-design is quite unmistakable. The pistol grip and adjustable stock look very similar to those equipping both the 5.45mm AK-12 and 7.62mm AK-15 models that should replace the ageing 5.45mm AK-74Ms in the Russian Army Forces. It's not clear whether the Russian military will also field the AK-308, but it's likely that this rifle was developed with foreign markets in mind, namely the many countries still using 7.62 AKs and looking for a substitute.