It's official, at last: on December 20th, 2018, Kalashnikov Concern, the largest Russian small arms manufacturer, delivered the first batch of 2500 AK-12 assault rifles to Russian Ministry of Defense. 
Officially adopted in January 2018, the AK-12 is chambered for the Russian army standard 5.45x39mm ammunition and is scheduled to replace older generations of Kalashnikov AK-74 and AK-74M rifles in general service with the Russian army. Russian army forces will also be equipped with the AK-15 rifle, the same platform as the AK-12 except that it fires the old but still popular 7.62x39 ammunition, being otherwise similar to AK-12.  AK-15s will replace 7.62mm AKM and AK-103 rifles still in use by some Special forces. Both rifles can be equipped with quick detach sound suppressors, underbarrel grenade launchers, or bayonets.
AK-12, the "new generation" Kalashnikov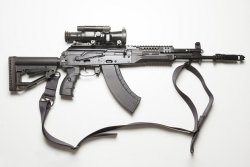 The AK-12 is a new generation of Kalashnikov assault rifles. Based on the same proven and tested basic principles as previous series of AK rifles, it features improved ergonomics and accuracy, offering Russian soldiers new capabilities to use it with modern day and night sights, laser aiming modules, tactical flashlights etc.  
Compared to its predecessor, the AK-74M rifle, the AK-12 offers several interesting innovations. Firstly, it has a radically redesigned front end of the receiver and a new, permanently fixed gas tube. This way, forend and upper hand guard are attached to the receiver and gas tube rather than to the barrel, effectively relieving the latter from stresses and preventing shift in the point of impact – in other words, the barrel is now free-floated in respect to the handguards thus improving accuracy.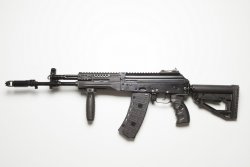 Since the new gas tube is not removable, it shall be cleaned from the front, and has a removable maintenance plug for this. The rear of the receiver was also redesigned to provide a more secure and stable fixation system for the top cover. The rifle also features a new muzzle attachment interface and new iron sights, with an aperture-type rear sight (as opposed to traditional AK open one) with windage adjustment mounted at the rear end of the top cover. Stock is adjustable and can be also folded on the left side.
AK12's overall length is 34.6-37 in / 880-940 mm (27.1 in / 690 mm with folded stock), with a 16.3 in / 415 mm barrel. Weight with empty 30-round magazine is 123.4 oz / 3.5 kg.  Cyclic rate of fire is 700 rounds/min.
01.03.2019