On May 15th, 2018, Kalashnikov Group, the leading Russian manufacturer of small arms, officially launched the retail sales of its newest SR1 semi-automatic rifle chambered in 5.56x45mm/.223 Remington.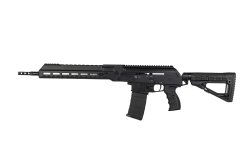 Previously known as Saiga MK-107 and featuring a unique "balanced action", it is specifically designed for maximum performance during practical shooting matches (IPSC, 3-Gun) and merges decades of advanced small arms development and practical experiences of top Russian IPSC shooters. 
In all these disciplines, speed and accuracy are of equal importance, and the Kalashnikov SR1 (Sport Rifle, model 1) is intended to provide shooters with a weapon that allows for very fast recovery from recoil of each shot, allowing for fast and accurate double-taps or longer strings of rapid and precise semi-automatic fire.  

SR1, a really "balanced" rifle

The Saiga MK-107 was conceived in 2012  by Izhmash factory (now an essential part of Kalashnikov Concern) as a semi-automatic version of the experimental AK-107 assault rifle. After several years of tests and developments, SR1 entered mass production in 2018. It is available for Russian shooters under the same "hunting rifle" license as other semi-automatic rifles of the Saiga family; it also will be offered for export.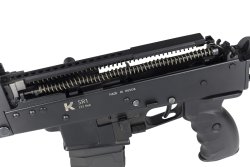 The Kalashnikov SR1 is a semi-automatic gas operated rifle with recoil-mitigating balanced action. This means that rifle features two gas pistons, entering single gas block above the barrel from opposite directions. The rear gas piston is attached to the bolt carrier group. The forward gas piston (which moves opposite to the rear one) is attached to a sliding counterweight, located above the bolt carrier group. Both counter-recoiling masses are synchronized by a pair of rotating gears, so after each discharge rearward and forward movement of the bolt group is balanced by a counter-moving mass attached to the forward gas piston, effectively canceling impulses generated by heavy reciprocating parts. As a result, rifle generates less felt recoil and is much easier to hold on target in rapid fire. 
Bolt locking is achieved by a conventional "Kalashnikov style" rotating bolt with two locking lugs that engages the barrel trunnion pinned inside the stamped steel receiver. Reciprocating charging handles are attached to the bolt carrier at either side of the gun. A dual return spring arrangement (one for the bolt carrier and another for the counter-weight) completes the setup. Top cover is made from stamped steel, with a long Picatinny rail permanently attached on its top. The rifle is equipped with an adjustable M4-carbine style telescoping shoulder stock and a free-floating polymer forend.
The rifle features a cross-button manual safety above the trigger guard, a bolt hold-open device and a magwell for faster magazine reloads. The SR1 rifle utilizes Ar-15/M16 type magazines.