At the Industry Day at the Range we had the chance to see up close – and above all, try – two interesting rifles proposed by Umarex, the AirSaber and AirJavelin: watch the video on facebook. (Registration or user account not necessary!). The AirSaber is a pre-charged pneumatic (PCP) rifle capable to shoot an arrow with a velocity of 120 meters per second. 
Umarex AirSaber PCP air rifle

The design of the Umarex AirSaber is very similar to a common pre-charged pneumatic air rifle, with a long 250-bar tubular tank located under the barrel and a pressure gauge integrated into the stock. With a full tank, the AirSaber can launch 25 arrows at full power and about 30 more with still enough power for hunting. The AirSaber's arrows are made from carbon fiber, weighing 250 grains and featuring an universal thread that allows you to screw-in any type of target or hunting point. Thanks to the Picatinny rails on the forend at 3, 6, and 9 o'clock positions, the AirSaber can mount accessories such as bipods, laser pointers, quivers etc. An additional upper rail allows for the mounting of scopes. The AirSaber comes with three AirSaber Umarex arrows. An Axeon 4x32 scope is optional. We tested it at the shooting range and we can say that it's excellent for medium and small game hunting or recreational shooting. It will be interesting to see how it will be received in Europe, since the laws regarding hunting and hunting tools are very diverse and different from country to country. 
The price in the US is about 370 dollars.

Umarex AirJavelin CO2 rifle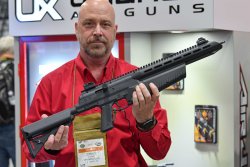 Franco Palamaro, © F.PALAMARO
The AirJavelin is the younger brother of the AirSaber and has a much more martial look, even if a bit plasticky. It's a CO2 rifle powered by an 88 g capsule for up to 15 shots. The arrows are shorter than the AirSaber's ones, but they are just as accurate. On a very long integrated Picatinny rail sits the front sight with fiber optic insert and, on the opposite side, the ghost ring rear sight. The cocking lever, which must be operated before each shot, can be easily swapped from one side to the other, the stock is telescopic. It is a perfect solution for recreational shooting or pest control, and also for fun. Its light weight and polymer build make it really sturdy. 
And it's very accurate too, as you can see in our video:  Umarex AirSaber and AirJavelin at the Industry Day at the Range.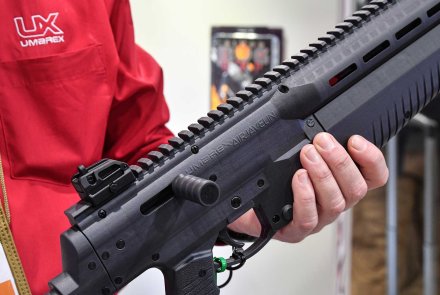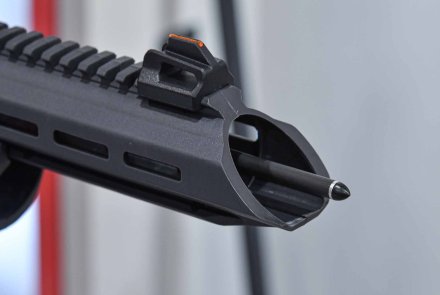 New Walther Reign UXT pre-charged pneumatic rifle
Let's conclude by mentioning the new Walther Reign UXT pre-charged pneumatic rifle, available in .22 and .25 caliber with velocities of 1070 fps and 970 fps respectively. This is a PCP rifle in a "bullpup" configuration that allows to reduce length. It uses ten-shot auto-indexing magazines. In this case too the cocking lever can be changed from right-handed to left-handed without the use of tools. 
The announced price is 599 USD.