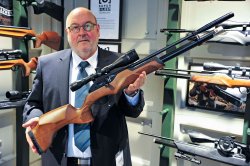 The Umarex company boosted its line of Walther-branded air rifles with the launch of two PCP (pre-compressed pneumatic) high-power air rifles.
The Walther Torminathor wooden-stock air rifle sports a 300 BAR, quick-fill air canister with a built-in pressure gauge, feeding through detachable magazines and feeding an XT adjustable first-stage double-stage trigger; it is about one meter long and 4,1 kilograms heavy, and available in 4,5mm/.177 caliber – offering a 7,5 Joule or 28 Joule muzzle energy level – and in 5,5mm/.22 caliber with a muzzle energy of 40 Joule.
The Walther Maximathor carbine is essentially identical to the Torminathor, except for the 200 BAR air canister, the available calibers and the power threshold: it comes in a 5,5mm/.22 version, offering a 60 Joule muzzle energy level, and in a 6,35mm/.22 model with a muzzle energy level exceeding 70 Joule. Both the Torminathor and the Maximathor sport a noise signature moderator at the muzzle and an optics rail.