The Umarex Airguns CO2 driven BB gun Legends Line expands with the M3 Grease Gun model, based on the M3A1 variation used from 1944 and beyond. The original WW2 weapon was a .45 ACP caliber submachinegun developed as a cheaper replacement for the Thompson SMG. Almost immediately nicknamed "the Grease Gun" because it resembled a mechanic's tool, the M3 was also used in the Korean War and later conflicts, up until the early 1990s.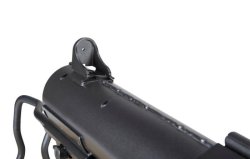 The Umarex USA CO2 replica includes a lot of faithfully reproduced details and features such as the collapsible wire stock and fixed peep style sights. It shoots .177 caliber steel BBs with a whopping 1,050 BB-per-minute rate of fire – much more than the original weapon's 450 rounds/minute rate of fire. It can also be fired single-shot.
Just like the real live-firing M3A1, under the flip-open dust cover of the Umarex Grease Gun you will find the bolt and its cut-away thumb charging slot – this was the main upgrade over the original M3, which used a crank-type cocking lever. The blowback action SMG does fire from the open bolt just like the M3 firearms did. There is also a 3 position manual safety.
The drop-free magazine holds 60 BBs along with two 12-gram CO2 cartridges. Each full CO2 charge is expected to shoot approximately 120 BBs, or three magazines – so, be prepared with some spare CO2 bottles for a lot of fun! (Extra magazines are available to keep you shooting more than reloading.)
Umarex M3 Grease Gun, an affordable legend
Price for the new Umarex M3 Grease Gun is $249.99: quite affordable for a full metal replica of such an iconic WW2 gun.
"We are excited about the expansion of the Legends Series. The Legends are fantastic historical replicas but, more importantly, they are lots of fun to shoot. The M3 Grease Gun fits both of those criteria," said Richard Turner, President and CEO of Umarex USA.
The Umarex Legends Series also includes the MP (MP40) and M1A1 (Thompson), as well as famous handgun and rifles like the Luger P08, the Walther PPK/S, the Makarov, the Cowboy Lever Action Rifle and the M712 Broom Handle: you can take a look here to learn more about Umarex Legend Series.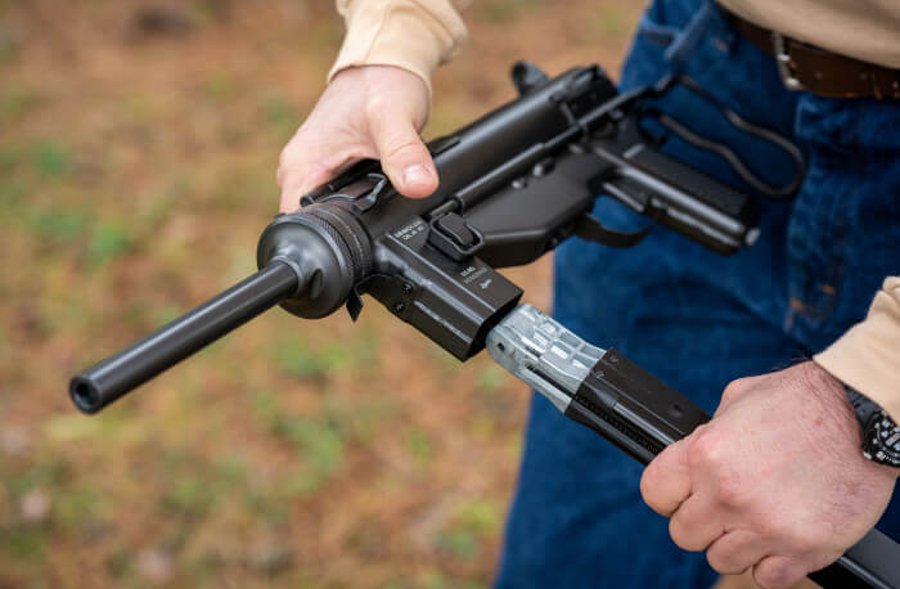 Umarex M3 Grease Gun specs and price
| | |
| --- | --- |
| Model: | Based on M3A1 variant |
| Caliber: | .177 steel BBs |
| Operation: | Semi or fully automatic |
| Magazine Capacity: | 60 rounds |
| Power Source: | 12 g CO₂ bottles |
| Safety: | Three position, manual |
| Stock: | Collapsible |
| Sights: | Peep style |
| Rate of fire: | 1,050 BBs per minute |
| Muzzle Velocity: | 460 fps |
| Price: | (MSRP in the USA): $249.99 |