HDR stands for "home defense revolver". That's because even in Germany – Umarex's place of birth – self-defense laws are very strict when it comes to "real" weapons, so alternative tools such as capsicum sprays or non-lethal guns such as this Umarex T4E HDR are very popular. 
Umarex T4E HDR .50: details and special features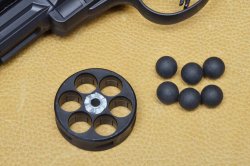 Produced by the German firearms giant, the Umarex T4E actually is a double action only revolver featuring a six-shot cylinder, almost entirely made of plastic. A special feature of this revolver is the feeding system that can be put in "standby mode" to avoid that at the time of need you find out that the CO2 cartridge is empty. In practice, and unlike other CO2 guns, when you insert the cartridge into the grip the valve doesn't open automatically. For this to happen, you must press a button sticking out from the grip bottom. This way, those who intend to use the T4E for home defense can rely on full firepower ensured by the full cartridge. For the rest, the revolver has an almost cinematographic look, with the large barrel (121 mm long) completely shrouded by a plastic shell featuring two Picatinny rails, one on the top of the frame and one on the lower barrel, by which it is possible to mount any additional accessory and sighting device. Trigger is double action only and the automatic safety is located on the trigger lever, just as in Glock pistols. The removable cylinder is very easy to reload and has a capacity of six .50" caliber balls.
We were at the Gunstore Bunker gun shop in Milan, Italy, where Massimo Di Martino lent himself to make us a video presentation of this "non-lethal weapon". Enjoy. 
This video has been hidden because of an external service (YouTube) that could potentially collect personal data.Allow video services for the duration of the visitAllow video servicesStop allowing video services