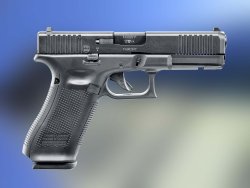 It's made in Germany, it comes in an original GLOCK gun case, it's compatible with GLOCK's original iron sights, and above all it's an officially licensed product of GLOCK: the limited first edition of the GLOCK 17 Gen5 9mm P.A.K. by Umarex actually is what can be described as the perfect blank counterpart of the live-firing original by the Austrian manufacturer. 
Sporting the original markings, the  matte black slide with front serrations even has a slide cover plate in original size, which can be removed, modified or replaced by plates from the aftermarket.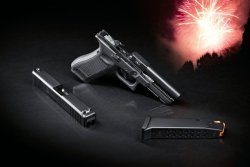 Other typical GLOCK features include the squared firing pin and reinforced steel breech block, an ambidextrous slide stop lever that allows all shooters to easily operate the lever of their pistol whether they are left- or right-handed and the flared mag-well that makes quick magazine changes easier. The trigger safety obviously works just like the real thing, while on the dust cover a Picatinny rail is ready for mounting standard accessories.
Needless to say, the GLOCK 17 Gen5 9 mm P.A.K. has the same dimensions as the original, which means it can be carried in all standard holsters and can take original accessories. One difference is in the function: the blank-firing Glock 17 Gen 5 uses an internal hammer instead of a striker-fired system. In addition, due to legal requirements, the barrel is firmly connected to the frame, which leads to slight differences when disassembling the gun.

GLOCK 17 Gen5 9mm P.A.K., an ideal training tool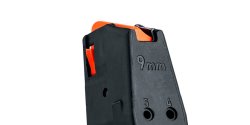 The optimized dual recoil spring assembly – consisting of a main spring, tender spring and rubber buffer – makes for realistic shooting. Magazine change drills are also made realistic by the reversible magazine catch and by the fact that, as with the original, the magazine holds 17 rounds and has a highly visible orange follower. A loaded chamber indicator allows to check the gun's condition. Using the backstraps provided, the grip can be sized to your hand.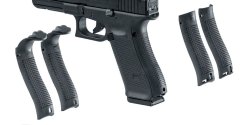 So, what can be used for the GLOCK 17 Gen5 9mm P.A.K. by Umarex? It's not just a collector's item – on the contrary, it's an ideal training tool. It allows you to practice and experience a simulated live fire safely and without all the legal hassle connected with a real firearm. A caution must be inserted here, however: the Umarex GLOCK 17 Gen5 9mm P.A.K. is a front venting blank gun, which means that it vents the hot gases (and flame) out of the front of the barrel. These guns are not legal in some countries, so check you local laws.
Retail price for the GLOCK 17 Gen5 9mm P.A.K. by Umarex in Germany is 269.90 euros. The gun comes with an original GLOCK case, a barrel adaptor to fire 15mm flares, a brush and 4 backstraps (sizes M and L, each size with and without a beavertail).

Video: GLOCK 17 Gen5 9mm P.A.K. by UMAREX
This video has been hidden because of an external service (YouTube) that could potentially collect personal data.Allow video services for the duration of the visitAllow video servicesStop allowing video services
The GLOCK 17 Gen5 9mm P.A.K. is just one of the new products that Umarex is bringing to the market for 2021. To learn more, watch our video interview:
Video interview with Umarex – New products for 2021
Umarex GLOCK 17 Gen5 9mm P.A.K. specs and price
| | |
| --- | --- |
| Caliber:  | 9mm P.A.K. |
| Magazine Capacity: | 17 rounds |
| Trigger: | Single Action |
| Length:  | 7.7"/197 mm |
| Weight:  | 25.5 oz/723 g |
| Price: | 269.90 euro |