The heart of the new Sabatti ST-18 rifle is a new action designed and built with the collaboration of Mattia Molina's BCM, a leading company in competition guns manufacturing.
Sabatti ST-18, more than a competition rifle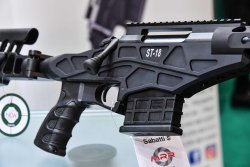 Frame is steel machined from solid blocks, with a three-lug bolt featuring a 60° lift. The bolt handle is interchangeable, being screwed in the bolt body. The bolt body is surface-ground and chrome plated, to ensure maximum smoothness.
One of the main sources of problems in competition guns is the contact between frame and chassis. In the case of the Sabatti ST-18 frame and chassis do not have any point of contact but are connected by two steel elements, the front V-shaped block and a rear round cradle that make the frame free-floating.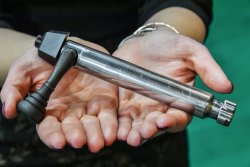 The new Sabatti extractor fully supports the cartridge. Thanks to its particular design, when firing the extractor does not move with the expansion of the case base, and this guarantees a higher level of safety in case of overloaded ammo. The Sabatti MR-18 barrel features the now inevitable multi-radial rifling (MRR) that has demonstrated exceptional accuracy. Furthermore, the particular rifling is less susceptible to copper deposits and makes cleaning easier. Available barrel lengths are 20" / 510 and 24" / 610 mm with muzzle brake.
Sabatti ST-18: new stock and available calibers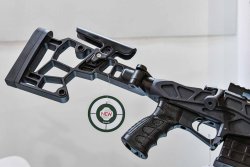 The new chassis stock is made from a solid Ergal 55 block with an M4 compatible buttstock and the KeyMod round handguard. The folding stock, an original Sabatti design, is made of Ryton, a metal-powder reinforced technopolymer that offers the best in terms of strength and is pleasant to the touch. On the stock there are four sling attachment points required by the IPSC rules. The retractable cheek piece can be adjusted very intuitively while the rubber recoil pad is available in different sizes.
Calibers available are .260 Remington, 6.5x47 Lapua, 6.5 Creedmor and .308 Winchester. Magazines are AICS compatible with a capacity of 5 cartridges. The overall length of the Sabatti ST-18 is 40.1" / 1020 mm with a 20" / 510 mm barrel and 44" / 1120 mm with a 24" / 610 mm barrel. Weight is 170.4 oz / 4830 and 174.6 oz / 4950 g respectively.
Retail price of the Sabatti ST-18 rifle is 1859 euro.