The combination gun is a hunting weapon typical of the central area of Europe, and it responded to the need to carry a single gun that would allow one to hunt both feathered game and ungulates, even large ones, with the same readiness. The versatility in shooting the combo comes from the presence of a smooth barrel under a rifled one, with a possibility of combining different calibers such as the .22 Hornet, widely used for hunting tetraonides (francolin, grouse) up to high-power ammunition such as the 9.3x74R.

The Sabatti Forest combination gun

The fact that Sabatti of Gardone Val Trompia, Italy, is known and appreciated for its Saphire and Rover series bolt-action rifles sometimes makes one forget that its catalog also includes hunting and shooting shotguns, express and combination guns, such as the Forest model.
The receiver of the Sabatti Forest is a modified Anson & Deeley boxlock type, and is machined from a forged block of high-strength steel, with excellent performance in terms of strength and durability. The receiver is in white with hunting-themed engraving. On the receiver tang we find the safety slide.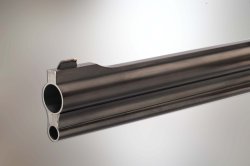 The barrels measure 60 centimeters and feature a partial rib on which the rear sight with folding leaves is fitted. The front sight is mounted on a ramp and has a brass bead. Threaded and tapped holes for mounting optics bases are provided on the rib. Ejectors on the Forest combo gun are manual.
The smoothbore and rifled barrel combinations in which the Sabatti Forest is available are: smoothbore in 12 Magnum and rifled barrel in .22 Hornet, 6.5x55SE, 7x57R, 7x65R, .30-06 Springfield, .308 Winchester, 8x57JRS and 9.3x74R. The combo is also available with a smoothbore barrel in .20 Magnum and a rifled barrel in .22 Hornet or .222 Remington. The rifled barrels are cold hammer forged and can be obtained in other calibers upon request. 

The stock of the Sabatti Forest has a pistol grip, made of checkered walnut wood and oil polished by hand, with a forend featuring with a lever latch. The recoil pad is made of bakelite.
As standard, the combination gun has a double trigger with a pull weight of 2 kg – a set trigger (stecher) is provided as an option. The overall length of the Sabatti Forest combo gyb is 1040 mm for a weight that, depending on gauges/calibers, can vary between 3.2 and 3.4 kilograms. The list price of the Sabatti Forest over-and-under combination gun starts at 1,554 euros.


Sabatti Forest specs and price

| | |
| --- | --- |
| Model: | Forest |
| Price: | From 1554 euro |
| Type: | Over-and-under combination gun |
| Gauge/Caliber: | 12 or 20 Magnum, rifled barrel in .22 Hornet, 6,5x55SE, 7x65R, .30-06 Springfield, .308 Winchester, 8x57JRS and 9,3x74R |
| Overall Length: | 1040 mm |
| Barrel Length: | 600 mm |
| Trigger: | double, with optional ser trigger |
| Trigger Pull Weight: | 2,000 g |
| Weight: | 3,200 - 3,400 g (depending on caliber) |