The Sabatti Urban Sniper bolt-action rifle, available in .308 Winchester, 6.5x47 Lapua and 7mm Remington SAUM calibers has been designed as a light and versatile shooting tool, a "field tactical" gun capable of offering the appropriate performance, without overdoing it, both for hunting (particularly in selection hunting) and for most sporting uses, up to use in tactical and law enforcement operations in urban areas. Flexibility, accuracy and simplicity are the basis of this rifle, which among other things is offered at an attractive price.
Sabatti Urban Sniper: a spartan bolt-action rifle – but it doesn't lack anything

The Sabatti Urban Sniper is based on a 30 percent fiberglass reinforced Nylon stock to increase rigidity and vibration absorption. The forend design allows for supported shooting, while the pronounced pistol grip in a semi-thumbhole configuration provides the ease of handling needed to make the Urban Sniper suitable for almost any hunting use.
For situations where the forend surface is not enough, a portion of the MIL-STD 1913 Picatinny rail allows any bipod to be attached. The buttstock provides the shooter with a height-adjustable cheek rest, and is customizable in length through the use of removable spacers. There are also sling swivel attachments for classic and tactical quick-release slings.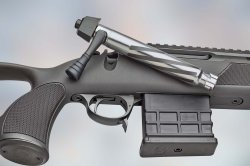 The Sabatti Urban Sniper now features the Blizzard action (the same as the Tactical EVO carbine) fitted in a receiver machined from a solid high-strength steel billet. The bolt features lightening grooves that make bolt movement faster and smoother and has a tactical handle knob that can be easily replaced at the shooter's choice thanks to its 5/16" thread.
The Urban Sniper is fed through removable magazines compatible with the Accuracy International (AICS) system. The magazine release lever, located underneath the trigger guard, is designed to provide instinctive and quick reloading, which the shooter can perform without leaving the aiming position on the target. 
The standard single-stage trigger, with a pull weight of about 1.1 kilograms, is suitable for almost all uses. A 13-slot MIL-STD 1913 Picatinny rail for optics is on the receiver's top. 
Available in two barrel lengths with multi-radial rifling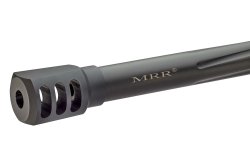 The barrel of the Sabatti Urban Sniper rifle – now available in two lengths, 20"/510 mm and 24"/610 mm – has a cylindrical profile and the MRR multi-radial rifling, exclusive to Sabatti, known and appreciated worldwide for its precision characteristics, no bullet deformation and ease of cleaning. Rifle twist for available calibers is as follows: .308 Winchester (1:11 ½"), 6.5x47 Lapua (1:8"), 7mm Remington SAUM (1:8 ¼").
The muzzle, 22 mm in diameter, is fitted with a cylindrical muzzle brake on a 5/8"x24 thread, which can be quickly replaced with other accessories available on the market. The two barrel lengths were chosen to ensure maximum handling of the gun without having to sacrifice ballistic performance within distances of about three hundred meters. All barrels have five flutes to reduce weight and facilitate heat dissipation.
The price of the Sabatti Urban Sniper carbine starts at 1,428 euros.
Sabatti Urban Sniper specs and price
| | |
| --- | --- |
| Model: | Urban Sniper  |
| Type: | Bolt-action rifle  |
| Calibers and Rifle Twist:  | .308 Winchester (1:11 ½"), 6.5x47 Lapua (1:8"), 7mm Remington SAUM (1:8 ¼") |
| Action: | Blizzard with fluted bolt   |
| Trigger: | Single stage  |
| Safety: | Manual |
| Magazine: | 5 or 10 rounds, removable AICS type |
| Sights:   | None,  MIL-STD 1913 Picatinny optics rail  |
| Barrel: | 510 mm or 610 mm long, Sabatti MRR rifling  |
| Overall Length:   | 39.4"/100 cm or 43.3"/110 cm |
| Weight (Unloaded):  | 8.48 lb/3.85 kg  |
| Price: | 1,428 euro |
---
To learn more please visit the Sabatti website.