The Sabatti TLD Red in .308 Winchester, which is striking at first glance, was already tried here on all4shooters.com. Tested only at 100 meters at the time, the bolt-action rifle shot top-notch groupings with a wide range of ammunition. The level of workmanship, technology in detail and features were also impressive considering the amazingly low price of 1600 euros. This prompted us to take a close look at another gun from this firm, this time also at 300 meters. Sabatti rifles are also sold under the name Mercury in some counties. Thus, our test rifle Sabatti Tactical Evo is also called Mercury Evo on some markets. The Italian manufacturer offers this model in the calibers 6.5 Creedmoor, 6.5x47 Lapua, 6.5x55, as well as .308 Winchester and .300 Winchester Magnum.

Differences between EU and US models at Sabatti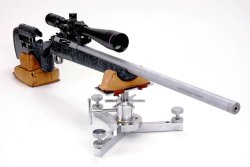 We received our test gun in 6.5 Creedmoor. The main difference between the US and EU models is that the former ones are equipped with 7-round AICS (Accuracy International Chassis System) magazines, mounts for quick-release sling swivels and Picatinny accessory rails on the receiver's top as well as on the underside of the fore-end for attaching optics and additional equipment (bipod, hand stop, etc.), while the European models come with the in-house 3-round box magazine and without additional QD mounts and rails.
A long, fat barrel with MRR profile: features of the Sabatti barrel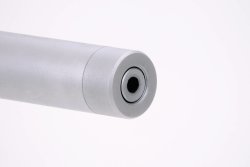 Our Sabatti Tactical Evo in 6.5 Creedmoor also features an extremely long, cold-hammered 28"/710 mm barrel with a whopping 28 mm outer diameter at the muzzle, as well as the typical "Multi Radial Rifling" (MRR). With a twist of 1-8" the rifling, similar to polygonal barrels, has no sharp-edged grooves/lands but only radiuses. 
As a result, bullet deformation is lower and gas density is higher, which can result in an increase in velocity. Here, a performance increase of up to 12 percent is claimed. The barrel is also easier to clean due to the edgeless geometry of the inner profile.
Rational manufacturing methods: price/performance ratio of the Tactical Evo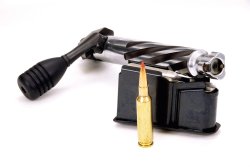 The reason why the well-equipped, excellent-shooting Sabatti match rifles can be offered at these amazingly affordable prices is revealed by meticulous examination of a disassembled action. Unlike many other makes, the receiver recoil lug is not an integral part of the action, but is simply welded to it following machining. This efficient method saves valuable CNC machine work time and still serves its purpose perfectly.

This is because the less complex method also creates a stable structure through which recoil and torsional forces can be dissipated directly into the fiberglass-reinforced polymer stock. This front action support pillar is supplemented by a rear support in which the action is bedded in the stock on an aluminum block. This is to prevent the action from being subjected to stresses and vibrations that could negatively affect accuracy. The action on our test rifle was fitted into the stock with minimal tolerances. The 3-lug "Blizzard" bolt with a 60-degree throw is fluted and chrome-plated and features a handle with a tapered bolt that is screwed on, allowing it to be removed if necessary.
Aiming comfort: the stock of the Sabatti long range rifle

The synthetic stock has a cheek rest that is continuously adjustable by means of an adjusting wheel with a large height adjustment range, which can also be varied in angle. Once the perfect position has been determined, it can be additionally secured with two screws. The stock length can be adjusted with optionally available spacers. The wide forend with a flat underside is designed for supported shooting, as well as being provided with slots for possible upgrading with sling swivel studs, adapters, bipods. The voluminous pistol grip and forend feature a very grippy surface texture, and to our taste, the stock with a black base and white veins adds to the overall attractive appearance of the Sabatti Tactical Evo. The cleanly adjusted, crisp single-stage trigger with a measured pull weight of just 29.7 oz/843 grams also contributes, of course, to the ability to transfer the gun's inherent accuracy onto the target.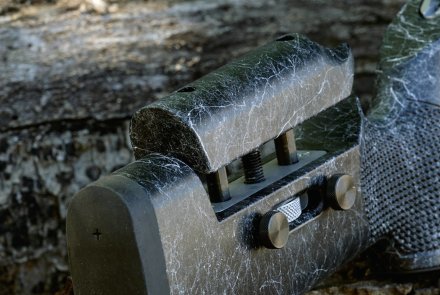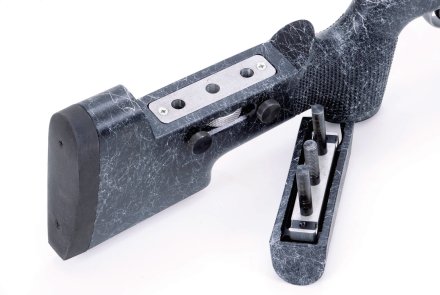 Sabatti Tactical Evo: specs, features and prices in detail

| | |
| --- | --- |
| Model: | Sabatti Tacitcal Evo |
| Action: | Bolt-action with 3 front-locking lugs |
| Barrel: | 28"/710 mm long match barrel with MRR rifling, 1-8" twist and an outer diameter of 1.1"/28 mm in front of the 5/8 "x24 UNF muzzle thread |
| Stock: | Synthetic stock with height adjustable cheek piece and fiberglass bedding |
| Magazine: | Box magazine with a capacity of 3 cartridges |
| Trigger: | Single-stage; measured trigger pull weight 19.7 oz/843 g |
| Safety: | Two-position safety on the right side of the action, acting directly on the trigger |
| Overall Length:  | 44.88"/114 cm |
| Weight: | 13.66 lb/6.2 kg |
| Price: | 1449 euro |
Field test: with the Sabatti Tactical Evo on the shooting range

The wide fore-end with a flat bottom literally screamed for the use of a stable benchrest with sandbags, so this setup was used for the test. The Sabatti Tactical Evo in 6.5 Creedmoor, fitted with a dirt-cheap Ramshot 8-32x50 scope from our own stocks, was checked for accuracy at 100 and 300 yards with seven types of ammunition, four of which were handloads, including the young Hornady A-Tip match bullet.

On the short range, we stayed below the 0.59"/15-mm mark with all loads, producing groups below/up to 10 mm with four cartridges. Tops here were 0.196"/5 mm (140-grain Hornady ELD Match, factory), 0.236"/6 mm (143-grain Hornady ELD-X, factory), and 0.315"/8 mm (handloaded with 37.0 grains of IMR 4166 propellant from the Enduron series, similar to the old Hodgdon Varget, and 135-grain Hornady A-Tip bullets). The Italian match rifle also knew how to impress at 300 yards, eventually producing shot groups below the 1.57"/40 mm mark with three of seven loads. Here, the top groupings measured: 1.14"/29 mm (37.0 grains of IMR 4166/135-grain Hornady A-Tip), 1.26"/32 mm (140-grain Hornady ELD Match) and 1.45"/37 mm (143-grain Hornady ELD-X). In any case, the barrel harmonized perfectly with the Hornady bullets.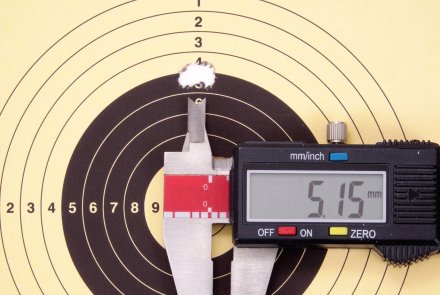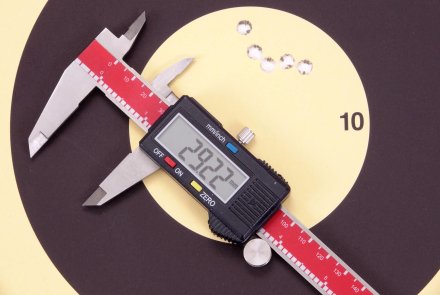 The all4shooters.com test conclusion on the Sabatti Tactical Evo

Well, what can one say after these shooting range results? The Sabatti Tactical Evo in the version with chrome plated bolt and match barrel is available for an entry-level price of 1499 euros (with blued barrel it's another 100 euros cheaper), but can easily play in the professional league. In this sense, it is definitely worth a purchase recommendation.
---
Text: Michael Fischer and Stefan Perey
More information about Sabatti rifles can be found on the manufacturer's website.

all4shooters.com does not assume any liability for loading data. Every reloader acts on his own responsibility!