Sabatti is also located in the Mecca of Italian gun manufacturing, in Gardone Val Trompia in the region of Brescia. For 400 years the gunsmith's craft has been handed down from generation to generation in the Sabatti family. Today, the Sabattis has an impressive product portfolio. 
All models are developed and built in-house, whereby the stock is partly supplied, which is by no means unusual in the gun industry. The range of products includes bolt action rifles with light alloy chassis (STR, STR Sport Red, ST 18), synthetic stock (Sapphire Tactical Carbon, Sapphire Varmint Carbon) or laminated wood stock (TLD Gold, TLD Red). The prices range in an affordable segment from 1500 to 2500 euros.
Sabatti TLD Red bolt action rifle with Multi Radial Rifling (MRR)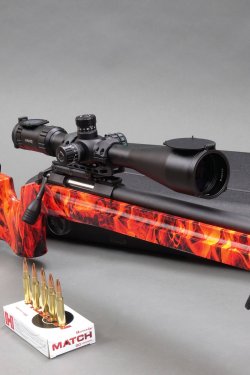 Michael Fischer, © caliber
Our test rifle in the form of the Sabatti TLD Red also had a technical feature that distinguishes all of the manufacturer's repeating rifles. The barrels are also produced in-house, whereby the manufacturing process of cold hammering stands for wear resistance and long service life. In addition, this effect is further enhanced by the special inner profile called "Multi Radial Rifling" (MRR).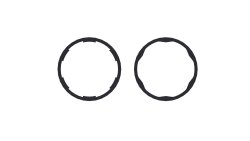 Michael Fischer, © caliber
Similar to polygonal barrels, there are no sharp-edged lands and grooves but only radiuses, which are intended to improve accuracy when using monometallic bullets, for example. In a conventional barrel, the bullet is pushed with great power into the land/groove rifling and is even more powerfully deformed. In a Sabatti MRR barrel, bullet deformation is reduced and the combustion gas density higher, which results in an increase in velocity of up to 10 percent. 
In addition, the reduced deformation results in fewer imbalances on the bullet, which in turn can increase accuracy. Last but not least, the barrel is also easier to clean due to the edgeless geometry of the inner profile; there are no deposits that could build-up. This is noticeable during gun care, as the cleaning rod and patch pass through the barrel more easily and only a few patches are needed for a thorough barrel cleaning.
Sabatti TLD Red: long barrel, unusual twist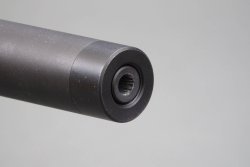 Michael Fischer, © caliber
The model name "Target Long Distance" (TLD) is no coincidence, after all: the barrel length is a whopping 28"/710 mm, making it one of the longest barrels we have ever come across in the standard .308 Winchester caliber. The twist length of 1-11.5" also seems unusual, at least at first glance, but the US Remington M24 SWS sniper rifle was already equipped with a 5R barrel with this twist, which is suitable for bullet weights of up to 175 grains. 
With a bullet weight of 168 grains,you are therefore in the ideal range here, which is why we also concentrated on this weight in the practical test. Due to the extra-long barrel, maximum velocity can be achieved, so that we were able to easily reach up to 840 m/s with factory ammunition.
Sabatti TLD Red: F-Class inspired stock
Michael Fischer, © caliber
The eye-catching lacquered laminated wood stock is a real eye-catcher and its shape was inspired by stocks for the demanding F-Class long-range shooting sport discipline, in order to enable a consistent, easily controllable recoil path when firing with the extreme barrel length. The stock of the Sabatti TLD Red features a continuously height-adjustable cheek piece and a very wide fore-end with a flat underside, which makes supported shooting much easier.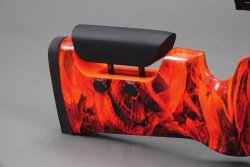 Michael Fischer, © caliber
IAn ISSF light metal rail has been inserted in the underside of the fore-end, making it easy to attach a bipod or mounting accessories/adapters, such as in our case a MIL-STD-1913 Picatinny rail. There is a slight bevel on the underside of the buttstock that can be perfectly used to make slight height corrections with the buttstock rest.
Due to the slant, however, care must be taken to ensure a steady, even support. This sloping contour is also the only thing that distinguishes this stock from a thoroughbred F-Class stock, which is usually also completely straight at the back. In the meantime Sabatti has changed this point, however, because on the  manufacturer's current website  the TDL Red can be seen with a straight buttstock.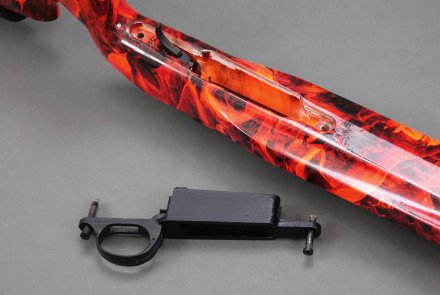 Efficient action bedding of the Sabatti TLD Red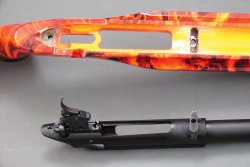 The 28"/710 mm barrel is fixed to a solid action milled from solid steel with a screwed-on optics mounting rail on top. The action houses a hard chrome-plated three-lug bolt that locks in the receiver front. Bolt throw is 60 degrees. The bolt handle features an ergonomically effective, cone-shaped knob.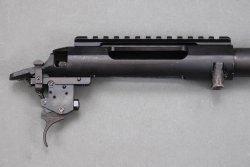 Michael Fischer, © caliber
During the complete disassembly of the rifle in the workshop, after removing the action screws, we noticed the tight connection between the receiver and the laminated stock. The generously sized recoil lug is not an integral, milled out part at the front of the round action sleeve, but is welded to the receiver as an extra component. This makes production much easier and faster, which is one reason for the amazingly low price of this match rifle, without neglecting stability or shooting performance.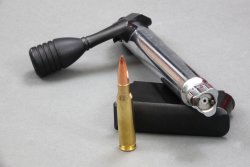 Michael Fischer, © caliber
If the system screws are made to fit exactly, tolerances between action and stock can be larger, because they are compensated by the bedding compound. This in turn saves a lot of subsequent, expensive rework on metal and wood. The latter natural material is known for its tendency to warp during milling. Particularly on long surfaces, it is not so easy to maintain tight tolerances in length and width. This problem has been completely avoided by the additional bedding.
On the underside of the action is an adjustable single-stage trigger with a trigger pull of just 1.1 lb/500 grams, which is also completely effective with its crisp characteristics with no creeping or scratching. It is combined with a two-position safety on the right side of the action, which acts on the trigger. The solid sheet steel box magazine has a capacity for 3 cartridges.
Sabatti TLD Red in .308 Winchester – Specs and price
| | |
| --- | --- |
| Model: | Sabatti TLD Red |
| Operation: | Bolt-action with three-lug bolt locking in the receiver front |
| Barrel: | 28"/710 mm long match barrel with 1-11.5" twist, MRR profile and 5/8 x24 UNF muzzle thread |
| Stock: | Lacquered laminated wood stock, F-Class design with height adjustable cheek piece and wide fore-end with ISFF light metal rail on the underside |
| Magazine: | 3-round sheet steel box magazine |
| Trigger: | single stage, with a pull weight of 18.34 oz/520 g |
| Safety: | Two-position safety on the right side of the action, acting directly on the trigger |
| Overall Length: | 48"/122 cm |
| Weight: | 15 lb/6,8 kg |
| Price: | 1612 euro (price may vary in your country due to VAT and import duties) |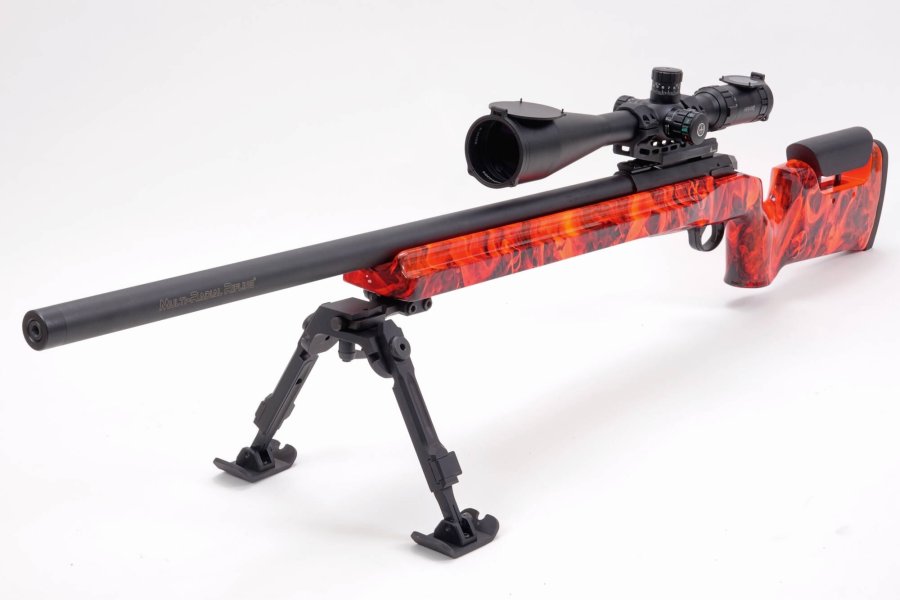 Michael Fischer, © caliber
The Sabatti TLD Red on the shooting range: tight groupings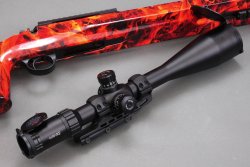 Michael Fischer, © caliber
Fitted with a Hawke 8-32x56 SR Pro riflescope and a Fortmeier bipod, we took the Sabatti TLD Red in standard caliber .308 Winchester to the shooting range. With a price of only 589 euro the optic mates well with the affordable Italian repeater. The total adjustment range in elevation and windage is however only a rather modest 53 MOA. However, the reticle features various aiming marks, so that in combination with a Hawke ballistics software the bullet drop can be compensated for different ranges.
When eight different types of ammunition were used, half of them hand-loaded, only one grouping was over 0.78"/20 mm, all other shot groups being in the 0.39/10 mm range, including three below that mark. The best single result was 0.23"/6 mm, achieved with a handload of 42.5 grains of Lovex D073.6 and a 168-grain Hornady BTHP bullet.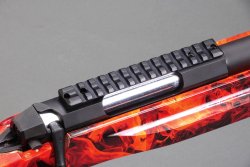 Michael Fischer, © caliber
With 0.27"/7 mm, the Hornady Match factory cartridge was not really worse. We achieved 0.35"/9 mm with the same handload but with one grain less of powder. With 42.5 grains of Lovex D073.6 and the 168-grain Hornady BTHP bullet, the measured muzzle velocity was almost 800 m/s with excellent accuracy thanks to the long barrel. This 15 lb/6.8 kg precision machine with an F-Class stock, super light trigger and long match barrel does what it is supposed to do: punch tight groupings into cardboard.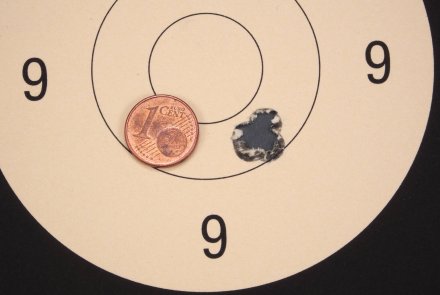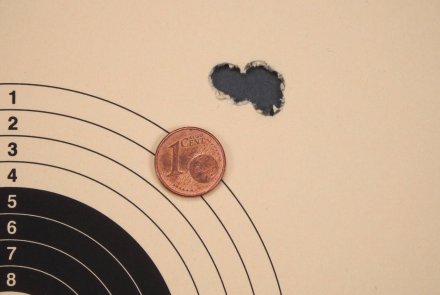 Sabatti TLD Red: test conclusion
With the TLD Red, the Italian manufacturer Sabatti hit the target spot on. Thanks to rational manufacturing methods, it is possible to offer a fully-fledged match rifle with an attractive look for little money. After all, the Sabatti TLD Red – which by the way is also available in 6.5x47 Lapua, 6.5 Creedmoor and .284 Shehane with 26" or 28" barrel – costs just around 1600 euro. The rifle can definitely stand up to much more expensive competitors in terms of accuracy.
---
Further information on the Sabatti TLD Red can be found on the Sabatti website.
We also tested another Sabatti long-range rifle, the ST-18 in 6.5 Creedmoor, on the shooting range.