Presented for the first time in 2016, the 5.45x39mm RPK-16 is a modernization of the RPK-74 that was the standard light machine gun (LMG) and squad automatic weapon (SAW) of the Soviet Army from 1974 to 1991, then superseded by the RPK-74M currently in use.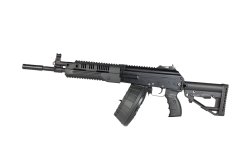 Still based on the traditional Kalashnikov layout and featuring the Kalashnikov gas-operated, long-stroke piston system and rotary bolt locking, the RPK-16 was built studying the experience of modern armed conflicts. Several features developed for the AK-12 program - the newest derivative of the Russian AK series of assault rifles - were integrated in its design. Thanks to its interchangeable barrel system it can be used in the light machinegun role with a 550 mm (21.7 in) long barrel and in the assault rifle role when configured with a 370 mm (14.6 in) short barrel. In the assault rifle configuration It can be fitted with a 96-round drum magazine, but can also be fed by standard AK-74 and RPK-74 magazines too. It can be equipped with a sound suppressor and the stock is foldable.
Instead of the fixed bipod of the RPK-74 series, the RPK-16 detachable bipod is mounted on a Picatinny rail on the bottom of the handguard. Another Picatinny rail on the top of the receiver allows for the mounting of optics and scopes. Combat weight is 13.23 lbs / 6 kg , with a rate of fire of 700 rounds per minute and an accuracy range of 870 yds / 800 m.
| | |
| --- | --- |
| Type:  | light machine gun / assault rifle |
| Caliber:  | 5.45×39mm |
| Action: | gas-operated, long-stroke piston system |
| Barrel length:  | 21.7 in / 550 mm or 14.6 in / 370 mm |
| Overall length:  | 35.4 in / 900 mm (with short barrel, 25.6 in / 650 mm with stock folded) - 42.5 in / 1080 mm (with long barrel, 32.6 in / 830 mm with stock folded)  |
| Rate of fire:  | 700 RPM |