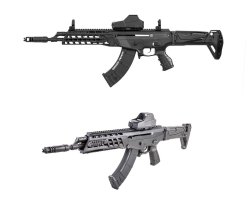 The Russian-based "Concern Kalashnikov" did not take part to the IWA expo in Nuremberg, this year – but their latest and best new product was there to be seen at the CAA Tactical stand, as the company provided assistance to its development.
First showcased last January at the SHOT Show in Las Vegas, the Kalashnikov ALFA rifle is based on the AK-100 mechanics, albeit vastly modified both inside and outside to suit the needs of civilian shooters and warfighters of the 21st Century. Based upon a two-receivers architecture, the Kalashnikov ALFA sports a polymer lower with ambidextrous Western-style controls, an ergonomic pistol grip and a side-folding stock adjustable in length; the metal upper receiver comes with a full-length top MIL-STD-1913 "Picatinny" rail, an ambidextrous charging handle and a free-float handguard with KEYMOD slots for accessory rails.
The Kalashnikov ALFA is slated to become available for civilians in a semi-automatic only variant, and for MIL/LE/Gvt. customers in a select-fire variant, but there's still no projected availability. Two versions will be available: the 7,62x39mm caliber model will feed through standard AKM magazines, while the 5,56x45mm caliber model will use Galil magazines.