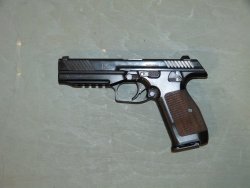 The PL14 pistol was first showcased to general public at the "Army 2015" expo, held in the Moscow suburb of Kubinka on July 16th – 19th, 2015. 
Manufactured in the city of Izhevsk by the "Concern Kalashnikov", this handgun is intended to replace various service-type pistols now in stocks with the Russian Armed Forces and law enforcement agencies, as well as to serve as a basis for sport shooting modifications intended for IPSC, IDPA and other similar sports.

Its introduction was prompted by the increasing obsolescence of most current service pistols in Russian arsenals (most notably of the venerable 9x18mm caliber Makarov PM, which is now well into 60 years of service) and by the dissatisfaction with some of the most modern handguns that were meant to replace the Makarov itself − think of the 9x19-caliber Yarygin PYa.

The development of PL14 is being financed by the Kalashnikov Concern with its own funds.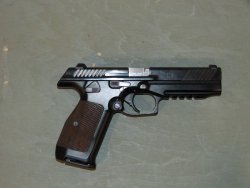 The PL14 service pistol was conceived by Dmitry Lebedev − a professional and highly experienced designer of small arms, with many years of designing of various target pistols under his belt. 
Lebedev was a pupil of Yefim Khaidurov, one of the most important sport gun designers of the Russian arms industry, whose name is however not widely acknowledged outside of the Russian boundaries
The development of this handgun kicked off in 2014; its intent was to create a pistol that would be suitable as a sidearm for military and law enforcement personnel, with future specific or "Custom" modifications intended for "professional handgunners" use (i.e. SWAT type police units that use pistols as primary weapons) and for sporting purposes such as IPSC/USPSA and IDPA matches. 
The PL14 was designed from scratch with a high level of imput from top Russian IPSC competition shooters and Spetsnaz operators.
Some of the key concepts held as the centerpieces of the PL14 pistol all throughout its development are: human engineering (the gun would offer excellent ergonomics and optimal balance, and "points naturally" when held in hand); extreme reliability and durability (the average service life is expected to be no less than 10,000 rounds of the very hot 7N21 AP Russian army service ammunition, and probably double or triple of that with commercial grade 9mm ammo); full ambidextrous capabilities; maximum handling safety.
Readers should take note of the fact that, as of July 2015, the Lebedev PL14 pistol is still in its final stages of development, and may change a lot before it's ready for full-scale production and military trials − all of which are optimistically slated to be scheduled it 2016. 
Therefore, all our description applies to the prototype Lebedev PL14 pistol as showcased at the "Army 2015" expo.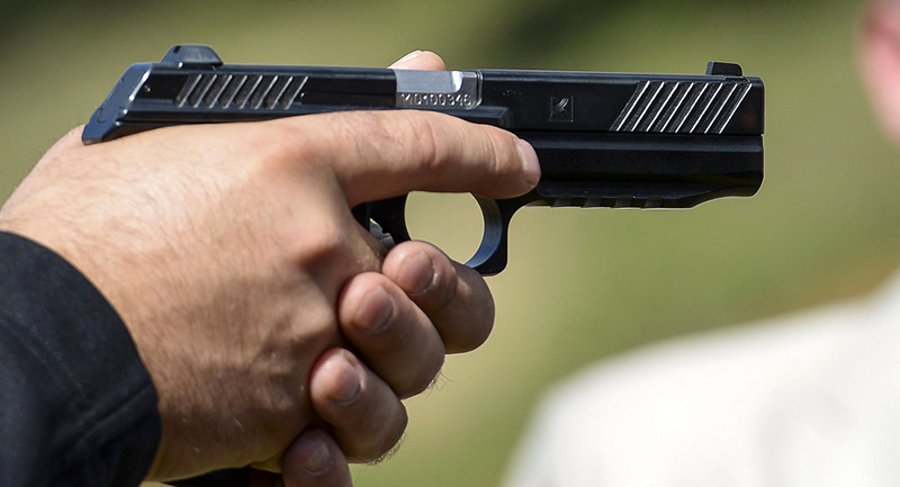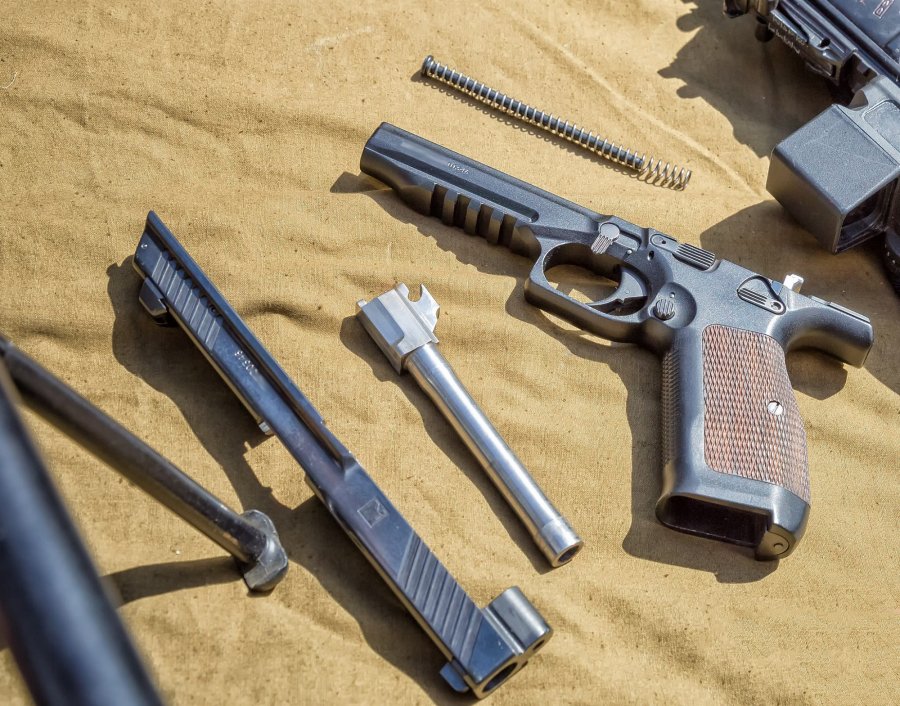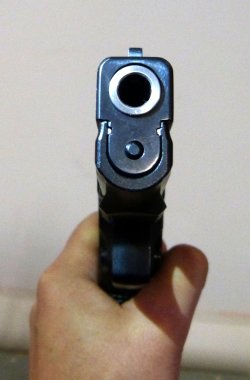 The Lebedev PL14 is a locked-breech, short recoil operated semiautomatic pistol based on a modified Browning-type locking system: the barrel engages the slide to lock through a single sturdy lug, entering the ejection window.
The frame of the Lebedev PL14 is manufactured out of lightweight aluminum alloy, and offers an extremely low bore axis, a carefully calculated grip shape and angle that in turn leads to great "pointability", and a minimal overall thickness level (the PL14 is barely 28mm wide at its widest point – the grip). 
Production models may (or may not) possibly be built around reinforced polymer frames with removable grip panels of different sizes. All controls (manual safeties, slide release levers and magazine release buttons) are fully ambidextrous.

The Lebedev PL14 pistol sports a double action only trigger with a fully concealed hammer; this means that the user does not need to touch the trigger during or before disassebly, unlike in most striker-fired pistols.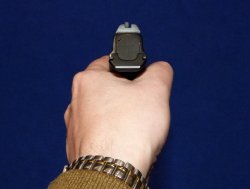 The trigger pull of the PL14 Lebedev pistol is short and consistent at four kilograms, with a 7mm overall trigger travel.
When engaged, the manual safety disconnects the trigger from the hammer, thus making the pistol totally safe. A loaded chamber indicator is provided in form of a pin that protrudes from a small hole at the top left corner of the rear slide plug when the PL14 is loaded and ready to fire.
Another feature of the Lebedev PL14 pistol is a slightly deeper chamber than CIP standards would require for the 9x19mm caliber, so to accommodate wider variations of cartridge case lengths produced by certain Russian manufacturers. 
To ensure reliable positioning of all cartridges in the deepened chamber, the loaded chamber indicator also serves as a case pusher: its front portion that brings every round forward until it's properly headspaced in the chamber, regardless of its length variations. 
This indigenous feature is probably redundant when firing most Western-made 9x19 ammunition, but might come handy when shooting some less expensive Russian fodder, which is, unfortunately, known for being inconsistent with CIP standards sometimes.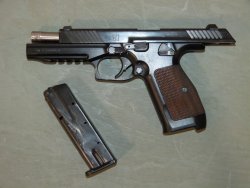 The Lebedev PL14 feeds through a proprietary double-stack, single-feed metal magazine holding up to fifteen rounds; it also features standard fixed sights, dovetailed to the slide, while a MIL-STD-1913 "Picatinny" rail for tactical accessories is provided under the dust cover.
Personal observations

The prototype appeared to be extremely well made, and felt very thin. 
Despite its "service type" length, it could make for an excellent concealed carry weapon, especially since its controls are flat and unobtrusive. 
The grip is ergonomically shaped, and its bore axis is extremely low; it points very well and is quite accurate, despite its DAO trigger − which, in fact, is very smooth and reminds of some of the finest Smith & Wesson revolver triggers, although the pull is noticeably shorter.
Provided that the design and manufacturing teams of the Kalashnikov Concern can fulfill their promises and eventually make this gun reach mass production and distribution, the Lebedev PL14 could be an excellent all-around gun, suitable for service, defensive or sporting purposes.