Starting June 13th, Kalashnikov Concern, the leading Russian manufacturer of military and sporting small arms, is taking pre-orders for its new family of hunting rifles. 

Called Baikal 145 "Los" (Moose), and showcased  in Moscow in 2017, this family at present consists of two models, one with a standard-size receiver scaled for .308 Win and similar cartridges, and another with a shorter receiver optimized for .223 Rem and similar cartridges. 
Initial offerings are in these two basic calibers only, but it is possible that in the future other caliber options will be added to the line.
The Baikal 145 "Los" is a classic bolt action rifle with three-lug bolt. It features an all-steel action properly bedded into the wooden stock, and equipped with a highly reliable single stack, detachable box magazine that hold 4 rounds of ammunition.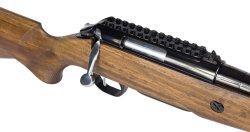 Barrel and chamber are chrome-lined for improved durability and ease of maintenance. Muzzle is threaded to accept various detachable devices such as flash hiders or compensators.
Both models feature 55 cm barrels, iron sights and Weaver type rails for easy installation of optical sights.

Delivery time and price of the Baikal 145 "Los" 
Actual delivery of rifles in Russia is planned to commence late June for regions that are not affected by a temporary ban on gun sales set for the duration of the football world championship (May 25th – July 25th, 2018). In regions affected by said ban, deliveries will commence as soon as the ban expires.
MSRP for both versions is 46,900 Russian rubles, which is roughly equivalent of 640 euro.